Aussie Millions, Event #1, $1,100 NLHE – Vincent Wan Claims Victory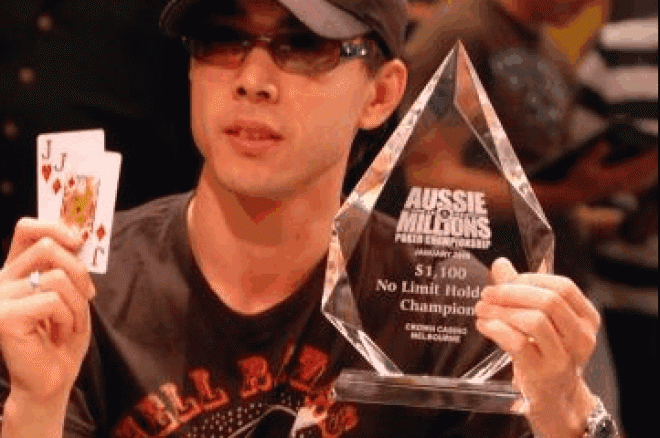 20 players returned to the Crown Casino in Melbourne for the final rounds of the Aussie Millions opening event, $1,100 No-Limit Hold'em. Jovan Scekic took the chip lead into the second day of the event, but it was Melbourne native Vincent Wan who came from behind to claim the top prize, after besting Michael 'Timex' McDonald in a lengthy heads-up battle.
Day 2 saw heated action early, as Jamie Pickering and Yevgeniy Timoshenko got all their chips in the middle on one of the very first hands. Timoshenko raised preflop, and Pickering called to see a flop of
. Timoshenko bet out on the flop, Pickering went all in over the top with
, and Timoshenko quickly called with
. Pickering picked up more outs on the turn when the
landed, but the
was no help on the river, and Pickering was eliminated in 20th ($4,028).
Other early eliminations on Day 2 included Vincent Chua (19th), Roy Vandersluis (18th) and Barry Long (17th). Chris Wood found himself on the short stack early in the day, and the last of his chips went in for his big blind. Alex Luck limped in, then Damon Oborne moved all in over the top, and Kalan Shuttlewood called all in as well. Luck got out of the way, and the three players revealed their hands:
Wood –
Oborne –
Shuttlewood –
The board ran out
, and Shuttlewood more than doubled up as Oborne took a hit to his stack and Wood exited in 16th ($4,028). Oborne was next to fall when he got his last few chips in with
. Jovan Scekic went into the tank, but finally called from the big blind with
. The flop of
put Scekic in the lead, and no help came on the turn or river for Oborne, who picked up $5,907 for his 15th-place finish.
Brett Hartley went out in 14th in a four-way pot where his
was outflopped by Jovan Scekic's
. The final board read
, and Hartley was eliminated. Dale Townsend then ran
into Vincent Wan's
and didn't improve enough to avoid elimination, finishing in 13th ($5,907). Paul Schembri (12th) and Mark Saber (11th) fell next to set the final table:
Yevgeniy Timoshenko 370,000
Con Cotsomitis 81,000
Michael McDonald 206,500
Justin Gendle 108,000
John Georges 125,000
Jovan Scekic 319,000
Vincent Wan 387,000
Kalan Shuttlewood 95,500
Peter Pratis 159,000
Alex Luck 319,000
The table kicked off with a lot of jockeying for position and patient play, and the first elimination didn't occur until after more than two full orbits. Kalan Shuttlewood found himself on the short stack with
and put the last of his chips in preflop. He found one caller in Michael McDonald, who tabled
. The flop was exciting for both players, as the
board gave McDonald middle set, but left Shuttlewood the spade flush draw. Shuttlewood, though, was dead on the turn when the
gave McDonald a full house. The meaningless
came on the river and Shuttlewood was eliminated in tenth place ($7,787).
Con Cotsomitis moved all in over the top of Yevginey Timoshenko's preflop raise with
, and Timoshenko called with
. Timoshenko caught the
on the river to send Cotsomitis to the rail in ninth ($10,203). John Georges was next to fall to Timoshenko when he moved all in over the top of Timoshenko's preflop raise with
. Timoshenko called with
, and hit the
on the flop. No help arrived for Georges and he exited in eighth ($12,888).
Alex Luck lost a coin flip against McDonald in his last hand to finish seventh. McDonald raised preflop with
, and Luck pushed all in from the small blind with
. McDonald called and the flop came down
, bringing a pair of kings for Luck but a set of fours for McDonald. The rest of the board ran out
, and Luck departed with $16,110. Yevgeniy Timoshenko went to the rail in sixth when he ran
into Peter Pratis'
and couldn't improve. He picked up $21,480 for his efforts.
Jovan Scekic busted in fifth when McDonald outflopped Scekic's
with his
. The flop came down
, and no queen on the turn or river meant Scekic exited with $29,535. Justin Gendle then went all in over the top of McDonald's preflop raise, then found more action in the form of Vincent Wan's all in shove. McDonald folded after some time in the tank, and Gendle showed
to Wan's
. Wan connected on the
flop, and when the turn and river came
, Gendle was ousted in fourth ($40,275). It was just a few hands later than Wan claimed another scalp, busting Peter Pratis in third after his
stayed ahead of Pratis'
, the board running out
. Pratis earned $56,385 for his third-place finish.
Vincent Wan took a nearly 2:1 chip lead into heads-up play, but the back and forth duel lasted over 60 hands and featured several early double-throughs by each player. McDonald doubled through early when he flopped an ace with
to crack Wan's kings. Just two hands later, Wan doubled through McDonald when his aces held up, again giving Wan the lead. The jockeying for position continued until Wan took a small chip lead into the final hand. In the concluding action, McDonald raised preflop from the button, and Wan re-raised. McDonald shoved all in, and Wan quickly called with
, which was ahead of McDonald's
. The flop came down
, leaving McDonald well behind. The turn
left him drawing to only three outs, and when the
fell on the river, the title was Wan's. Mcdonald departed in second with $85,920 while Vincent Wan was crowned the champion in Event #1 of the 2008 Aussie Millions and was the winner of AUD $142,302 in first-place prize money.