The PokerNews Interview: Brandon Cantu
Haley Hintze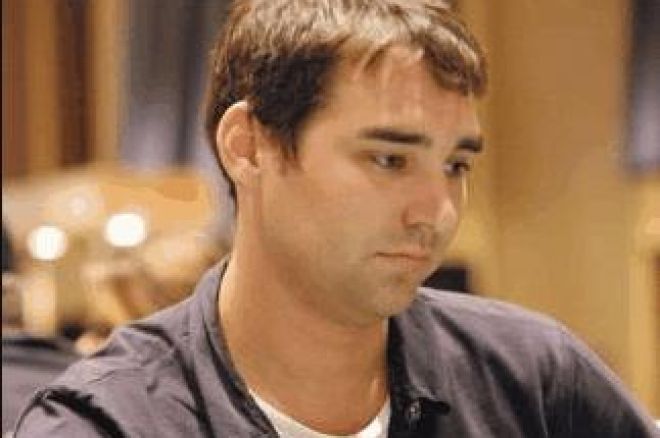 Rarely does a week pass by without news of a big score by a formerly unknown poker player. Brandon Cantu was once one of those names, most of which are rarely heard from again. Vancouver native Cantu emerged from nowhere to win a $1,500 2006 WSOP No-Limit Hold'em event over a giant 2,776-player field; that win brought Cantu a $757,839 check. Cantu notched another six-figure payday in late 2006 at the Five Diamond World Poker Classic but still searched for that second huge title. Success again came Cantu's way at the recent Bay 101 Shooting Star, an upcoming televised WPT event, where he dominated the late stages of play and was never seriously threatened at the final table. PokerNews checked in with Cantu after his recent victory for his thoughts on his performance and what it means for his career:
PokerNews: Brandon, you've just notched a great score by capturing the Bay 101 Shooting Star. If you could, share with our readers the inside story of your win. When did you first realize that you had a great chance of going really deep in this event?
Brandon Cantu: Actually, this is one of the events that I knew right from the beginning that I had a good chance because I was almost chip leader the whole way. Probably from the third level of the tournament, I was chip leader. I lost [the lead] just for a little bit, but I was never ever below average. The whole way through I had a very good chance to win it.
PN: Was there a key hand early on that triggered your run?
BC: Early on I was pretty much just winning every hand, it seemed like. I had lots of big hands early on and I was getting all my hands paid off, which is always a nice thing. Early on when I was chip leader, I had a big hand against John Juanda, where it was a battle of the blinds. I had threes and he had ace-king and we got it in for probably the biggest pot of the day – it was a probably a 120,000 pot. My pocket threes held up.
PN: How would you characterize your opponents on the first couple of days? Did you have any really tough — or easy — tables?
BC: My tables weren't tough, they weren't easy -– they were pretty much middle of the road. I always had like two bounties at my table pretty much at all times, so it's always nice when you play in a bounty tournament and there's an extra $5,000 at the table. Other than that it was average; it wasn't too hard or too easy.
PN: How would you characterize your own play through the event?
BC: I would say that I played, overall, really, really good. I didn't play flawless; it wasn't the best tournament I've ever played, but I did play very good. I had one really big suckout, but other than that I just played solid. I did have a lot of hands in the tournament and everything just went well.
PN: Brandon, this event switched to short-handed play at the start of Day Four, which is a little different than in other WPT events, and it was here that you made your move. To what extent do you think the extended short-handed play helped you?
BC: It helped me a lot. I like short-handed play, six-handed play just so much better. It completely fits my style. I do like to see a lot of pots, and it helps me out when I play.
PN: You won 17 pots in a row at one point, with several other strong players at the table. What was going on there?
BC: It was a situation where we were right on the TV bubble with about eight players left. I had such a big chip lead it seemed like nobody wanted to play a pot with me, and when they did want to play a pot with me, it seemed like I had the nuts over and over again. More, it seemed like people were letting me have the pots because they just wanted to make the TV table.
PN: You came to the final table with a big lead. What was your game plan for the final? Was there ever a moment when you felt in jeopardy during the final?
BC: You know, I didn't have a plan coming in. My big thing is I like to feel situations out; every situation is different. I don't usually come in with a plan. So when I came to the final table, it seemed like everything went smooth and I was never, ever in jeopardy. Nobody ever had over 2.1 million in chips and there was 7.5 million in play. Really, nobody had even a third of the chips. It had to be one of the most runaway WPTs of all time.
PN: And when you finished off Steve Sung for the win? Talk about the action on that hand.
BC: On the final hand, I had about 6.7 million in chips and Steve had about 800,000. I raised to 80,000 and he just moved all in. I called, and I had fours and he had threes. On that hand, it was amazing because there's this feeling when you know you're so close – you just have to have this one hand, where you're an 80% favorite, just to hold up. It's just an amazing feeling; every card is so dramatic when they peel off. Everything happened to work perfectly, so I got to get mobbed by my friends and family, which was pretty fun.
PN: Reports are that you had quite the rooting section at the final table. Any comments on that?
BC: I had a lot of friends from high school and my family who all flew in. It's always so nice to have that support.
PN: Did you celebrate your win in style?
BC: We didn't, because we were in San Jose, and when this tournament ended, it was after midnight. It was like one a.m. and everything was closing. We never did get to celebrate because most of my friends had to leave the next day. There's always later for that.
PN: You collected six bounties in the Shooting Star, including Jennifer Harman at the final table. Any thoughts on next year when you're likely to be a bounty yourself? Will people be shooting for you?
BC: I think I'll be a bounty next year. I'm not positive, but I think the defending champ would be. I think people will be gunning; I think you always want to take out the person that won it the year before –- there's always a little satisfaction in that. Always having the extra $5,000 bounty means people will likely be gunning for you.
PN: How does the Bay 101 Shooting Star compare with other events? Is it one of your favorite venues?
BC: It is one of my favorites. The structure is actually the best structure I've seen, played, or even heard of. The structure was incredible in the tournament; it was almost too good at some points. The venue's great; I like playing in San Jose. The people were great. It seemed like there were even more poker fans there, which made a nice cheering section. The staff was great, so it made it an overall great experience.
PN: Two years ago, did you ever think that by now you'd have both a WSOP bracelet and a WPT title?
BC: No, I never thought that. Even before I won my bracelet I couldn't even fathom winning the bracelet. After I won the bracelet, I thought, "Oh, God, it would just be so hard to ever go through that again." To be honest, I didn't know if I would ever, ever win a WPT event or a bracelet again. You have those doubts. You wonder if it's just a one-time thing…? But it happened again. But, I don't think you can be completely lucky twice. I think it validates your poker career when you get that second victory.
PN: How do your two biggest wins compare? What was different from the WPT win compared to your 2006 WSOP bracelet?
BC: The big difference was at the World Series, I didn't know what to expect, playing at a final table. I think I was a lot more arrogant at the time, in terms of how I approached things. This time, I knew how hard it is to get back. The first time I played at that World Series event, it was the first time I had entered any kind of a major. This time, when I got back to the WPT, I had played so many events between the World Series one and the WPT one that I knew how hard it was, and how much work and how much dedication it takes. This win was a lot sweeter but nothing would ever compare to the first one.
PN: It seems to be getting more and more expensive to travel the
circuit and be a touring pro player. Can a player survive and lead a good lifestyle with just one big score every year or 18 months?
BC: Yeah, I think so, depending on how big your score is. I figure a million will last me a few years. I figure at least two years on buy-ins and travel.
PN: It seems that you play a lot of preliminary events. Do you sometimes
get burned out playing this much? If so, how do you deal with that?
BC: I didn't use to play as much as I have been recently. I'm not getting burned out right now. I'm actually having a lot of fun playing, and when I'm having a lot of fun playing, I don't feel like I'm going to work every day, I'm just having a really good time playing. I'm not getting burned out at all. Maybe in July or August… after the Series, I remember getting burned out, but not right now. I'm having a great time playing.
PN: How much do you play online compared to live these days?
BC: I play a lot more live. I usually only play online when I'm really bored or sitting at home with nothing to do. I usually play live, whether it's a cash game or tournaments. That's my bread and butter.
PN: What is the next thing you'd like to accomplish in poker?
BC: The next thing I want do in poker, at this moment, is to win a European Poker Tour event. I really want to go for the "Triple Crown".
PN: You want to join Gavin Griffin in that?
Gavin's the only one who's there right now. I've yet to play a European Poker Tour event, but I'm planning on playing a couple this year. I don't have any events in mind right at this moment. I have to look at the schedule; I just won this World Poker Tour event and it's going to take me a little bit of time to look at the schedule down the road.
PN: Several pros have had recent public struggles with living the "touring pro" lifestyle, most notably Shannon Shorr's recent episode wherein he actually went back to college for a few weeks. Do you ever consider going back into the
"real world"?
BC: No, I couldn't do that. I've actually thought about that a few times. I could never go back, even to the working world. It's not for me -– I've been too spoiled with big scores. I could never go back.
PN: What do you see yourself doing five years from today?
BC: I don't know. Hopefully I'll have a few big more scores, maybe win that European Poker Tour event, add another bracelet or two. I guess those are my only goals.