Three-time WSOP Bracelet Winner John Bonetti Passes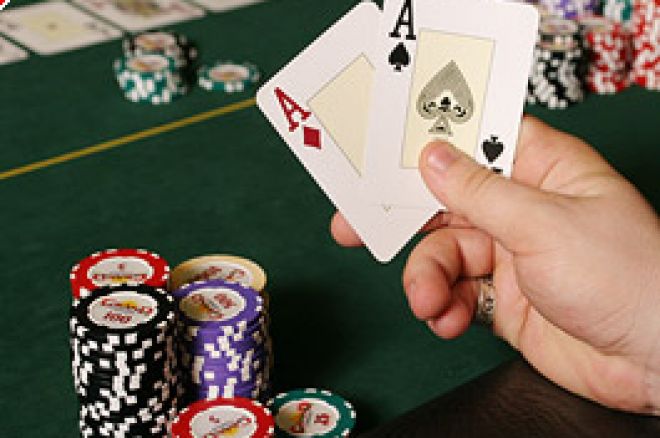 Three-time WSOP bracelet winner John Bonetti died of cancer on Saturday, June 28th in his hometown of Houston, Texas.
Bonetti won his first WSOP bracelet in the 1990 No Limit Deuce to Seven Lowball event at a final table that included the legendary Johnny Moss. He won his second bracelet three years later in the $1,500 Pot Limit Hold'em Event, just edging out Chau Giang. And in 1995 Bonetti won yet another bracelet in No Limit Deuce to Seven Lowball; an event where Johnny Chan finished in second place and Doyle Brunson finished in third. All told, John Bonetti made 20 WSOP final-table appearances in a career he started late in life.
When most of today's players are starting into poker in their late teens and early twenties, John Bonetti didn't begin playing the game until the age of 57. His first WSOP cash came in 1987, the year that this year's crop of 21-year-old players was born.
In 2001, John Bonetti was inducted into the Seniors Hall of Fame. By that time, he was reported to have played in the WSOP Championship event 16 times, finishing in the money seven times, twice in third place. In his acceptance speech, Bonetti called poker "the greatest game in the world," and stressed that nobody is ever too old to learn the game or to keep getting better at it.
Vince Burgio, who introduced Bonetti at the Seniors Hall of Fame induction ceremony, described the colorful and oftentimes contentious Bonetti as a tough, hard-nosed competitor who gave no quarter and asked no quarter. But he also described him as someone who displayed generosity and compassion for those less fortunate, those who needed "a stake in a satellite or a few bucks to get home on."
While Bonetti will be remembered for his numerous poker accomplishments, he will also be remembered as one of the game's most abrasive and colorful characters. Bonetti established his intimidating, larger-than-life persona long before being "colorful" was as accepted and recognized as it is in the poker world today. Phil Hellmuth remarked that Bonetti would have been "a huge star if the cameras had come five years earlier."
Bonetti had a strong family life as well. Hellmuth spoke fondly of Bonetti's wife, Jean, who "put up with him all these years," and he also mentioned Bonetti's special bond with his granddaughter, Natasha, who was married in Houston this past year. Hellmuth described Bonetti as a devoted family man.
Two-time bracelet winner Mark Seif remembered Bonetti this way: "I was always so entertained by John — he always made me laugh. One time in Aruba he was firing at pot after pot after pot. I asked him why and he said, 'Sometimes my wife likes to eat! Sometimes my wife likes to eat twice a day!" The way Bonetti said it, Seif noted, had the whole table cracking up. Seif also stated that Bonetti "... was fearless. He would play literally any two cards."
Amarillo Slim Preston, upon learning of Bonetti's passing, remarked that, "I always got along good with John. He always bet the horses so we got along well." Preston also remembered a typically Preston-esque tale involving Bonetti: "I gave a guy – damn near a total stranger – $25,000 to take to John Bonetti and to (tell Bonetti) to take the guy's action. I guess the 25 grand lasted about two and a half weeks."
TJ Cloutier also remembered Bonetti's fondness for the horses. "John and I were real, real good friends. We did lots of things together. We used to go the racetrack. One time we shared a limo to go to Santa Ana." TJ described Bonetti as a "gruff old boy but a great man," and chuckled as he remembered Bonetti's New York/Italian upbringing and his "male dominance" thinking.
At a roast held during the 2005 WSOP, Media Director Nolan Dalla called him a "ball-busting, cantankerous curmudgeon." The audience, including Bonetti, all nodded in acknowledgement. And Bonetti was a floorperson's worst nightmare, able to rack up a record number of penalties for his choice of words at the table. Mike Sexton recalled that Bonetti once was able to establish another penalty record of sorts. Just before the break at the old Tournament of Champions, Bonetti's A-K lost to A-Q when a queen rivered. Walking away, he dropped the F-word when telling someone about the hand. A floorman three tables away overhead him and slapped him with a 20-minute penalty, possibly making Bonetti the only player ever to be penalized on break away from the table.
Bonetti was equally tough on poker dealers. Harrah's high-games supervisor Tony Shelton told how dealers used to fantasize about ways to eliminate Bonetti during their breaks. In the end, they were sure that Bonetti could overcome anything they could throw at him, causing one dealer to claim, "The SOB is indestructible." The dealers were right. John Bonetti is indestructible and his passing won't alter the indelible mark his contributions and persona leave on the game that he loved.