The PokerNews Profile: John Phan
Nicole Gordon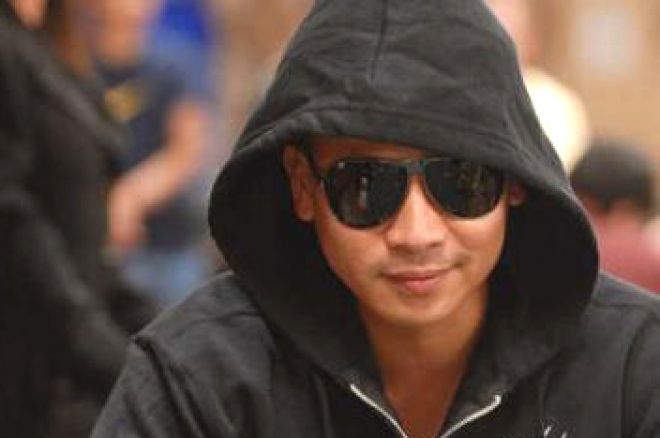 His friends call him "The Razor" — not only for his tendency to raise every pot he's in or his affinity for the sleek Motorola cell phone, but for his uncanny instincts for reading weakness in his opponents. To the uninitiated, John Phan might come off as a total lunatic at the tables. He raises junk hands, chats up his opponents, and occasionally guzzles fine red wine with abandon. It's a fine-tuned image, a "razor" sharp line if you will that John Phan walks in the poker world. However, along the way to over $4 million in career tournament earnings, Phan never forgot where he came from and never stopped giving back to both his family and his country.
John Phan was born in Vietnam in 1974. When he was just a boy, Phan fled his home country with his family, seeking a better life in the United States. They settled in the northern California farming town of Stockton, California when he was eight. Phan's family ran a grocery store and he worked there for most of his youth—the only "real" job he'd ever hold. By age 16, Phan was playing in low-limit games at a small local cardroom run by a close friend of his. After graduating from high school, he enrolled in community college, but his studies took a backseat to the $2-$4 and $3-$6 limit hold'em games that were commanding most of his attention. Eventually Phan ventured out to casinos in nearby Sacramento and started playing bigger games. Seeing how much money could be made at the tables, he quickly left college behind and by his 21st birthday, he was a full-time poker professional. In those early days, Phan earned his living playing middle-limit hold'em at various California casinos including Commerce and Hollywood Park. For his first couple of years as a pro, Phan hid his profession from his family. When he finally decided to tell them, they responded with strong disapproval of his career choice. However, as he found continued success and poker moved into the cultural mainstream they began to come around.
After several years spent as a cash game pro, Phan began playing tournaments and earned his first victory in a $200 seven-card stud event at L.A.'s Bicycle Casino in October 1998. Only a few weeks later, he took down his second, a $200 limit hold'em tournament that earned him over $10,000 for first. Phan was hooked-- his aggressive, unpredictable style adapting well to tournament play. Over the next three years, Phan became a fixture in Southern California tournaments, making 19 final tables in a variety of poker disciplines including seven-card stud, Omaha hi-lo, pot-limit hold'em, and his specialty, limit hold'em.
2004 was John Phan's breakout year. His first six-figure tournament cash came at the Jack Binion World Poker Open in January where he won the $500 limit hold'em event, banking over $160,000. Four days later, he won another World Poker Open event, the $500 pot-limit hold'em tournament, adding another $85,000 to his take. He followed up his success in Tunica with two final tables at the L.A. Poker Classic and another at the Bay 101 Shooting Star. Phan would rack up two more tournament victories that summer—a $189,000 score from winning a $3,000 NLHE event at the Bellagio's Festa al Lago and another $76,000 from a preliminary event win at the Bicycle Casino's Legends of Poker. Having conquered lower buy-in events, it was time for Phan to step up to the $10Ks and prize pools that were growing ever-juicier thanks to televised poker.
John Phan made his first World Poker Tour final table at the 2005 WPT World Championships. In the televised finale of the $25,000 buy-in event, he faced off with Phil Ivey, Rob Hollink, Hasan Habib, and eventual winner Tuan Le. Phan finished fourth and took home over $518,000, which at the time was his largest tournament cash to date. He headed into the 2005 World Series of Poker with huge momentum and made one final table at the $5,000 Seven-Card Stud event where he finished fourth. He made final table after final table in 2005, finishing at or near the top of every Player of the Year list in poker, but one thing still eluded him. A WSOP bracelet.
Phan came within a whisper of that bracelet in 2006, when he finished runner-up to Jon Friedberg in the $1,000 No-Limit Hold'em with Rebuys event. In 2007, he made another bridesmaid finish at the WSOP, finishing second to Francois Saffieddine in the $2,500 No-Limit Hold'em event. Anytime a list was made of the greatest players to never win a bracelet, Phan's name was on it. All that changed this summer.
After one of the wildest heads-up matches in WSOP history (which included several hands where both players moved all-in blind before running out the board one card at a time) John Phan emerged the victor and captured his first World Series of Poker bracelet on June 17, 2008 in the $3,000 No-Limit Hold'em event, winning nearly $435,000. True to form, Phan waited only a week to take down his second, winning the $2,500 Deuce-to-Seven Triple Draw Lowball event and $151,000. With this feat, Phan joined an elite group of players (including Phil Ivey, Ted Forrest, Layne Flack, Jeff Madsen, Tom Schneider and Mark Seif) who have won multiple bracelets in a single year.
Though Phan maintains a busy travel schedule, he, along with his close friend and fellow poker pro Liz Lieu, take the time to give back to their home country. Phan donates a percentage of his winnings to support his family members and takes frequent trips to Vietnam with Lieu where they distribute food and supplies to their relatives' villages and visit orphanages and shelters. He hopes one day to start his own children's charity in Vietnam.
When he's not traveling the tournament circuit, John Phan lives in Long Beach, CA.