The PokerNews Profile: Max Pescatori
Nicole Gordon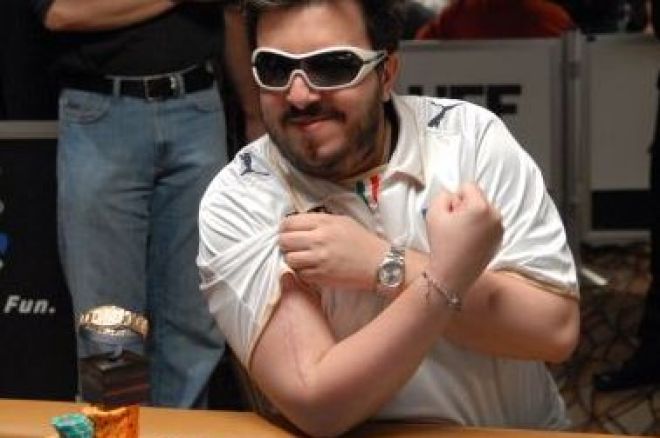 It was national pride that gave him the nickname. Max Pescatori was tired of people not realizing he was Italian, so one day he decided to wrap his head in a bandana bearing the red, white and green of his home country's flag. Almost instantly he was dubbed "The Italian Pirate" and the name stuck. Unlike many poker pros, Pescatori likes his nickname, even revels in it, demonstrated by a trip to his personal website, which is decked out in a full-on seafaring theme. Pescatori is one of poker's more colorful characters—this summer the affable 37-year old turned up at the World Series of Poker with his arm in a sling and seemed to give every reporter who asked a different story as to how he injured it ("bar fight" was the version he told us).
Max Pescatori was born in the Italian fashion capital of Milan, Italy. He had a fondness for cards from a young age frequently playing the game "scopa" with his father. The two entered a scopa tournament when Pescatori was 11 and ended up placing second. The trophy he took home that day was the first of many he'd earn over his lifetime from playing cards. As a teenager he continued to develop his skills in five-card draw games with friends and he ultimately moved to Las Vegas in 1994 to get closer to the action.
23 years old and new to America, Pescatori worked a day job on the Strip and played low-stakes poker at night. The first room he played in on a regular basis was at the Luxor, where he started off playing stud. Soon, he discovered hold'em and realized that the games were far juicier. He developed his skills, ground it out, and continued to play low limits for the next couple of years, before deciding to take his game to the next level. He searched for, and ended up meeting Valter Farina, the only Italian to ever win a WSOP bracelet. Farina began tutoring Pescatori and in 1999 he was able to quit his job and turn pro.
In his early days as a full-time poker player, Pescatori made his bread and butter at $8-$16 and $15-$30 limit hold'em cash games. As he moved up through the middle limit games in Las Vegas, he befriended a number of fellow pros including Evelyn Ng. Internet poker was in its nascent stages, and Pescatori became one of the first players to satellite into a major land-based tournament via an online site when he won a seat to the 2002 WPT Aruba. He didn't cash in the event, but ended up striking up a friendship with his fellow countryman Marco Traniello and his wife, high-stakes cash game legend Jennifer Harman.
Harman took Pescatori's poker education to the next level. She encouraged him to move up to the $80-$160 limit hold'em game at Bellagio and occasionally let him sit behind her while she played in the "Big Game." Harman allowed Pescatori to view her hole cards and exposed him to different poker variants like Omaha and triple draw. Pescatori also began playing lower buy-in tournaments, making six final tables his first year in a variety of games including Omaha hi-lo, stud hi-lo, and limit hold'em. His first tournament win came in March 2003 when he took down a $300 buy-in limit hold'em tournament at the World Poker Challenge in Reno for a $24,000 score. Three days later, he'd win his second with a victory in the $300 Omaha Hi-Lo and another $17,000. He'd finish out 2003 with another six final table appearances, all while continuing to do well in cash games.
In 2004, Pescatori ramped up his tournament schedule in a major way. In addition to making two cashes at the 2004 WSOP, Pescatori banked over $100,000 for winning a $200 rebuy tournament at the '04 Legends of Poker at the Bicycle Casino in Los Angeles. He returned home to Vegas and proceeded to make a mind-boggling eight final tables at the Ultimate Poker Challege at the Plaza. The tournament series was nationally televised and it was then that the public got their first glimpses of the Italian Pirate.
Pescatori cashed six times at the 2005 WSOP, making one final table in the $2,000 Pot-Limit Omaha event where he finished fifth. He also captured two WSOP-Circuit rings for victories in the $1,500 limit hold'em event in Atlantic City and the $2,000 NLHE in Las Vegas. He became a fixture in low buy-in tournaments in Los Angeles and Las Vegas and all told, Pescatori made 20 final tables in 2005 and racked up over half a million in earnings.
Max Pescatori would later describe July 9, 2006 as the greatest day of his life. Not only did Italy win the World Cup, but Pescatori won his first World Series of Poker bracelet in the $2,500 No-Limit Hold'em event, besting a field of 1,290 players. For Pescatori, everything came together that night and his victory earned him over $682,000. Now focusing almost exclusively on tournaments, Pescatori made three more cashes at the 2007 WSOP, and continued to rack up final table finish after final table finish in smaller events. Pescatori's '07 tournament highlight was a victory in the Italian Poker Championships in San Remo and he started off '08 with a final table at the Aussie Millions and a 10th place finish in their Main Event.
It wouldn't be long until Pescatori added another WSOP bracelet to his growing collection. The Italian Pirate took down the $2,500 Pot-Limit Hold'em/Pot-Limit Omaha event at the 2008 WSOP, where he finished off a final table that included Minh Ly and Allen Cunningham. The win added another $246,000 to the till and his $2.4 million in career tournament earnings put him within $100,000 of taking over the #1 spot on the all-time Italian Money List from John Spadavecchia.
Max Pescatori continues to live in Las Vegas, NV and when he's not traveling the tournament circuit, he can often be found playing online at Full Tilt, where he is a sponsored player.