Poker & Pop Culture: Amarillo Slim Goes on Johnny Carson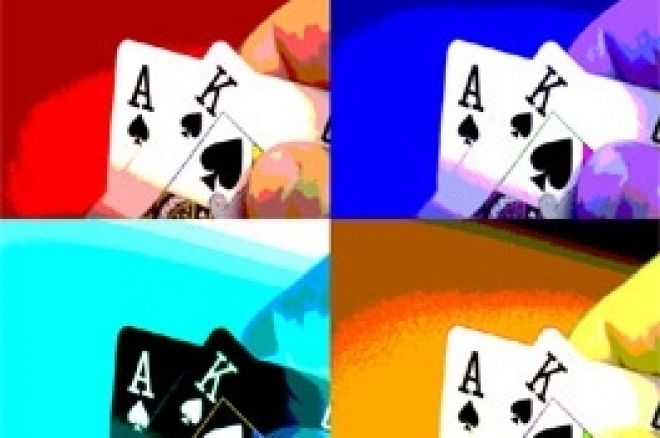 If we consider the birth of the World Series of Poker in 1970 as the dawning of a "modern" era of professional poker, a signal occurrence in the early history of that era was the emergence of one of the WSOP's early champions, Thomas Austin "Amarillo Slim" Preston, as a bona fide national celebrity. When we consider that era as a whole, Preston is without question its earliest example of a professional poker player becoming a household name, known well beyond the poker world as the game's most recognizable envoy.
The story of that transformation by which the self-promoting, prop-betting, fast-talking Preston became — for a good while, anyway — the "face of poker," itself has a decisive moment, namely, the appearance of Preston as a guest on America's most popular late night talk show, "The Tonight Show" with Johnny Carson.
THE 1972 WSOP — PICKIN' SLIM
"They knew they couldn't get any publicity out of it if Doyle won it… and that's not putting Doyle down... Doyle just wasn't a talker in those days. And Puggy wasn't a good choice because about half the people he screwed over the years were bound to say a few things. So I was the pick for winning it."
So says "Amarillo Slim" Preston to Des Wilson in the latter's Ghosts at the Table (2008) in his commentary on the finale of the 1972 World Series of Poker Main Event, the truth of which has been contested over the years as energetically as some WSOP final tables.
In just its third year, the Series at Binion's Horseshoe was still a modest affair, with a small field of entrants who attracted only scant coverage by various (mostly local) media outlets. Eight professionals entered the Main Event that year, each of whom ponied up the then-$5,000 entry fee. Primarily to drum up additional interest in the WSOP and in the Horseshoe, Benny Binion added an extra $5,000 per player, making it $80,000 total for the one finishing first in the winner-take-all format. The size of the prize pool had in fact attracted enough attention to make the players aware that however things turned out, the story of the 1972 WSOP would most likely find its way beyond Fremont Street.
After one day of play, four of the original eight remained — Doyle Brunson, Puggy Pearson, Jack Straus, and Preston. A few hours into Day Two, Straus was eliminated in fourth. That's when the remaining players began talking.
What they discussed is a matter of great debate, though by most accounts the conversation involved both Pearson and Brunson sharing reservations about the potentially negative publicity — not to mention the extra aggravation of earning IRS agents' notice – that being crowned the world champion of poker might bring to the winner. We know, at least, Brunson felt that way. Declaring himself the victim of a stomach ailment, he was allowed to cash out his remaining chips, an amount Wilson says was $40,000, though most accounts put the figure closer to $20,000.
Pearson and Preston were left to battle it out for the rest, with Preston eventually taking the last of Pearson's chips when his king-jack bested Pearson's pocket sixes. While Brunson and others have insisted that Pearson legitimately tried to win the bracelet, Preston himself has suggested — in Wilson's book and elsewhere — that he had perhaps been "picked" to win by Binion and others interested in increasing the profile of the WSOP.
Whatever actually happened during the final hands of the 1972 WSOP, Preston was certainly more than willing to take on the challenge of being a kind of unofficial spokesperson for poker. Preston claims in his memoir (written with Greg Dinkin), Amarillo Slim in a World of Fat People (2003), that Benny Binion had essentially anointed him as such. There Preston notes that Binion, with reference to poker's status in mainstream culture, told him "Slim... you're the only sonofabitch that can get this up out of the dirt."
In his earlier Play Poker to Win (1973), Preston portrays himself wandering about outside the Horseshoe a couple of hours after having claimed the Main Event title, a reporter in tow. "I'm looking for a game — any game at all," he purportedly cries out into the night. "Seems like a feller should be able to get a game like that — something interesting, you know — in a town like this."
He'd find something interesting, all right. A different kind of game, as it were.
HERE'S JOHNNY!
Within a month of his WSOP triumph, Preston was invited to appear on The Tonight Show with Johnny Carson on June 16, 1972.
The show had only just relocated from New York to Burbank, California in May, where it would be produced for the remainder of Carson's tenure as host and subsequently when Jay Leno took over in 1992. Preston took the stage that night with Johnny along with Steve Allen (a former host of "The Tonight Show"), comedian Bill Dana, actress Jane Meadows, Latin jazz percussionist Willie Bobo, and pop singer Kenny Rankin.
Robin Williams once suggested that "being on Johnny Carson was like being on Centre Court at Wimbledon." The analogy is apt, particularly when one refers to the show's pre-cable television heyday when its influence as the single most-watched late night talk show was at its height. Since taking over "The Tonight Show" a decade before, Carson had increased the show's audience considerably, thanks largely to his amiable personality, his quick-wittedness, and his special capacity for steering clear of the spotlight to let his guests shine.
A perfect fit for Preston. Indeed, when it came to his showing on Carson — to borrow a term from both tennis and poker — Amarillo Slim was aces.
In Total Poker (1977), David Spanier spends a chapter focusing on 1972 Main Event runner-up Pearson, telling the story of Puggy's triumph in the Main Event the following year. There Spanier contrasts Pearson with Preston, suggesting Slim was "much more a poker player's stereotype." Preston certainly possessed a showman's flair like few other poker players of the day. However, it was his ability to slip into that role — that stereotype — that likely played so well to those tuning in across the country to watch Johnny.
In All In: The (Almost) Entirely True Story of the World Series of Poker (2005), Jonathan Grotenstein and Storms Reback describe Preston's "special fondness for boldly colored suits and custom boots" and shirts with "emerald buttons, the louder ones dollar gold pieces," topped off with his trademark, wide-brimmed, ten-gallon Stetson. The look fit well with the image of the Old West gambler, stepping out of the 19th century to bring poker into 1970s living rooms. And hearing Preston speak, one soon realized it wasn't just a look he was cultivating — it was a fully-formed persona. Though originally from Arkansas, Preston's family had moved to Texas when he was a child, and throughout his adult life he'd consistently present himself as the Texas road gambler, "fading the white line" while always on the lookout for a good hustle. As a result, Preston was a perfect liaison between America's heartland and Vegas glitz and glitter.
Preston's homespun one-liners and anecdotes about his various prop bets won him numerous invitations back to "The Tonight Show." He'd be on again in August, and ten more times after that. Preston claims in Fat People that Carson became so comfortable with him he began inviting him on every time Bob Hope was a guest "so Mr. Hope wouldn't make him so darn nervous." Preston had a history with Hope, in fact. After being discharged from the Navy following WWII, Preston had participated in a Special Services tour in Europe to entertain troops. An accomplished billiards player, Preston performed pool tricks for the servicemen, and had met Hope during that period.
Suffice it to say, Preston found the couch on "The Tonight Show" set plenty comfortable, and during the early 1970s it was from that seat Preston more than anyone else successfully carried poker and the WSOP to the masses.
AN AMBASSADOR OF POKER
The Amarillo Slim publicity tour would continue beyond "The Tonight Show." Preston was profiled on "60 Minutes," and would appear as a guest on "Good Morning America" as well as on several game shows, including "To Tell the Truth," "What's My Line?" and "I've Got a Secret." He addressed the National Press Club on two occasions, and was even invited to speak before the U.S. Senate. He also appeared with Benny Binion on Tom Snyder's "The Tomorrow Show" (which followed Carson on NBC), where the pair was featured for the entire hour-long program.
"After a while these shows became kinda routine," says Preston in Fat People. "But I kept making appearances, because I knew it'd be good for Benny and the World Series of Poker, and, as it turned out, it was even better for old Slim." Preston would do numerous commercials and even took a turn playing himself (or a reasonable facsimile thereof) in Robert Altman's classic 1974 gambling film California Split.
Binion's decision to increase the Main Event prize pool in 1972 — plus, whether manipulated or otherwise, the crowning of Preston as that year's champ — did have the intended effect of increasing the WSOP's profile. CBS would come around to cover the Series the following year, filming a documentary hosted by Jimmy "The Greek" Snyder. According to Reback and Grotenstein, a whopping 7,000 newspaper and magazine articles would be written about the '73 WSOP.
One of those articles appeared in the May 28, 1973 issue of Time, a profile of Preston by John Austin called "Slim's Good Life." Aside from sharing the usual tales about Preston's prop bets, the article introduced Time readers to the structure of the WSOP Main Event, explained how Texas hold'em was played, and even briefly touched on certain poker-related concepts (such as identifying tells) that began to suggest the skill set needed to succeed in poker.
While Preston's reputation and standing has altered in the years since, one cannot argue the overwhelming significance of his appearances on "The Tonight Show" to the post-1970 history of poker. In fact, when one compares the tidal wave of publicity inaugurated by those spots, Chris Moneymaker's appearance on the "Late Show with David Letterman" in June 2003 — a couple of months prior to ESPN's airing of his Main Event victory — would be a mere ripple in the cultural mainstream.
Ed note: All the US poker sites together with the best PokerNews bonuses and promotions can be found at the US poker page. You will only find the US friendly poker rooms there alongside with the PokerNews special offers.