2008 PokerStars WCOOP Kicks Off 33-event Slate Today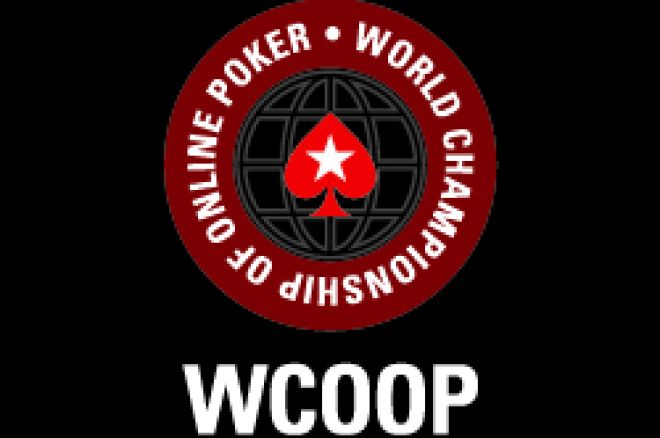 The seventh annual edition of PokerStars' World Championship of Online Poker (WCOOP) begins today with the first two events of a busy 33-tourney schedule, running through September 22nd. $30 million in prize money is guaranteed over the series' 18-day run, with the previous six WCOOPs suggesting that the actual total amount of WCOOP prizes paid will be much higher.
The importance of the WCOOP as online poker's preeminent event cannot be understated, with several of the biggest stars in the online game offering their thoughts on this year's series. New PokerNews online reporter Ryan Nelson contacted several prominent players about the WCOOP; here's what they had to say:
PokerNews: how big a deal is the WCOOP to the online poker community?
Chris "Moorman1" Moorman: Its pretty much something else. In the online world there is the weekly grind where there are some days which more important than others. Sundays are definitely the biggest day of a typical week. The other big days are Wednesday nights, Saturday early evenings (afternoons in America) and Monday and Tuesday nights with the $1Ks. Thursdays and Fridays are pretty much all the pros' days off.
FTOPS is obviously big as well but because its four times a year it's nowhere near as prestigious. The structures for FTOPS events also, on the whole, are a long way behind the WCOOP ones. If you win a WCOOP event no one can ever say you didn't deserve it. The WCOOP is something you see happening in a couple of months' time and plan your life around it.
Russell "rdcrsn" Carson: I think it's pretty huge; it's an unreal tournament series, probably second best in the world after the World Series of Poker, so it should be huge to the entire poker community, not just the online community.
Joe "hoodini10" Udine: The WCOOP is what every serious online MTT player builds up to every year. The tournament series boasts a ton of great tourneys with big payouts and good structures. Personally, I have been looking forward to this month since the WSOP ended. I'd say winning any WCOOP event can be considered one of the biggest accomplishments in online tourney poker.
PokerNews: What are you doing to prepare for the tournaments?
Moorman: My sleeping pattern will be geared to the comp[etition]s. It's 7.30pm and 9.30pm starts in the UK and if you go deep in one of the events you're going to be playing for a very long time (you could easily still be playing at 9am the next morning) so therefore I'm going to be waking up at 6pm and have a supply of energy drinks and food in the house to keep me going through the night.
I think stamina and tilt control will play a big part in this series. A lot of players will struggle to maintain a consistent high level of performance throughout the whole tourney.
Among the big events fans and players should check out are the $215 NLHE 6-max tourney (Event #1, #$1M guaranteed), $10,300 NLHE (Event #5, $2M guaranteed), $530 NLHE (Event #6, $3M guaranteed), $215 + rebuys NLHE (Event #13, $1M guaranteed), $25,500 "High Roller" NLHE Heads-Up (Event #19, $1.6M guaranteed), $1,050 NLHE (Event #20, $3M guaranteed), and the Main Event (#33) which features a $5,200 buy-in and a guaranteed prize pool of $10 million. The WCOOP kicks off today at 2:30PM EST with the $215 NLHE 6-max event, and will be followed later in the day by Event #2, $215 Five-Card Draw, which guarantees a $100,000 prize pool. The two-day Main Event's $10 million guarantee is the largest ever for an online, series-based event.
Other unusual events in this year's WCOOP include the 8-game mixed tourney, a 4-max NLHE event, a "mixed limit" hold'em tourney, a PLO-with-rebuy-and-addon event, a second high-roller event with a $10,300 total entry, a no-limit deuce-to-seven tourney, and other interested events.
As for picking favorites in this year's major events, here's what PokerNews' own Nelson had to offer:
"If you saw last month's FTOPS, don't be surprised to see Kevin 'BeL0WaB0Ve' Saul making it rain in the WCOOP again. He had two final tables [in the FTOPS] and both prizes were over $100K. Next, every time I open up PokerStars to do the Sunday report, I feel like I see this kid at every final table, Brian 'Sn8wman' Hawkins. He will definitely get deep in a couple of tournaments. 'USCphildo' is another player who has been running hot recently, getting third in a FTOPS event and second in a $535 on PokerStars this past month. Never count out his arch-nemesis Shaun Deeb, who won an FTOPS event this past time around. The kid is definitely top three in putting in the most volume out of any online tournament players. Out of 33 tournaments will he get deep in one?? Yes! The person who deserves a big score and is the best online tournament player on the net IMO is Chris 'Moorman1' Moorman. [Moorman] has never won a big tournament yet and he still is number one or two on every online player ranking. He wins so many tournaments; his time is due for a big score. Also, don't forget about Isaac 'Mr. Menlo' Baron, he never puts volume in, but when he plays he always wins. He's from another planet; my only advice is to stay away from him if he's at your table."
2008 WCOOP events can be bought into directly or qualified for via the numerous satellites on the site, which will continue to run until late in the WCOOP schedule. PokerStars has also chipped in $1.5 million in free entries via FPP (Frequent Player Point) qualifying entries and other freerolls.
Here's the complete 2008 WCOOP schedule:
# Date Day Time Buy-in/Event Guarantee
#1 5-Sep Fri 14:30 $215 NL Hold'em [6-max] $1,000,000
#2 5-Sep Fri 16:30 $215 PL 5-Card Draw $100,000
#3 6-Sep Sat 14:30 $215 Limit Hold'em $300,000
#4 6-Sep Sat 16:30 $215 2-7 Triple Draw $100,000
#5 7-Sep Sun 14:30 $10,300 High-Roller NL Hold'em $2,000,000
*#6 7-Sep Sun 16:30 $530 NL Hold'em $3,000,000
#7 9-8 Mon 14:30 $215 PL Omaha [6-max] $300,000
#8 9-8 Mon 16:30 $320 8-game Mixed Event $200,000
#9 9-9 Tue 14:30 $215 NL Hold'em [4-max] $400,000
#10 9-9 Tue 16:30 $215 Razz $100,000
#11 9-10 Wed 14:30 $320 PL Omaha Hi/Lo $300,000
#12 9-10 Wed 16:30 $320 Mixed Hold'em $300,000
#13 9-11 Thu 14:30 $215 NL Hold'em w/Rebuys $1,000,000
#14 9-11 Thu 16:30 $320 7-Card Stud $100,000
#15 9-12 Fri 14:30 $320 NL Hold'em [Heads-Up] $500,000
#16 9-12 Fri 16:30 $215 PL Omaha [1R / 1A] $300,000
#17 9-13 Sat 14:30 $530 PL Hold'em [6-max] $400,000
#18 9-13 Sat 16:30 $215 HORSE $300,000
#19 9-14 Sun 14:30 $25,500 High-Roller HU NL Hold'em $1,600,000
*#20 9-14 Sun 16:30 $1,050 NL Hold'em $3,000,000
#21 9-15 Mon 14:30 $530 7-Card Stud Hi/Lo $200,000
#22 9-15 Mon 16:30 $530 Mixed Omaha Hi/Lo [6-max] $200,000
#23 9-16 Tue 14:30 $530 NL Hold'em [1R / 1A] $500,000
#24 9-16 Tue 16:30 $530 NL 2-7 Single Draw $200,000
#25 9-17 Wed 14:30 $320 PL Omaha w/ Rebuys $500,000
#26 9-17 Wed 16:30 $320 NL Hold'em [6-max] $500,000
#27 9-18 Thu 14:30 $530 NL Hold'em Triple Shootout $300,000
#28 9-18 Thu 16:30 $530 Limit Omaha Hi/Lo $400,000
#29 9-19 Fri 14:30 $530 NLHE w/Rebuys [6-max] $400,000
#30 9-19 Fri 16:30 $1,050 PL Omaha $500,000
#31 9-20 Sat 14:30 $1,050 Limit Hold'em [6-max] $500,000
#32 9-20 Sat 16:30 $10,300 HORSE $500,000
*#33 9-21 Sun 16:30$5,200 NL Hold'em Main Event $10,000,000
* — indicates two-day event