Poker & Pop Culture: Bret Maverick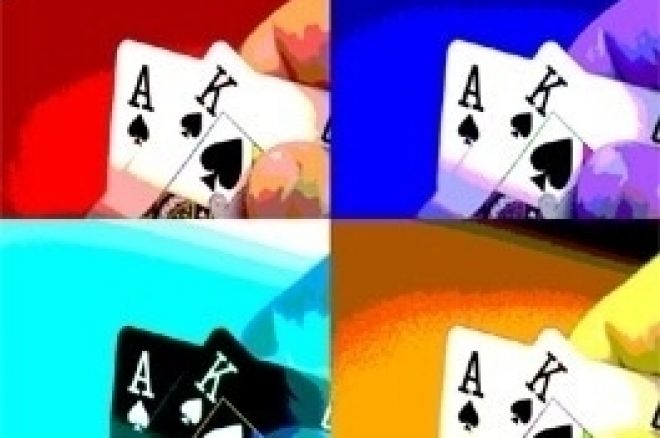 "Who is the tall dark stranger there? Maverick is his name. Riding the trail to who knows where? Luck is his companion. Gambling is his game."
So went the memorable theme song to "Maverick", the popular television series from the late '50s and early '60s starring James Garner as Bret Maverick, a rambling, gambling cowboy traveling through the Old West in search of action and adventure.
"Maverick" was one of very few long-running TV series — and likely the most popular — ever to feature a poker-playing character in the lead role. As such the show, along with subsequent iterations of the Maverick character and story, would significantly influence the fate of poker in the U.S., having introduced the game to many via its engaging mix of witty humor and western-themed morality tales.
A Mini-Boom in Poker
"Maverick" debuted on ABC on Sunday, September 22, 1957 and was an immediate hit, successfully luring viewers away from other popular Sunday night shows like "The Ed Sullivan Show" on CBS and "The Steve Allen Show" on NBC. The show was created by Roy Huggins. After writing a few novels, then working as a screenwriter and director, Huggins had become a television producer for Warner Brothers a couple of years before. Following "Maverick", Huggins would go on to have a hand in several successful series, including "The Fugitive", "The Rockford Files" (also starring Garner), and "Baretta".
The very first episode, titled "War of the Silver Kings," had a plot that revolved around a poker game. Soon after arriving in the town of Echo Springs, Maverick finds himself playing poker with a silver baron named Phineas King (played by Edmund Lowe). He wins the game, successfully bluffing King out of a big pot. "You're a very smart poker player," says King to Maverick. "Lookin' right down my throat, weren't you?"
"I could almost see what you had for lunch, Mr. King," quips Maverick. King then attempts to run Maverick out of town, eventually scheming to have him killed, although Maverick manages to escape unscathed.
The third episode, "According to Hoyle," has Maverick playing poker on a riverboat. In the seventh, "Relic of Fort Tejon," Maverick actually wins a camel in a poker game. The following episode introduced Bart Maverick, Bret's brother, played by Jack Kelly. By the fourth season, after Garner had left the series, two more Maverick brothers would occasionally be featured, Beau Maverick, a cousin played by Roger Moore, and another brother, Brent Maverick, played by Robert Colbert.
While poker wasn't always the focus of the episodes' plots, it was nevertheless a constant subtext, with Maverick's identity as an archetypal Old West gambler (albeit with a relatively modern sense of humor) presenting poker in a more favorable light than in other representations. In his novel Texas Poker Wisdom, Johnny Hughes notes of "Maverick" that the "TV series spawned a mini-boom in poker much like Rounders created a real boom in poker in the 1990s."
One factor further encouraging that "mini-boom" was a product tie-in with the TV series, a modest item that would turn out to be a relatively important moment in the history of poker literature.
Poker According to Maverick
In 1959, Dell Publishing Company issued a soft-bound volume with the title Poker According to Maverick. A brief (159-page) work ostensibly "authored" by Bret Maverick himself, the book's subtitle explained its contents to all: "TV's Most Exciting Character Reveals the Secrets of the World's Most Exciting Game." The photo on the cover featured Garner and Kelly in character, sitting behind piles of chips and playing a hand.
The book is a poker strategy guide, likely authored by Roy Huggins, the show's creator. The chapters within cover a variety of topics. There's a chapter offering a short history of poker. There's another focusing on poker etiquette. There are essay-like chapters with titles such as "Is Poker a Game of Luck?" and "Poker Psychology — Or 'Civilized Bushwhacking'". And there are chapters that introduce readers to rules and strategies for a variety of different poker games.
Though certainly rudimentary when compared to today's sophisticated, textbook-like tomes of poker strategy and theory, Poker According to Maverick actually contains a number of useful tips and guidelines, punctuated occasionally by colorful anecdotes (not unlike the stories told in the TV show) about various characters known to the "author" Bret Maverick.
Probably the most entertaining chapter is the one listing Maverick's "Ten Commandments for Poker Players." Some of these commandments — e.g., "If you don't have a fighting hand, drop it and wait for another," "Never draw to an inside straight," "Don't play . . . if you can't afford to lose" — remain worthwhile advice today. Others, particularly the seventh commandment, "Don't play poker with women," are perhaps best regarded as belonging more to the tenor of the Old West (or the 1950s).
In any event, many poker players who remember the TV series also have memories of this book, and for a significant percentage of those Poker According to Maverick was the first and perhaps even only poker book they had read. There were other books available, of course, including Herbert O. Yardley's classic The Education of a Poker Player (1957), which also get frequently mentioned as a first poker book ever read by many. Even so, thanks largely to the series' prominence, Poker According to Maverick would wield a not-so-insignficant influence, perhaps reflected by Amarillo Slim Preston's choice of title for his first book, published on the heels of his 1972 WSOP Main Event triumph: Maverick Poker.
A Legend of the West
A new version of the book, retitled Maverick's Guide to Poker, was published to coincide with the 1994 film starring Mel Gibson as Bret Maverick, and co-starring Jodie Foster, Graham Greene, James Coburn, and James Garner as the Marshal Zane Cooper. Garner had been involved in some other Maverick revivals after the original series went off the air in 1962, including a couple of ill-fated TV series in the late '70s and early '80s. The film adaptation, however, directed by Richard Donner, was both a critical and commercial success, and includes one of the more highly entertaining, if improbable, poker scenes in film history.
Like all of the other versions of Maverick, the film is mostly light-hearted in its approach, aiming as much for laughs as for thrills. Such is the attitude reflected in Poker According to Maverick, in which Maverick speaks of poker being "a way of harmlessly expressing man's most deep-rooted anti-social drives."
One might reasonably argue that the version of poker and the Old West represented by Bret Maverick never quite existed in real life. The theme song does, after all, conclude with the line "Maverick is a legend of the West." Even so, by its having brought poker out of the 19th century and into 20th century popular culture, Maverick did, nonetheless, have a real effect on poker's development and history.