Aussie Millions Event #16, $10,200 HORSE: Kostritsyn Tops Ferguson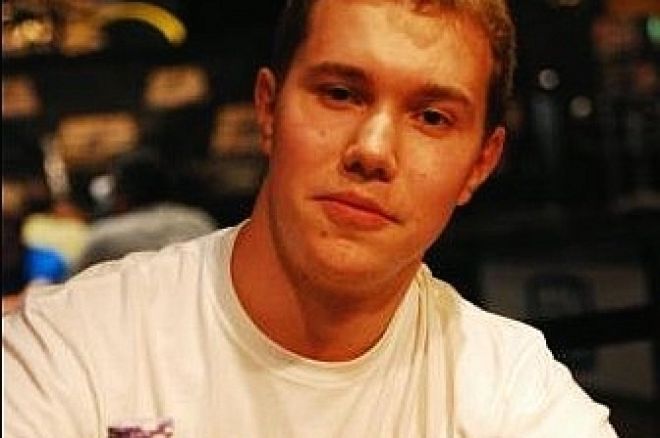 Chris Ferguson headlined an all-star final in Event #16 of the 2009 Aussie Millions Poker Championship, $10,200 H.O.R.S.E., but Alexander Kostritsyn surged to the win in the event's second day, outlasting not only Ferguson but other luminaries such as former world champion Joe Hachem, Jeff Madsen and Lee Nelson. Kostritsyn's win was worth AUD $95,000, along with the champion's ring and the honor of winning out over the elite 25-player field.
Eight players returned to the Crown Casino in Melbourne for Day 2 of the event, with Ferguson in the chip lead as play began. The day's starting chip counts:
Chris Ferguson - 110,000
Joe Hachem - 84,800
Tino Lechich - 77,600
Zac Fellows - 66,300
Lee Nelson - 57,500
Jeff Madsen - 51,500
Alexander Kostritsyn - 42,200
Michael Binger - 23,700
The methodical pace of H.O.R.S.E. meant that more than two hours would pass before the first elimination. Tino Lechich started the day near the top of the leader board, but lost several big hands before he got all his chips in for the last time in a stud hi/lo hand against Zac Fellows and Chris Ferguson. Lechich and Fellows were both all in by fifth street, and Ferguson had both all-in players covered. Lechich started the hand ahead with [
]
for a split pair of kings, but Fellows' flush draw came in on fifth street as he showed [
]
. Ferguson's straight on fifth street was good for the low as he showed [
]
, and Lechich needed a lot of help on later streets to survive. Lechich picked up the
on sixth street to give him outs for the full house, while Fellows caught the
to give Ferguson a board lock on the low half of the pot. Lechich needed a king or another pair on the river to stay alive, but he caught the
, and busted in eighth place as Fellows and Ferguson split the pot.
Ferguson finished off Michael Binger in seventh place when the chips went in preflop in a hand of Omaha hi/lo. Binger showed
to Ferguson's
, and the flop came down
. Binger pulled ahead when the
turn gave him two pair, but he was counterfeited when the river brought the
, and Ferguson's king kicker played for the scoop.
Joe Hachem's final hand started off strong when he got all his chips in on fifth street in stud with jacks up, tabling [
]
. Unfortunately for Hachem, Alexander Kostritsyn picked up a real monster, [
]
. Hachem needed help to crack Kostritsyn's aces up, but caught running sevens for no help at all to bust in sixth place and bubble the money.
Kostritsyn continued his surge when he busted Zac Fellows in fifth place (AUD $20,000) in Omaha hi/lo. The chips went in preflop as Fellows showed
to Kostritsyn's
. The
flop was gin for Kostritsyn as he flopped the wheel. Fellows needed a four to chop, but the turn and river came down
and
and his tournament was over.
Lee Nelson put the cap on a successful Aussie Millions series with his fourth-place finish here, adding $30,000 to his winnings. He got all his chips in for the last time in stud hi/lo against Jeff Madsen, showing [
]
[
] for a pair of fours as Madsen started with three to a wheel and made trips on a board of [
]
[
].
Madsen then tangled with Alexander Kostritsyn in back-to-back hold'em hands that saw Madsen crippled, then busted in third place ($40,000). In the first hand, Madsen's
was run down by Kostritsyn's
on a board of
, and then he got the remainder of his chips in preflop on the next hand holding pocket eights. Kostritsyn woke up with
and made the easy call. The
board brought no help for Madsen, who headed home in third place as Kostritsyn took the chip lead, as follows, into heads-up play:
Kostritsyn - 390,200
Ferguson - 109,800
Even with a significant chip advantage, it took nearly two hours of big swings and big hands before Kostritsyn finally put away Chris Ferguson. Ferguson took a huge hit in the last hand of a hold'em level, and his last chips went in the middle preflop in the Omaha hi/lo that followed as he showed
. Kostritsyn's
made the nut straight on the
flop, and Ferguson needed running cards to survive. The
gave him outs to a low, but the
on the river counterfeited his hand and shipped the pot to Kostritsyn. Ferguson collected $65,000 for his runner-up performance as Kostritsyn took down $95,000 and the Aussie Millions Event #16 championship ring.