Poker & Pop Culture: Wild Bill Hickok and the Dead Man's Hand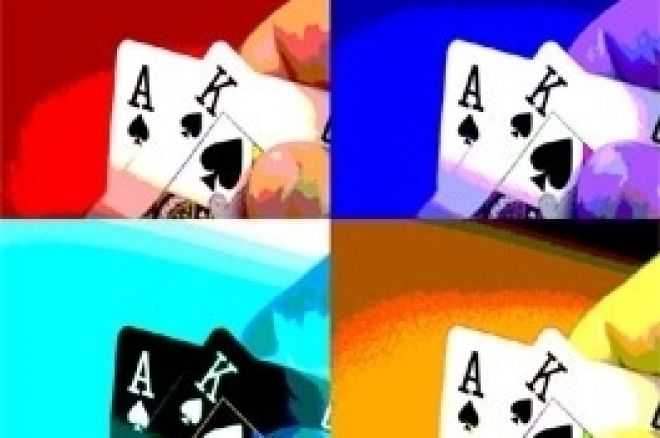 When Harrah's Entertainment acquired the world series of poker
from Binion's Horseshoe in 2004, it also took over the business of managing the Poker Hall of Fame, first created by Benny Binion in 1979. The Poker Hall of Fame remains an exclusive club, with only 37 members having been enshrined to date.
Scanning the list of those elected, nearly all readily satisfy the four criteria originally set forth for becoming a Hall of Famer: (1) the "player must have played high stakes"; (2) the "player must have played against acknowledged top competition"; (3) the "player must have played well consistently and gained the respect of his peers"; and (4) the "player must have stood the test of time."
Some members are perhaps better known not as players but for other contributions to poker, although even those tend to have been successful players, too. Sid Wyman (a charter member in 1979) was best known for his ownership of several casinos, but was also a highly regarded high-stakes player. Henry Orenstein (elected in 2008) owns the patent for the hole card camera, that device that has proven so important for the exploding popularity of poker over recent years, and while his induction is primarily connected to that achievement, he, too, is a respected poker player whose many successes at the tables include winning a WSOP bracelet in seven card stud in 1996.
Only a couple of names on the list of 37 appear to provide serious challenges to the criteria that the honored individual be a consistent winner at high-stakes poker. Edmund Hoyle, also elected with the initial class of '79, died in 1769 and thus never played poker as such, since the game (as we know it) was invented subsequent to his death. Hoyle is nevertheless recognized by the Poker Hall of Fame for his having authored several early, influential rulebooks for card games.
There is one Hall of Famer, however, whose poker playing ability was not only suspect, but openly questioned by his peers and later historians. Yet his is likely the most immediately recognizable name of all 37, especially to the non-poker playing public. And it is safe to say he was involved in what was probably the single most famous, most written about hand of poker ever — at least at the time of his induction in 1979.
Wild Bill Hickok, Lawman
James Butler Hickok was born in 1837 in Illinois. At the age of 19, Hickok left home and spent some time driving a stagecoach on the Sante Fe Trail, then became a scout for the Union during the Civil War. Afterward, he also served with ill-fated General George Custer in the Indian Wars before becoming a sheriff (in Hays, Kansas) and later a marshal (in Abilene, Kansas).
As a lawman, Hickok's reputation as violent and quick-tempered was well established, thanks largely to his involvement in some highly publicized duels that were somewhat typical of the Old West. An article country. In the article, George Ward Nichols interviewed Hickok and recounted his successes in several gunfights, likely embellishing his credentials considerably in an effort to create a more interesting, "mythic" figure with which to rouse readers' imaginations.
One such duel, in which Hickok killed a former Confederate soldier named Davis Tutt, apparently resulted from a dispute over a gambling debt. This was in Missouri in 1865, some time before Hickok began his career as a lawman in Kansas. Although many of the details of the event are unclear, the debt undoubtedly arose from a poker game. Thus when the story of Hickok's killing Tutt and later being acquitted as acting in self-defense was retold in Harper's, Hickok's predilection for poker became part of the article's characterization of the much-feared lawman with a quick trigger.
Wild Bill Hickok, Poker Player
Following another gunfight in 1871 in which Hickok accidentally killed a deputy, he lost his position as marshal. It was around that time that Hickok met Agnes Thatcher Lake, the woman with whom he would eventually fall in love and marry in March 1876. In need of money — a situation possibly exacerbated by Hickok's card-playing — a tip from a friend would lead Hickok to leave his new bride behind in Missouri to travel to the Black Hills of South Dakota either to mine for gold or to get involved with law enforcement, then bring Agnes out afterward.
It should be noted as an aside that somewhere along the way a woman named Martha Jane Cannary, a.k.a. "Calamity Jane," met Hickok and would later make claims about their relationship that many historians have since proven to have been mostly invented. Such stories about a possible romance between Hickok and Calamity Jane have nevertheless become part of American lore thanks to various cinematic adaptations of Hickok's life story as well as the fact that Cannary managed to have herself buried next to Hickok at Mount Moriah Cemetery in Deadwood.
Hickok arrived in Deadwood, South Dakota in the summer of 1876, and while he never did find gold or a job, he did find an ongoing poker game in Deadwood's Saloon No. 10. In Ghosts at the Table, Des Wilson attempts to uncover various details of Hickok's story, including trying to estimate his abilities as a poker player. "The balance of opinion suggests that, if not exactly a 'fish,' he was not an outstanding player," writes Wilson, adding that, in fact, some historians have surmised Hickok may have even been guilty of cheating at cards now and again.
Regarding the latter charge, Wilson shares the famous, likely apocryphal story about the feisty Hickok. A big pot had developed, and at the showdown his opponent, named McDonald, called out his hand as "jacks full." "I've got aces full of sixes," Hickok responded. However, when he turned over his hand there was only one six to go with his three aces. When McDonald pointed out the discrepancy, Hickok drew his pistol.
"Here is the other six," Hickok explained. McDonald relinquished the pot.
Hickok was 39 years old when he went to South Dakota, suffering from poor eyesight as a result of glaucoma. Indeed, some have noted that his failing vision reduced his prospects for ever finding another job as a lawman, and that perhaps he was relying on poker to support himself — whether by his playing ability, or, as some have speculated, his ability to intimidate opponents with the threat of violence.
In any event, it was in Deadwood's Saloon No. 10 that Hickok would play his last hand of poker, perhaps the most famous in American popular culture.
Dead Man's Hand: Aces and Eights
Hickok biographer Thadd Turner tells how on August 1, 1876, Hickok had been involved in a game of draw poker with a player who had introduced himself as Bill Sutherland. A hand developed wherein Hickok had made a substantial bet on the end, and Sutherland called with all he had left — a pouch of gold dust. Hickok won the hand, but when the dust was weighed it was discovered Sutherland was $16-$18 short. Sutherland left the saloon and returned with enough gold dust to make up the difference. Hickok asked if the young man was now tapped out, and when he said he was Hickok offered to give him a dollar, which the prideful Sutherland refused.
The next day, August 2, Hickok was back again at Saloon No. 10 playing draw poker with three others. Normally Hickok was said to have made it a habit of taking a seat with his back to the wall, but in this instance another player, Charlie Rich, was unwilling to move when Hickok arrived. So Hickok was not facing the saloon entrance when Sutherland, whose actual name (it was later discovered) was Jack McCall, entered the saloon.
It was about three in the afternoon, and Rich had just dealt a new hand. Another player, Captain William Massey, and Hickok engaged in the betting, and were about to show their cards. Massey's hand is unknown, but upon seeing it Hickok threw his hand down in disgust, reportedly uttering "The old duffer, he broke me on that hand!" as he did. At that moment, McCall stepped behind Hickok, drew a pistol out from under his jacket, and shot Hickok in the back of the head, killing him instantly.
In the ensuing melee, McCall escaped but was soon captured and hastily tried for the killing, though was found innocent thanks in part to his story that Hickok had formerly killed his brother. (It was later determined that McCall had no brother.) It is unclear what exactly McCall's motive might have been, other than retaliation for having been embarrassed by Hickok's generous gesture the day before. McCall was eventually retried, however, and executed by hanging in March 1877.
In Ghosts at the Table, Wilson shares some interesting investigative work aiming to determine precisely what cards Hickok had held during his last poker hand. Most accounts suggest Hickok held
, with the fifth card unknown. One story involves a delivery man named Richard Stephens, who happened to be at Saloon No. 10 at the time of the shooting, scooping up the famous gunfighter's cards and his descendants later donating them to a museum. That hand was
, although there appears to have been no attempt to authenticate the cards as Hickok's. Wilson concludes that while much doubt remains regarding "the fifth card," all accounts generally agree upon the fact that Hickok held two pair, aces and eights, a hand which has therefore since been dubbed the "Dead Man's Hand."
Hickok may not have played for the highest stakes, against the best competition, or even well enough to be acknowledged a great player by his peers. But the story of his final hand has certainly "stood the test of time," thereby earning him a permanent place in poker history, as well as the Poker Hall of Fame.