From the Poker Vaults: Rex Cauble -- The Third Biggest Fish of All Time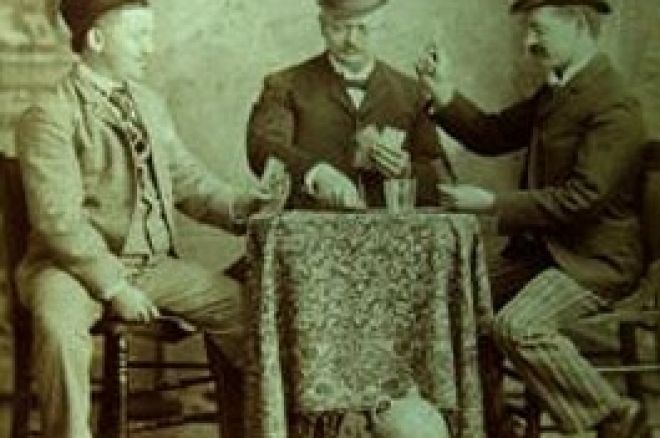 As many great poker players as the state of Texas has churned out, it has produced just as many fish. In fact, it can be argued that the three biggest fish the game has ever known have all come from the Lone Star State.
Ranked third on this dubious list (to be continued in upcoming columns) is Rex Cauble, a "cattle rancher" from Dallas, Texas who went from broke to rich and back to broke at least three separate times in his life. After making his first fortune with a lucky oil strike in 1944, he shifted his attention to raising and riding cutting horses. In 1956, Cauble bought a palomino stallion named Cutter Bill for $2,500, an investment that would eventually reward him many times over. Cauble's plans for Cutter Bill were momentarily halted, however, when Cauble lost the horse to King T. Blake in a game of seven-card stud. It would be the first of a long string of major losses at the poker table for Cauble, but two weeks later he and King worked out a deal and Cauble's horse was returned to him.
As clueless as Cauble was at the poker table, he generally made all the right moves away from it, for Cutter Bill went on to win the world championship, made nearly a million dollars in stud fees, and was eventually inducted into the American Quarter Horse Hall of Fame. Cauble's love for Cutter Bill was so great he later named two stores he owned in Dallas and Houston after the horse. Cutter Bill's Western Wear would enjoy its own heyday during the "Urban Cowboy" craze of the early 1980s when it became one of the most popular outfitters of western wear in the entire country.
Raising cattle and selling western wear were just two components of Cauble's vast business empire and by far the most legitimate. It was later discovered that he was the leader of the infamous "Cowboy Mafia," an outfit responsible for smuggling many tons of marijuana from Columbia into Texas throughout the 1970s. To launder all the money he took in, Cauble made frequent trips in his private plane to Las Vegas. Like many of the high rollers of that era, he spent considerable time inside the Horseshoe Casino, especially during the World Series of Poker. He played in the main event in 1978, but was far more likely to be found sitting in a high-stakes cash game.
Like countless losers before him, Cauble always claimed to hold his own in these games. When he returned to Texas after a trip to Las Vegas in 1978, he told John Gray, Chairman of the Board of the Dallas International Bank, that he'd won $260,000 in a cash game and wanted to deposit the cash into his account at the bank, but it is far more likely that this money was all that he had left after getting fleeced by the pros.
The stories of Cauble's ineptitude at the poker table are legion, and now that the man is dead the winners are happy to talk about his lack of skill. On one occasion Cauble showed up at the Horseshoe during the World Series and insisted upon playing a $50,000 buy-in game of no-limit Texas hold'em against a table full of pros that included Doyle Brunson, Crandell Addington, and Bobby Baldwin. Not afraid to advertise his incompetence, Cauble actually asked Brunson to give him a thirty-minute tutorial on the basics of the game before they sat down to play.
The lesson didn't help. Not thirty minutes into the session, Cauble got involved in a hand that his opponents would be talking about for years to come. The flop came K-J-2 rainbow, and Bobby Baldwin and Cauble both checked. The turn was a six, and both players checked again. When a four fell on the river, Baldwin checked and Cauble bet $1,500. Baldwin promptly raised him $30,000. With $60,000 in front of him, Cauble debated his options. He agonized over the decision he had to make so much that a few players at the table thought he was on the verge of folding. He eventually called, and Baldwin showed him 5-3 for the nut straight. Shocking everyone at the table, Cauble flipped over the very same hand. He had merely called with the stone-cold nuts when he could have raised another $30,000.
Typically unflappable at the table, Brunson nearly fell out of his chair. "I'll be a sunburned son of a bitch," he said in astonishment.
The giddiness the sharks exhibited at having landed such a monstrous fish was soon replaced by grief when they learned that Cauble had been arrested for smuggling 106 tons of marijuana into the country. In January, 1982, he was convicted of embezzlement, conspiracy, and racketeering and sentenced to five years in prison. The professional players who had padded their bankrolls fleecing Cauble out of his ill-gotten gains mourned his absence while at the same time chuckling over the largesse he had bequeathed them. During his many visits to Las Vegas in the late 1970s and early 1980s, Rex Cauble injected so much money into the poker economy he earned a well-deserved reputation as one of the greatest producers the game has ever known.
Editor's Note: Storms Reback co-wrote All In: The (Almost) Entirely True Story of the World Series of Poker, and collaborated with Sam Farha on Farha on Omaha: Expert Strategy for Beating Cash Games and Tournaments.