The PokerNews Top 10: The Top Moments in Televised Poker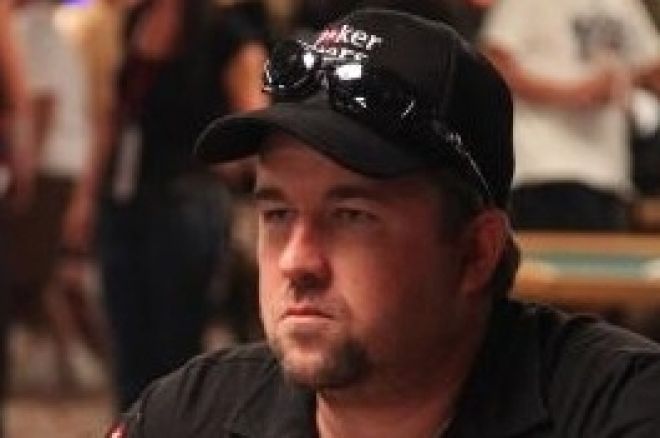 While the World Series of Poker has been broadcast to the world via television in some form or another since the early 1970s, it is really only during the last decade that professional high-stakes poker has become a regular feature of sports and entertainment programming, with the relatively-recent innovation of the "hole card camera" doing much to stimulate interest among viewers. It is not surprising, then, for a list of top ten moments in televised poker to focus primarily on the very recent past, although a couple of earlier moments warrant inclusion as well. The following list — like all such lists, subjectively compiled and thus undeniably debatable — ranks the top ten moments in televised poker using both historical and dramatic value as criteria.
10. "I Can Dodge Bullets, Baby" (2005 World Series of Poker, ESPN)
Phil "The Poker Brat" Hellmuth's status as an iconic figure in poker was significantly assisted by the increased popularity of televised poker, making Hellmuth one of the most recognized poker players among the general public. Hellmuth's nickname stems from his frequent tableside tantrums, which have often been given special attention during televised events in which he has been involved. The case could be made to select one of those less flattering outbursts for the list, e.g., "If there weren't luck involved, I would win every time" (2004 WSOP, ESPN); "The guy can't even spell poker" (2005 WSOP, ESPN); "Mori, are you going to give penalties for this **** or not?" (2007 Poker After Dark, NBC). Hellmuth's most memorable TV moment, however, had to be from the first day of the 2005 WSOP, when, with the board showing A-4-4-Q, Hellmuth managed to lay down
against Frank Passantino's
. After the hand, Passantino shows his cards, positioning the Poker Brat perfectly to deliver one of his more memorable bits of self-aggrandizement to his wife on the rail: "Honey! I was supposed to go broke on that hand. Except they forgot one thing — I can dodge bullets, baby!"
9. "Late Night Poker" (Channel 4, 1999)
Produced in Cardiff, Wales, the British series presented a series of "heats" (or sit-n-gos), with those who perfomed well all meeting in a finale. When the show debuted in the summer of 1999, it was the first example of televised poker that routinely gave viewers glimpses of players' hole cards, in this case via the use of cameras positioned under the tables and shooting up through glass. Those first episodes featured commentary by the show's creator, Nic Szeremeta, and the American poker player and author Jesse May, the latter of whom would become known as the "voice of poker." A particularly influential show in the history of televised poker that greatly influenced later WPT and WSOP broadcasts.
8. The Bear and the Champ Get Lost in Durrrrland (2009 "High Stakes Poker", GSN)
Since its debut on the Game Show Network in early 2006, High Stakes Poker has consistently remained especially popular among poker players for its fascinating presentation of high-stakes cash games, ably supplemented by the insightful and often humorous commentary of co-hosts A.J. Benza and Gabe Kaplan. Several hands from the show could be selected as the most memorable, e.g., Gus Hansen's quad fives versus Daniel Negreanu's sixes full of fives from Season 2; Brad Booth's successful semi-bluff with
causing Phil Ivey to lay down pocket kings in Season 3; Sam Farha's aces versus Jamie Gold's kings in Season 4. However, for sheer fascination over both the personalities involved and strategy employed, none top the hand from earlier this year in which Tom "durrrr" Dwan managed to win a nearly quarter million-dollar pot with
by getting both Barry Greenstein (
) and Peter Eastgate (
) to fold after a flop of
. Said Greenstein later of Dwan's play, "He posterized me."
7. The November Nine (2008 World Series of Poker final table, ESPN)
It was somewhat surprising to many when it was announced on May 1, 2008 that the final table of the 2008 WSOP would be delayed nearly four months, to be played in November in order to produce a "plausibly live" broadcast of the event that viewers could watch without necessarily having knowledge of the outcome. The two-hour episode was a ratings success for ESPN, achieving a nearly 50% improvement over the viewership for the previous year's final table. While the program's climax was somewhat muted (only two hands of heads-up play between winner Peter Eastgate and Ivan Demidov were shown), perhaps the most dramatic moment of the show came during the opening 15 minutes, when Demidov, holding
, successfully used positional advantage to force former chip leader Dennis Phillips to fold his
after a flop of
.
6. Yang Tears It Up (2007 World Series of Poker, ESPN Pay Per View)
As they did the previous year, ESPN provided live streaming of the WSOP final table in 2007, with commentary by Ali Nejad, Phil Gordon, and a host of guests stopping by. Jerry Yang began the final table seventh in chips, and in his early commentary Gordon repeatedly refers to Yang as both "weak" and "very tight," further adding that "almost without exception" all with whom he had talked to had judged the Laotian-born resident of California to be the least skilled player among the final nine. Thus did Gordon inadvertently help set the stage for some of the more thrilling hands of televised poker ever shown. Using sheer aggression, Yang took just 14 hands (winning six) to assume the chip lead without showing down once. Indeed, not having hole card cameras arguably increased the drama. Yang would show his hand on Hand No. 15, when he busted former chip leader Philip Hilm, and again six hands later when eliminating Lee Watkinson. Not even three orbits into play, and the so-called weakest, tightest player at the table suddenly had half of the chips in play!
5. The Comeback Kid (1997 World Series of Poker, ESPN)
The one and only WSOP Main Event final table to be played outdoors (on Fremont Street, in front of Binion's Horseshoe), there's a somewhat surreal flavor to ESPN's broadcast, in which an obviously weakened Stu Ungar, donning those John Lennon-like blue sunglasses, wins his third Main Event title 16 years after having won his first two back-to-back. Following the final hand in which Ungar rivered a straight to defeat John Strzemp, Ungar's friend Gabe Kaplan interviews the champ briefly, and Ungar talks about his love for his then 14-year-old daughter Stephanie and in a general way refers to the many troubles he'd overcome to get back to the top of the poker world. Sadly, Ungar's comeback would end tragically a year later with his premature death.
4. On the Inside of the World Series of Poker (Discovery Channel, 1999)
This documentary produced by Steve Lipscomb for the Discovery Channel also presented an inside look at the WSOP, introducing the Series to a much wider audience than ever before. As Lipscomb notes in his introduction to Mike Sexton's Shuffle Up and Deal, ratings data showed the audience for the documentary actually doubled from the time the show began to the time it concluded, meaning viewers happening upon the program had stopped switching channels to watch, a phenomenon "which led [Lipscomb] to believe there was an audience out there for poker on television." Indeed, the show was one of the network's 20 highest-rated programs of the year, and at the time was the single most-watched poker show ever. Thus does On the Inside of the World Series of Poker have a dual historical significance as a landmark in televised poker, generally speaking, as well as a specific catalyst for the creation of what would eventually become the WPT.
3. "Puggy Has All the Money" (1973 World Series of Poker, CBS)
In 1973, Jimmy "the Greek" Snyder, who would later become known for his long tenure as a co-host of CBS' NFL Today, helped arrange for the production of a documentary chronicling the 1973 WSOP that would later air on CBS' popular weekend show Sports Spectacular. The program took a serious, studied look at the WSOP and the world of professional poker. Toward the end of the documentary, as the final hand in which Puggy Pearson defeats Johnny Moss is shown, Snyder narrates the action: "It's the type of happening that draws out every drop of emotion, even for those who are just watching. For them, it's total involvement." As the words are spoken, the unsteadily-held camera pans to Snyder observing the action from the rail, visual confirmation of the point he has made.
2. The World Poker Tour Debuts (2003, The Travel Channel)
On March 30, 2003, the first episode of the World Poker Tour aired on the Travel Channel. The producers of the WPT successfully combined elements of both sports programming and game shows to create a compelling drama with an absorbing plot and reasonably interesting (and distinct) characters. Those looking back on that first show today might be surprised to find Gus Hansen, winner of the 2002 Five Diamond Poker Classic event that was aired for the debut, being "cast" as a poker outsider, a backgammon specialist who had decided to give this poker thing a try. His success at that final table certainly didn't impress seasoned poker pro Freddy Deeb (whom Hansen eliminated in fifth), who in his knockout interview said "the guy who won that last hand from me, he play very bad, in my opinion." The use of post-production commentary of Mike Sexton and Vince Van Patten, especially helpful to viewers new to poker, would be part of the formula followed by ESPN later that summer for its WSOP broadcasts.
1. Moneymaker Bluffs Farha (2003 World Series of Poker, ESPN)
The seven one-hour episodes ESPN produced packaging the 2003 World Series of Poker Main Event not only lit the fuse that ignited the "poker boom," but also — along with the recently-launched World Poker Tour — helped create a new standard for televised poker with regard to production and the conscious creation of narrative. Poker amateur and eventual champ Chris Moneymaker's heads-up bluff against seasoned pro Sam Farha during the final episode — putting his tournament life on the line by going all in on the river with nothing but busted straight and flush draws — was the highlight of a series filled with remarkable moments, somewhat justifying Norman Chad's hyperbolic pronouncement that Moneymaker had successfully run "the bluff of the century."