The PokerNews Top 10: The Top 10 Big Event Bad Beats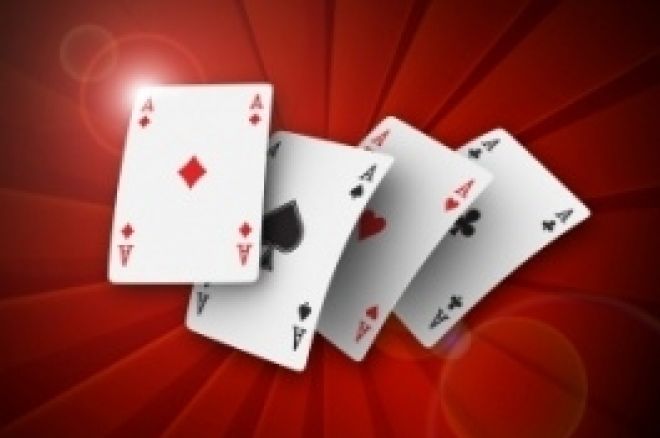 Everyone has a bad beat story. Let's face it, everyone has a hundred. These bad beats, though, are the worst of the worst, the most bone-rattling, soul-crushing, and even history-changing beats ever dealt in the game of poker. Out of all the stories out there, these ten stand out in terms of severity, significance, and consequences. Take a look at our Top 10 Bad Beats.
10. Aaron Kanter vs. Greg Raymer, 2005 WSOP Main Event
With only 25 players remaining, Greg Raymer was trying to do the unthinkable—win back to back, massive-field WSOP Main Events — before being dealt a beat so crushing it might have made a lesser man leave the game forever. Dealt
, Raymer made a standard opening raise and was called by Aaron Kanter, who held
. The flop came down 6-5-3 rainbow and Raymer made a half-pot continuation bet. Kanter called. The
on the turn put two hearts on the board and Raymer bet 330,000—again, about half the pot. Kanter raised to 900,000 and Raymer set him in for the 700,000 he had behind. Kanter called with only the flush draw but caught lightning in a bottle when the
hit the river. Raymer's stack was decimated and Kanter doubled up. Had Raymer won that hand, he would have taken the chip lead. Instead, he was eliminated a short time later in 25th place.
9. John D'Agostino vs. Hoyt Corkins, 2004 U.S. Poker Championships
Both Hoyt Corkins and John D'Agostino were sitting on healthy stacks of 616,000 and 615,000, respectively, with six players remaining in the $10,000 Main Event of the U.S. Poker Championships. Though D'Agostino had arrived at the final table with an overwhelming chip lead, he had already suffered a few beats to more than halve his stack. With the action folded around to Corkins in the small blind, he made a bit of a wild move, moving in for his entire stack with
. D'Agostino found two black tens in the big blind and called almost immediately, giving a little fist-pump when he saw Corkins' cards.
The flop, however, came down a disastrous (for D'Agostino)
, making Corkins trips.
"I don't know how John D'Agostino didn't just kick the table over — that is stunning!" said ESPN's Norman Chad on the TV commentary.
To add even more insult to injury, the
hit the turn, making Corkins quads and leaving D'Agostino drawing stone dead. It took a few tries to get the correct count on Corkins' and D'Agostino's stacks and when all was said and done, D'Agostino was left with a single, red 1,000-denomination chip. So utterly punch-drunk not only by that beat but the series of beats that had taken him from top of the pack to all but out, D'Agostino let out his frustration by shoving his chips toward Corkins, knocking most of the stacks down in the process. Hey, a man can only take so much.
8. Al Ardebili vs. Ricardo Festejo , 2005 WPT Borgata Open
Playing heads-up at the 2005 WPT Borgata Open, Ricardo Festejo had Al Ardebili covered by about a million in chips when he limped in with A-2 and Ardebili checked his option with the
. Both players hit bottom pair when the flop came down
. Ardebili checked, Festejo bet $1 million, and Ardebili moved all in. Faced for a decision for about 90% of his stack, Festejo tanked for an eternity before making what turned out to be an amazing call. Ardebili was dominated and his hopes for a WPT title were all but gone when a three spiked on the turn, making him two pair. Though Festejo still had a few outs on the river, it blanked out and Ardebili took more than a 9:1 chip lead on Festejo. He went on to win the tournament and over $1.4 million only four hands later.
7. Cory Zeidman vs. Jennifer Harman, 2005 WSOP Main Event
It's always nice to look down at a big hand early in a tournament. That's probably what Jennifer Harman was thinking when she picked up
and raised to 200 in the first level of the 2005 WSOP Main Event. Cory Zeidman called from position with the
and Brady Davis came along from the big blind with
. The flop came down
, top set for Harman and a queen-high straight for Zeidman. Davis checked, Harman led out for 500, Zeidman raised to 2,000, and Davis folded. Harman, perhaps putting Zeidman on A-K or the 8-9 he indeed had, decided to flat-call. The turn couldn't have been a more perfect card for Harman, making her the nut boat with the
. She checked, Zeidman bet 1,000, and she raised to 3,000. Then it was Zeidman's turn to hem and haw, but he eventually made the call, muttering something about how he put her on A-K for the higher straight.
Going to the river, Harman had Zeidman down to a single out. Though he held an open-ended straight flush draw, Harman held the
in her hand, leaving him drawing only to the
. Indeed it hit the river, making Zeidman the jack-high straight flush to Harman's queens full. Harman bet 3,000, the amount Zeidman had remaining, and he called with his now-infamous line, "I guess I can do a lot of sightseeing if I lose this hand." Zeidman rolled over (many say slow-rolled) his straight flush. Harman was flabbergasted, her stack crippled, and she was eliminated only a short time later. It's not often that you see Harman take a tilt-walk away from the table after the cards fail to fall her way, but this time, it was all she could do to keep her composure.
6. Chris "Jesus" Ferguson vs. T.J. Cloutier, 2000 WSOP Main Event
T.J. Cloutier had already been a Main Event bridesmaid once before, losing out on the 1985 title, but had to feel good about getting his chips in with by far the best hand when he was all in against Chris "Jesus" Ferguson fifteen years later, his
dominating Chris Ferguson's
. The
extended his lead even further, as did the
on the turn. All Cloutier needed to avoid was a nine, but he couldn't do it, the
spiking on the river to render him a runner-up once again. Instead, a star was born in Ferguson that night.
5. Danny Nguyen vs. Shandor Szentkuti, 2005 WPT Bay 101 Shooting Stars
In one of the worst statistical bad beats ever witnessed in televised poker, former poker dealer Danny Ngyuen moved all in with
and got a call from Shandor Szentkuti, who held
. The flop came down
, making Szentkuti two pair and giving him a 99.5% chance to win the hand. Nguyen was drawing only to running sevens. The
on the turn gave everyone a nice sweat, but no one could have predicted what would appear on the river — it was the
, making Nguyen a full house. Nguyen not only survived the hand but went on to win the whole tournament, after eliminating all five of his opponents at the final table.
4. Alan Goehring vs. J.C. Tran, 2006 WPT L.A. Poker Classic
J.C. Tran will probably take the sting of this bad beat to his grave. Holding pocket aces, Tran made a pre-flop raise only to be met with an all-in from Alan Goehring in the small blind. Tran called easily and was thrilled to see Goehring's pocket fives. The flop came down
, putting Tran even further ahead as he held the ace of spades. After the flop, Goehring was drawing to runner-runner straight cards or the case non-spade five, as the
would make Tran a flush. The turn paired the board with a deuce, with Goehring missing his shot at one of those running cards, but picking up one out – the
, to give him two outs to make a full house and eliminate Tran.
Boom! A five hit the river. Goehring sprung from his seat and did a maniacal little dance, pumping his fists in the air as J.C. Tran headed offstage in a complete daze, wondering what he had done to so horribly offend the poker gods. Tran was eliminated in fifth place while Goehring went on to win the tournament and $2.4 million.
3. Chris Moneymaker vs. Phil Ivey, 2003 WSOP Main Event
If there ever was a river card that marked a turning point in poker history, well, this was it. With ten players remaining in the 2003 WSOP Main Event, Chris Moneymaker picked up the
and made a pre-flop raise that Phil Ivey called with
. Moneymaker flopped trips when it came down
and led out for 70,000. Ivey made the call. The
on the turn was the best card Ivey could have hoped for, making him a full house. Moneymaker continued to fire, putting out 200,000. Ivey moved all in and Moneymaker quickly called. Ivey only had to dodge and ace, a six or the last queen in the deck to knock out Moneymaker, but the river ace that changed the poker world landed on the felt, eliminating Ivey in tenth place. The most dangerous professional remaining in the tournament was no longer a threat, opening the door for the amateur from Tennessee to take control and go on to win the tournament. Without a Moneymaker win to inspire the masses, the poker boom might have turned out far differently than it did.
2. Doyle Brunson vs. Jesse Alto, 1976 WSOP Main Event
Many poker fans may not know it, but Doyle Brunson actually won his first WSOP Main Event bracelet on a massive suckout. Texas Dolly's heads-up opponent, Jesse Alto, raised from the button with
and Brunson, holding a significant chip lead, called with
. The flop came down A-J-10, Alto hitting top two pair and Brunson bottom pair. Brunson checked, Alto bet out, and Brunson moved all in, hoping to push Alto off the hand. Alto called, however, and Brunson discovered what dire shape he was in. The turn brought a deuce, Brunson making tens up but still trailing Alto's aces up. The river, though, was the stuff of legends — another ten — simultaneously giving Doyle his second WSOP bracelet and cementing the ten-deuce into poker history with the nickname "the Brunson."
1. Hal Fowler vs. Bobby Hoff, 1979 WSOP Main Event
For many poker fans, it's not even a question as to who dealt the baddest beat in the history of the WSOP Main Event. Thirty years ago this summer, amateur Hal Fowler made the final table of the 1979 Main Event. Despite being short-stacked and surrounded by some of the best professionals in the game including Johnny Moss and Bobby Baldwin, Fowler had survived hand after hand to get heads-up with seasoned rounder Bobby Hoff. After playing for over five hours, Fowler had ground out a slight chip lead over Hoff when this legendary hand came up, Hoff raising from the button with
and Fowler calling with
from the big blind. The flop came down
and Hoff led out for a 40,000 bet into the 76,000 pot. Despite having flopped only a gutshot straight draw, Fowler decided to call. Then, like manna from heaven, the
hit the turn, making Fowler a seven-high straight. Hoff moved all in for his remaining 43,000 and Fowler quickly called. The cards weren't immediately turned over back then, and both players waited until the dealer put the
on the river to show their hands. Hoff slapped his aces on the table only to see that the bracelet had just slipped through his hands with the turn of a single card.
Honorable Mention: Robert Varkonyi vs. Phil Hellmuth, 2002 WSOP Main Event
Okay… we just had to include this one somewhere. Maybe it isn't the worst statistical beat you've ever heard of, but a man's head did end up being shaved. On Day 3 of the 2002 WSOP Main Event, Phil Hellmuth was eliminated by Robert Varkonyi. After Varkonyi opened for 8,000, Hellmuth raised to 25,000 and Varkonyi decided to put the pressure on, moving all in. Believing he had the best hand, Hellmuth called for the rest of his chips with
. Varkonyi flipped up
. The A-Q-10 flop brought two pair for Varkonyi and Hellmuth couldn't improve, his Main Event at an end. Hellmuth flipped out in his typical fashion, perhaps madder at himself for calling off his stack as only a 3-2 favorite than at Varkonyi's luck.
Cut to: the final table. Hellmuth is in the commentator's box, calling the action alongside Gabe Kaplan. On the first hand of play, Varkonyi lost over two-thirds of his stack to Julian Gardner, all in with pocket nines against Gardner's aces. Hellmuth remarked on-air that "If Robert Varkonyi wins the WSOP, I'll shave my head."
Gardner and Varkonyi ended up heads-up for the bracelet and for Varkonyi, it again all came down to Q-10. He made a full house against Gardner's flush on the final hand and came from behind to win the Main Event. And immediately after Varkonyi was presented with his bracelet, Becky Behnen, David "Devilfish" Ulliott, the late great poker writer Andy Glazer and several others all took turns shaving Hellmuth's head.
Get in on the action with a Poker Stars marketing code - In addition to being the source for all things poker, PokerNews delivers the best bonus codes and marketing codes available on the internet.