2009 WSOP: Baker Seizes Lead in LHE #38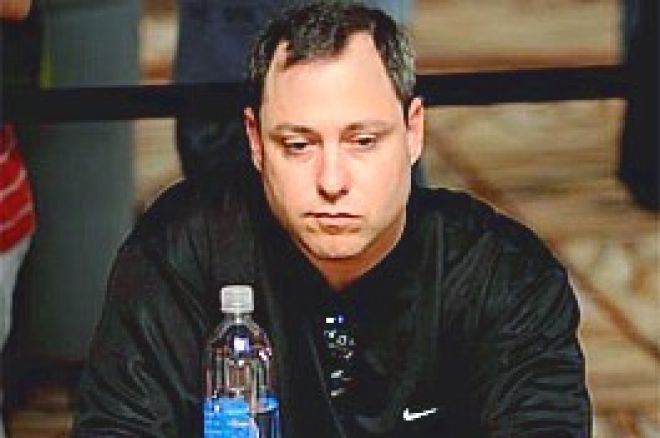 Day 1 of Event #38, $2,000 Limit Hold'em attracted a field of 446 players on Friday afternoon, with notables such as Eric Froehlich, Todd Witteles, Maria Ho, Barry Greenstein, Berry Johnston, Brock Parker, John Phan, Matt Hawrilenko, Jan von Halle, and Shannon Elizabeth among those in attendance. When the last of ten levels of play were finished however, it would be veteran professional David Baker of Katy, Texas who finished the day with 72,100 to become the chip leader heading into Day 2.
With the players starting at 6,000 in chips and blinds at 25/50, some players took their time to enter the tournament area and take their seats, as many tables were only half-full when action got underway. Marc Naalden, Noah Boeken, and Erick Lindgren all started the day at the same table, while Marcel Luske and Ivo Donev were seated at another tough table. Teddy "Iceman" Monroe was one of the players who showed up a bit late, about halfway through the first level. One of his first hands didn't go so well for the Iceman, when his pocket aces ran into a flopped full house to melt away some of his stack. He still had some chips to work with, unlike the player who had already departed the tournament area in Level 2, his tournament lasting less than two hours.
With registration closed after the end of Level 2, Alex Kravchenko, Phil Ivey, Andy Black, Shawn Buchanan, Daniel Negreanu and Greg Mueller were among the late registrants taking their seats in Level 3 as the blinds went up to 50/100. As the blinds increased, so did the anguish players expressed at playing limit hold'em. Dragan Galic related a story about how his pocket aces were cracked by K-10 when another king appeared on the turn, followed by a ten on the river. "This is the last limit event I play in the US," Galic sighed. Some other players who felt the same way as they trudged their way out of the tournament room included David Plastik, Sam Grizzle, Vitaly Lunkin, and Shannon Elizabeth.
As the dinner break approached for the remaining players at the end of Level 6, Daniel Negreanu appeared to be the unofficial chip leader as he was hovering near 30,000. Despite his standard late appearance at his seat, Phil Hellmuth chipped up to almost 20,000. Pam Brunson, Victor Ramdin, and Phil Ivey all got an early start on their dinners, as they joined the growing list of eliminations before the dinner break.
When the players returned from break, David Sands and John Monnette traded the chip lead as both passed the 30,000-chip mark. Teddy Monroe warned Sands: "You have too many chips. You're messing with the number-one live limit player in the world." Sands didn't appear fazed as he eliminated another player to move to 38,000 in chips. Daniel Negreanu was also at the same table as Sands and was second in chips, confident enough in his abilities to not give Sands a warning.
The remaining 176 players went on their final break of the day at the end of Level 8, but several players emerged to take their turns atop the leaderboard. Mikhail Tulchinskiy passed 40,000 in chips, then Soheil Shamseddin surpassed Tulchinskiy to take the lead. Then Tommy Hang was spotted with a stack of 50,000 towards the end of Level 9 to take the lead.
Level 10 left Henning Granstad, Matt Hawrilenko, and Mickey Seagle without any chips. Teddy "Iceman" Monroe would join them on the final hand of play after his J-8 went up against two players each holding A-8. The case eight appeared on the board, but no jack was forthcoming and Monroe was off to find another game.
The remaining 107 players bagged their chips and it would be David Baker holding the biggest bag, as he finished with 72,100 to become the Day 1 leader. Tommy Hang (58,000), Soheil Shamseddin (51,000), Marc Naalden (39,600), Rafe Furst (37,100), and John Monnette (32,100) are all in the upper half of the field when play resumes at 2pm Saturday afternoon. Maria Ho, Phil Hellmuth, Daniel Negreanu, Greg Mueller, John Parker, and Shannon Shorr also return for Day 2 with below-average stacks, all hoping to get into contention to make the money, as only 45 players will come out ahead on their $2,000 investment.
Check back in to PokerNews to see the chips fly on the felt, along with the other events now taking place at the World Series of Poker.