2009 WSOP: PLO #40, Matt Graham Battles Back to Win Bracelet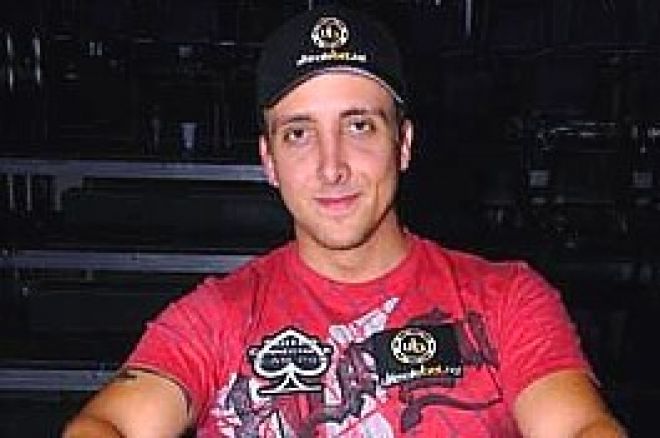 Day 3 of Event #40, $10,000 World Championship Pot-Limit Omaha, began with 25 players returning to take a shot at the bracelet and the $679,379 top prize. Among those left in the hunt for WSOP gold were Barry Greenstein, Josh Arieh, Van Marcus, Vitaly Lunkin, David Williams, and Markus Golser. The final table was reached relatively quickly, but then action slowed and a marathon session commenced that lasted until almost 4:30 a.m. Matt Graham completed a remarkable come-from-behind victory late in the day to take down his second gold bracelet.
Sixteen players needed to hit the rail before the final table could kick off. Several bust-outs occurred in the first hour of play, including Markus Golser's elimination in 20th place. His chips went in with
against the
of David Podgurski. Golser was unable to connect with the board and Podgurki's kings sent him to the rail. David Williams soon followed in 16th place. He moved in with aces, but ran into a set of queens from Matt Graham.
Noah Schwartz was the dominant chip leader coming into the day, but fell six spots shy of the final table in 15th place. All of his chips went in preflop with
against the
of Stefan Mattsson. Mattsson flopped trip jacks and Schwartz hit the rail. Howard Lederer made a deep run in this event, but "The Professor" finally took his leave in 12th. On the flop of
, he check-raised all in against Robin Keston, and Keston called with
for top pair. Lederer tabled
for a wrap. The turn fell the
and river the
to give Keston a full house and send Lederer packing.
Chau Giang was ousted in 11th in a multi-way pot. Giang, Josh Arieh, and Stefan Mattsson all saw the flop of
. Giang potted, Mattsson folded, and Arieh then re-potted to put Giang all in. Giang called with
for two pair. Arieh flipped over
for top pair with Broadway draw. The
turn gave Arieh Broadway and the
on the river failed to complete a full house for Giang. Nathan Doudney became the final table bubble boy. Josh Arieh raised to 80,000 and Doudney potted to 252,000 total. Arieh made the call and the flop came down
. Doudney shoved and was quickly called by Arieh. Doudney tabled
for an overpair while Arieh held
for only a flush draw. The turn fell the
to complete Arieh's flush and Doudney was drawing dead. Doudney took home $61,838 for his tenth-place finish.
Matt Graham held a slight lead heading into the final table. Both Vitaly Lunkin and Richard Austin were looking to become the fourth multi-bracelet winner of the 2009 WSOP. Here's how the final nine started final table play:
Seat 1: Ferit Gabriellson — 1,200,000
Seat 2: Matt Graham — 1,400,000
Seat 3: Barry Greenstein — 780,000
Seat 4: Josh Arieh — 1,050,000
Seat 5: Stefan Mattsson — 850,000
Seat 6: Richard Austin — 1,030,000
Seat 7: Van Marcus — 500,000
Seat 8: Vitaly Lunkin — 850,000
Seat 9: Robin Keston — 1,000,000
Two hours of play passed before the first player was lost. Vitaly Lunkin made the pot 120,000 preflop and both Barry Greenstein and Josh Arieh called out of the blinds. The flop came down
and action was checked to Lunkin, who bet 200,000. Greenstein then check-raised to 800,000. Lunkin went into the tank for awhile before reraising enough to put Greenstein all in. Greenstein called and revealed
for top pair, a wrap, and a flush draw. Arieh showed
for a pair of aces and open-ended draw. The turn and river failed to complete either of Greenstein's draws and he was eliminated from the event in ninth place. $82,746 was Greenstein's reward for a tournament well-played.
Richard Austin's run at his second bracelet came to an end when he was sent home in eighth place. Vitaly Lunkin raised to 120,000 preflop and Austin called from the big blind. On the flop of
, Austin bet out 120,000 and Lunkin bet enough to put Austin all in. Austin called and tabled
for a wrap and Lunkin tabled
for a pair, a smaller wrap, and the nut-flush draw. The turn
missed both players. The
river completed Austin's straight, but gave Lunkin the nut flush and sent Austin to the rail. Austin's eighth-place finish netted him $88,681.
Josh Arieh was the next player to get the hook, but at least he could tell people that he went out against a monster hand. Arieh was all in preflop with
against the
of Ferit Gabriellson. The
flop gave Gabriellson top set and left Arieh needing help. The turn gave him some hope when the
fell to give Arieh the nut flush draw. But the river put an exclamation point on the hand for Gabriellson when the
fell to give him quad kings. Arieh finished the day in seventh place and took home $99,856.
Action slowed after Arieh's elimination, and the final table remained six-handed for over three hours. It was the wee hours of Tuesday morning before another player was lost. Vitaly Lunkin raised to 210,000 and Stefan Mattsson repotted. Lunkin bet enough to put Mattsson all in and Mattsson made the call. Lunkin held
and Mattsson tabled
. The flop came down
, giving Mattsson a pair and a flush draw. The turn fell the
to give Lunkin a flush draw. The
river gave the pot to Lunkin and sent Mattsson out in sixth place. Mattsson took home $118,463 for his deep run as Lunkin moved to over 4 million in chips and held a stranglehold on the chip lead.
Ferit Gabriellson finished in fifth place at the hands of Matt Graham. Gabriellson potted to 280,000 preflop and Graham called. On the flop of
, Graham bet out 250,000 and Gabriellson moved in. Graham called and flipped over
for a pair and gutshot draw. Gabriellson tabled
for a pair of kings. The turn fell the
to give Graham the lead with a set. The river was the
to end Gabriellson's run. Ferit Gabriellson took home $148,439 for his fifth-place finish.
As play approached three in the morning, two players were lost in the span of five minutes. Robin Keston put his last 785,000 to risk against Matt Graham. Keston held
against the
of Graham. Graham only neeeded ace-high to win, as Keston failed to connect with the board, but Graham rivered a pair of aces anyway to eliminate Keston in fourth place. Keston took home $196,994 for his final table run. The popular Van Marcus soon followed Keston out the door in third place. Marcus was all in preflop against Matt Graham with
against the
of Graham. The turn gave Graham a set of aces and Marcus a Broadway draw. Marcus was unable to make it to Broadway and hit the rail in third place. Van Marcus received $278,409 for three day's work and had a chance to get home "early" to get some sleep.
Going into heads-up play, Matt Graham held a slight chip advantage of 4.5 million to 4.35 million over Vitaly Lunkin. As play continued past 3 a.m., Graham had to like his chances. He won his first bracelet in last year's $1,500 Limit Hold'em Shootout after surviving a final table that lasted until almost 8 a.m. With the stacks nearly even, the potential was there for a marathon heads-up confrontation.
The chip lead shifted back and forth between the two opponents until a huge hand left Matt Graham crippled. Vitaly Lunkin made it 300,000 to go preflop and Graham re-potted. Lunkin pushed all in and received a call. Graham held
against the
of Lunkin. Lunkin flopped a wheel when the flop came down
. He also held the nut flush draw. The turn paired the board with the
, giving Graham outs to a full house. But the river fell the
to double Lunkin up to 8.25 million and leave Graham running on fumes with only 600,000 in chips.
Matt Graham had been in this situation before. In last year's WSOP, he was down to around two big bets in his heads-up match and battled his way back to win the bracelet. Graham proceeded to take a series of pots off of Lunkin to fight his way back and overtake the chip lead. He first doubled through with aces up to move over 1.2 million. Next, he doubled again with queens up against Lunkin when Lunkin was unable to hit his draw. His third double-up gave him the chip lead. Graham's chips went in preflop with
against the
of Lunkin. The flop fell
, giving Lunkin two pair and Graham a wrap. The
turn completed Graham's straight. The river
failed to fill Lunkin up and Graham moved up to 4.5 million.
Just as he did in 2008, Graham was able to storm back from being crippled to take down his the gold bracelet. On the flop of
, Graham check-raised pot against Lunkin. Lunkin made the call and the
fell on the turn. Graham bet out 1.1 million and Lunkin shoved. Graham made the call and tabled
for a set of tens. Lunkin flipped over
for a gutshot straight draw and a flush draw. The river fell the
and after a quick count, it was determined that Graham had Lunkin covered. Vitaly Lunkin finished in second place and took home $419,832.
After a marathon session that lasted until 4:30 a.m. PDT, Matt Graham took down his second WSOP bracelet. Graham's experience in last year's shootout tournament proved invaluable as he was able to once again battle back from a crippled stack to take down both the bracelet and the $679,379 top prize. 40 events are now completed with 17 bracelets yet to be awarded. Stay tuned to PokerNews.com as the march to the Main Event begins.