2009 WSOP: Habib Off to Flying Start in HORSE #49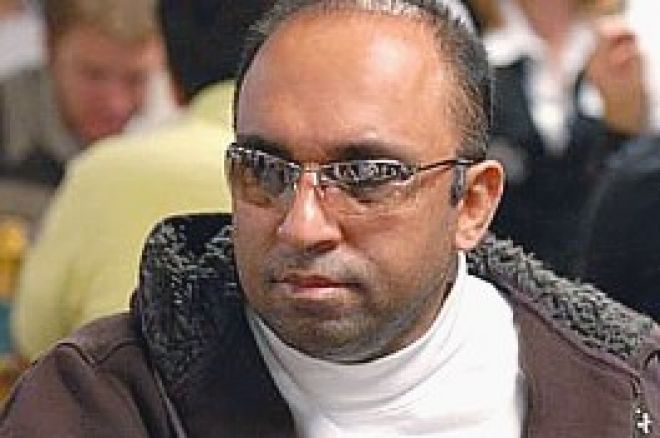 Chip Reese. Freddy Deeb. Scotty Nguyen. Those three men comprise an exclusive club in poker, the only three players to win the $50,000 World Championship HORSE at the World Series of Poker. Their names are now synonymous with all-around skill in poker, and their legacies secure in the annals of poker history. Ninety-five players took the field yesterday at the Rio to try and join that exclusive club and take home the Chip Reese Memorial Trophy. Thought the field was significantly smaller than in previous years, it was no less stacked with poker superstars. At the end of Day 1 action, Hasan Habib was at the top of this talent-laden field, just edging out Martin Vallo for the chip lead.
Freddy Deeb and Scotty Nguyen both came in looking for a chance to be the first repeat champion. Also looking for repeat gold in HORSE were Zac Fellows and James Van Alstyne, who have both already added mixed-game bracelets to their jewelry cabinets this summer. Other notables in the field included Barry Greenstein, Chris Ferguson, Erik Seidel, Jeff Lisandro, Johnny Chan, Allen Kessler, Annie Duke, Daniel Negreanu, Ville Wahlbeck, Phil Ivey, Chau Giang, Tony G, Mike Matusow, Erick Lindgren, Jennifer Harman, John Juanda, Gabe Kaplan, and Doyle Brunson — playing for the trophy named after his best friend and inaugural champion Chip Reese — just to name a few.
The 2009 version of the HORSE World Championship featured a smaller field but deeper stacks, as the triple-stack format of the WSOP this summer gave players a whopping 150,000 chips to start. The limit format and huge starting stacks led to patient play, and only four players were eliminated on Day 1.
It took five levels of play for the tournament to see its first casualty, and the unfortunate bust-out was Steve Zolotow. In a hand of stud hi/lo, Zolotow raised on third street with the
in the door, and Jennifer Harman and Pat Bueno both called. Both opponents also called Zolotow's bet on fourth street, and Bueno raised on fifth street with
showing. Harman made the call with
up, and Zolotow raised all in with
. Both opponents made the call, and Harman called Bueno's sixth-street bet before folding to a bet on seventh street. At showdown, Zolotow could only muster [
]
[
] for two pair and no low. Bueno showed [
]
[
] for a seven-high straight, good enough to scoop the pot as Zolotow headed to the rail.
Alexander Kostritsyn was busted soon after in a big stud hand against Frank Kassela. All the money went in on third street, and Kostritsyn's board ran out [
]
[
]. His pair of sevens wasn't enough to survive, as Kassela started the hand with split tens and improved to jacks and tens by the river. David Singer was sent packing just moments after Kostritsyn's exit to bring the total number of eliminations to three.
Just before the end of Day 1, Dan Shak rounded out the list of the fallen when he went down in an Omaha hi/lo hand. Five players saw the flop, including Shak, Gabe Kaplan, John Kabbaj, John Juanda, and Jason Gray. Kaplan led out at the
flop, and Kabbaj raised. Shak called all in as Juanda and Gray both surrendered. Kaplan checked the
turn, then called a bet from Kabbaj into the side pot. Kaplan called again when Kabbaj bet the
river. Kabbaj tabled
for a set of sevens, and both opponents mucked as Shak headed to bed early.
Hasan Habib finished atop the leaderboard after Day 1, partially thanks to a massive stud hi/lo pot against Jason Gray and Justin Smith. The action heated up on fifth street when Jason Gray led out with
showing. Justin Smith raised with
up, and Habib called with
. Gray called, and then picked up the
on sixth street. Smith raised after adding the
to his hand, and Habib paired his four with the
and put in the reraise. Gray four-bet, Smith called, and Habib capped the action at five bets. Gray and Smith both came along for the ride, and the river cards were dealt. Habib bet the river, Gray called, and Smith went into the tank. After a moment Smith made the call, but found he was no good in the face of Gray's [
]
[
] for aces up with a 7-6 low. Habib opened [
]
[
] for the wheel and the scoop as Smith mucked his hand.
That hand propelled Habib into the chip lead with 387,000 as Day 1 drew to a close. Martin Vallo ended the day in second chip position with 347,200 and Matt Glantz finished third with an even 300,000. Other notable big stacks at the end of Day 1 included David Benyamine (282,200), Andy Black (265,700), Chris Ferguson (259,600), Justin Smith (246,100), Farzad Bonyadi (241,000), Alex Kravchenko (238,400), Johnny Chan (237,700), Todd Brunson (229,900), and Erik Seidel (224,300).
Join PokerNews at 4PM local time as the remaining 91 players return for a shot at the coveted Chip Reese Trophy, the gold bracelet, and the $1.2 million first prize.