Justin Bonomo Scores Win in PokerStars Super Tuesday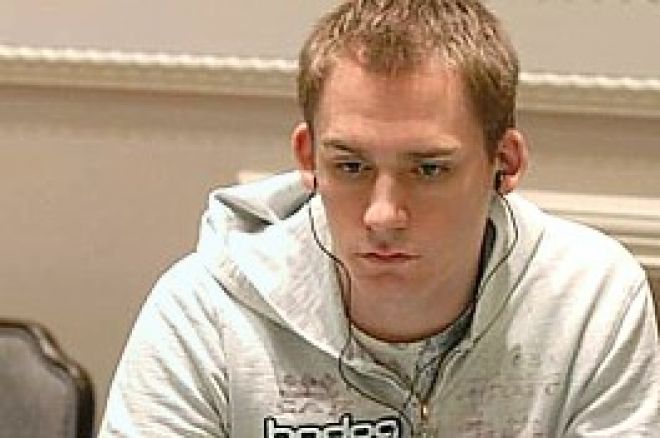 The PokerStars Super Tuesday hosted 389 entrants this week, with first place set at $75,855. Just missing out on the final table were Brent "usourcek" Hanks in 10th ($5,446), Dustin "neverwin" Woolf in 13th ($4,668), Robert "redbob14" Elkin in 16th ($3,890), Ryan "ryanbluf" Karp in 17th ($3,890), Mark "SHIPP ITT" Herm in 18th ($3,890), and Christian "charder30" Harder in 19th ($2,723). Justin "ZeeJustin" Bonomo came to the final table as the chip leader and he held on to that lead to clinch the victory. The chip counts at the beginning of the final table were as follows:
Justin "ZeeJustin" Bonomo - 344,256
Joe "jpmetalman" Patrick - 256,900
anfo500 - 141,451
sms9231 - 111,116
Opperstoof69 - 102,912
Trazamanna - 71,670
Jonathan "xxjondxx" Delong - 58,326
πmel - 44,390
Mumtum23 - 35,979
Jonathan "xxjondxx" Delong was the first player to be sent to the rail at the 1,500/3,000/300 level. Joe "jpmetalman" Patrick completed from the small blind and Delong raised to 9,604 in the big blind. Patrick called and the flop came
. Patrick check-raised from 11,000 to 27,000 and Delong called, leading to the
turn card. Patrick bet 25,000 and Delong called as the
hit the river. Patrick checked and Delong moved all in for 59,000, only to see Patrick insta-call and table
for top set. Delong's
was sent to the muck as he took ninth place for $6,807.50. A short while later, πmel was the short stack and got it in with
against Justin "ZeeJustin" Bonomo's
. The board rolled out
as πmel failed to improve, out in eighth place for $9,725.
Trazamanna busted at 2,000/4,000/400 after moving all in for 33,322 from the cutoff. Joe "jpmetalman" Patrick called from the small blind with
and had the lead against Trazamanna's
. The board fell
and Trazamanna's tournament was over in seventh place for $13,615. Getting felted next was anfo500. Joe Patrick raised to 10,000 from the hijack and anfo500 went all in for 105,886 on the button. Opperstoof69 then isolated the action with a reraise all in from the big blind with
. Anfo500 was way behind with
and failed to catch up as the community cards came
. For the sixth-place showing, anfo500 collected $17,505.
Joe "jpmetalman" Patrick met his end at 3,000/6,000/600. On the button, Patrick raised to 15,000 and Justin Bonomo called out of the big blind. The flop fell
and Bonomo led out for 24,000. Patrick raised to 72,000 and Bonomo wasted little time shoving with the big stack. Patrick called all in for 229,283 with
and could not have been comfortable seeing Bonomo table
for the monster draw. The
turn kept Patrick's kings ahead, but the river was the
as Bonomo made his straight. Joe "jpmetalman" Patrick pocketed $22,367.50 for his effort.
Later in the same level, sms9231 headed for the exit after running
into Mumtum23's
. The board ran out
and sms9231 was out in fourth place for $32,676. Opperstoof69 was down to four big blinds after folding to a raise on the river and busted shortly thereafter. On the button, Opperstoof69 pushed all in for 22,858 with
and Justin Bonomo called from the big blind with
. No improvement came for Opperstoof69, out in third place for 42,790.
Heads-up play began with Justin "ZeeJustin" Bonomo holding more than a 3-to-1 chip lead on Mumtum23, and ended with Bonomo having all of the chips. On the final hand at 5,000/10,000/1,000, Bonomo min-raised to 20,000 and Mumtum23 countered by moving all in for 168,696. Bonomo made the call with
and was well ahead of Mumtum23's
. The flop came
as Mumtum23 pulled ahead with a pair of fours, but Bonomo picked up a flush draw. The turn was a tournament-clinching
for Bonomo and the
river card was just a formality. Mumtum23 finished in second place for $57,377.50. Justin "ZeeJustin" Bonomo was the winner of the PokerStars Super Tuesday for $75,855.
Final Results:
1. Justin "ZeeJustin" Bonomo - $75,855
2. Mumtum23 - $57,377.50
3. Opperstoof69 - $42,790
4. sms9231 - $32,676
5. Joe "jpmetalman" Patrick - $22,367.50
6. anfo500 - $17,505
7. Trazamanna - $13,615
8. πmel - $9,725
9. Jonathan "xxjondxx" Delong - $6,807.50