The PokerNews Profile: Justin "Boosted J" Smith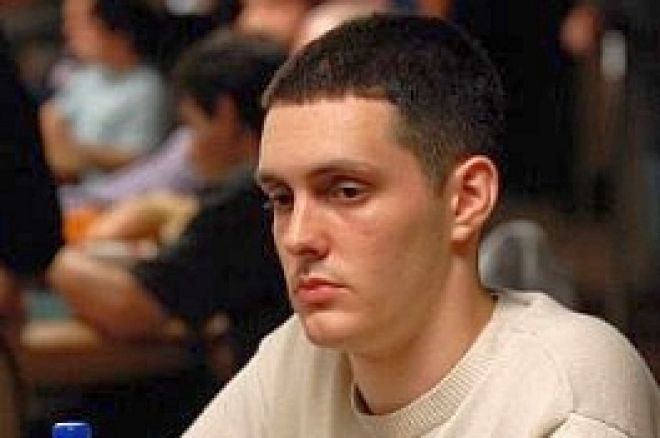 Justin Smith is no stranger to playing through pain. Poker fans have witnessed the 21-year-old make deep runs battling a 102-degree fever, fending off a cold, and fighting fatigue so extreme it required naps between hands. Then, in an incident that was perhaps the first of its kind in a major televised poker tournament, Justin Smith tore several ligaments in his left knee during a celebration on the rail at the recently completed Bellagio Cup V. Holding A-3 against eventual winner Alex Gomes' pocket threes, Smith leapt into the air as a jack hit the river, the board running out J-4-4-5-J to counterfeit Gomes' pocket pair. Smith, however, landed oddly as he hit the ground, re-aggravating the old injury that was responsible for getting him into poker in the first place. Smith took it all in stride, though, playing out the remainder of the final table with an ice pack on his knee on his way to a third-place finish for $464,870. It topped off a summer that saw him play in his first World Series of Poker and more than hold his own in Bobby's Room.
Justin Smith was born on January 8, 1988 in Hartford, Connecticut and grew up in Kissimmee, Florida. When he was 17, Smith was involved in a serious motorcycle injury that tore the ACL in both his knees and left him with a severely broken ankle. Confined to a wheelchair as his injuries healed, Smith had to quit his part-time job in a grocery store and was left without a way to make money. A friend who was already beating mid-stakes limit hold'em games online introduced Smith to poker, and after getting a few lessons, Smith deposited $50 on PokerStars. He started out playing $0.01/0.02 limit hold'em, grinding that $50 into a small bankroll. After graduating from high school, Smith enrolled in the University of Central Florida as a business major, moving out of his parents' house and into his own apartment. To pay the bills, Smith ground out about $1,000 a month playing $2/4 limit hold'em, but he found himself unable to move up in stakes given the fact that he was constantly cashing out. However, once Smith decided to give no-limit hold'em a whirl, his game took off and he'd never have to look back.
By early 2006, Justin Smith was grinding out a very nice living for himself playing no-limit hold'em cash games, anywhere from $5/10 to $10/25. He steadily moved up in stakes, eventually taking on the $25/50 games when they were introduced on Full Tilt in 2006. He also began diversifying his play, learning limit games like stud, triple draw, and Omaha 8 or better. At the end of his freshman year, Smith decided to abandon his studies in order to play full-time. As online sites began adding higher and higher stakes tables, Smith continued to move up, playing $50/100, then $100/200 and $200/400 no-limit. Despite spending most of his playing time in the cash games, he also developed into a feared tournament player, despite putting in far less volume than many of his peers. In February 2007, Smith finished fifth in the FTOPS III Omaha 8 or better event, then five days later, chopped the NLHE Main Event for a $232,000 score and FTOPS Player of the Series honors.
By the time he married his girlfriend, Anita, in August 2007, Smith was regularly playing $1,000/2,000 H.O.R.S.E. and $100/200 no-limit hold'em. Following the wedding, Mr. and Mrs. Smith took off on an extended honeymoon in Europe, combining sightseeing with a few stops to play cash games and European Poker Tour events. Though he didn't cash in any EPT events on that trip, he'd make an auspicious debut at the World Series of Poker-Europe the following year. In September 2008, Smith finished 14th in the £5,000 Pot-Limit Omaha event, and followed that performance up by playing through a nasty bout of the flu en route to a 16th-place finish in the £10,000 Main Event.
In his "rookie" year at the 2009 World Series of Poker, Justin Smith cashed five times in five disciplines of poker, including heads-up no-limit hold'em, limit 2-7 triple draw, no-limit 2-7 single draw, stud 8 or better and pot-limit Omaha, his best finish coming in the $10,000 World Championship Stud 8 or Better event where he made the final table and finished eighth. Smith played fewer events than most pros, concentrating on the higher-buy-in mixed game events and eschewing the large-field NLHE tournaments in favor of more time spent in the juicy cash games in Bobby's Room. In the week following the WSOP Main Event, however, Smith did give another high buy-in tournament a go, entering the $15,000 WPT Bellagio Cup V. It turned out to be an extremely worthy investment of time and money, as Smith made his first televised WPT final table and logged his largest tournament score to date. The $464,870 he earned took his lifetime tournament earnings up to $690,399… "lifetime" meaning all of ten months for the 21-year-old.
Justin Smith continues to play in the highest-limit cash games both online and in Las Vegas. Though he spends a good deal of time these days in the Nevada desert, he still calls Kissimmee home.