The PokerNews Profile: Yevgeniy Timoshenko
Nicole Gordon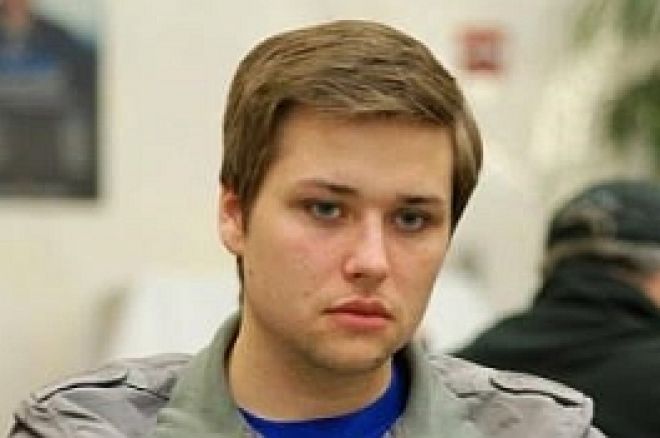 On the biggest night of his young life, Yevgeniy Timoshenko dressed like he knew victory was his. Clad in a charcoal pinstripe suit with hardly a hair out of place, Timoshenko came into the final table of the 2009 WPT Championships with nearly a 2:1 chip lead over his closest competitor and took his seat under the glare of the TV lights like he'd been doing this for years. The $25,000 Main Event at the Bellagio Five Star World Poker Classic may have been the biggest tournament Timoshenko had ever played, but this poker prodigy had already raked in over a million dollars in online tournaments and another million playing live… and all before his 21st birthday.
Yevgeniy Timoshenko was born in 1988 in the Ukraine. At age ten, he immigrated to the United States with his family, settling in Mukilteo, Washington, a northern suburb of Seattle. When Timoshenko was sixteen, Greg Raymer won the 2004 WSOP Main Event, catapulting poker into the mainstream of popular culture. Timoshenko was fascinated by what he saw on television, and began dabbling in the play-money Texas hold'em games on Yahoo! From there, he opened an account on UltimateBet where he became a self-described "play-chip shark," dominating play-chip MTTs and sit-'n'-goes. Timoshenko earned enough frequent player points on the site to begin playing on the "Ultimate Points" ring game tables, starting with stud and moving on to limit hold'em. Finally, he broke through and cashed a freeroll tournament, putting a precious $6 and change in his account. Timoshenko took that money, played a small buy-in real-money tournament, and ended up winning it for $300. With that seed money, he started playing limit hold'em ring games and quickly grew his bankroll into the thousands via the $10/20 and $15/30 LHE games on PartyPoker. Timoshenko soon discovered poker forums and began posting hands in earnest to try and improve his own game.
Gradually, Timoshenko transitioned into a no-limit hold'em multi-table tournament specialist. Playing as "Jovial Gent" on PokerStars, Timoshenko won the Daily $100 Rebuy for over $30,000, the notoriously tough Sunday $200 Rebuy for over $60,000 and final-tabled the Sunday Million, finishing fifth for $59,000 and change. Then, on November 26, 2006, Timoshenko beat Jon "apestlyes" Van Fleet heads-up in a special $500 buy-in edition of the Sunday Million for a $250,000 score, firmly placing him on the short list of up-and-coming online players to watch. He followed that up with wins in the Bodog Sunday $100K, the Full Tilt $1K Monday, and a final-table finish in the UltimateBet Sunday $200K. By 2008, Timoshenko had booked over $1,000,000 in online tournament winnings.
All of 19 years of age, Timoshenko began hitting the road for major tournaments in 2007. His first major live tournament score was actually a win, taking first place in a €1,000 NLHE side event at the 2007 Paddy Power Irish Open in Dublin for over $166,000. From Ireland he moved on to France, where he final-tabled the €4,000 No-Limit Hold'em event at the Paris Open for a $27,445 take. The following January he was down under in Melbourne, Australia for the 2008 Aussie Millions. Timoshenko made two final tables, the first in a $1,000 NLHE preliminary event where he finished sixth, and another in the $3,000 Two Card Manila Championship where he finished third despite little familiarity with the game.
With all his success in Europe and Australia, he took his game to yet another continent, where he entered the $5,000 Main Event at the Asian Poker Tour's stop in Macau. Timoshenko came away with his second major tournament victory, besting a final table that included Casey Kastle and Steve Yea to come away with the $500,000 first place prize. Only two weeks later, Timoshenko was halfway around the world in Spain at the EPT Barcelona Open, where he finished second in a €2,000 NLHE side event, adding another $134,000 to his exploding bankroll. From there he traveled north to London to compete in the 2008 World Series of Poker Europe. Timoshenko made the final table of the £1,500 No-Limit Hold'em event alongside his good friend Adam Junglen. Junglen finished sixth and Timoshenko came away with third place, good for another $100,000.
The best was yet to come, however for Timoshenko. Only two months and two weeks after turning 21, he entered the $25,000 buy-in WPT World Championships at Bellagio. Timoshenko turned in a positively dominating final-table performance, steamrolling his opponents on his way to victory. Timoshenko banked over $2.1 million for his feat, and joined David Chiu, Carlos Mortensen, Joe Bartholdi, Tuan Le, Martin de Knjiff, and Alan Goehring on the elite list of WPT World Champions.
These days, Timoshenko can often be found playing high-stakes NLHE and PLO cash games on Full Tilt Poker under the screen name "bballer88." He still calls Mukilteo, WA home.