2009 WSOP: Peisert Claims First Bracelet in Triple Chance #52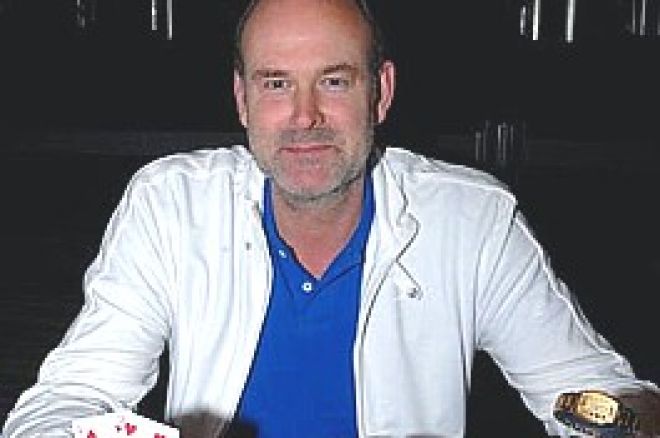 The conclusion of Event #52, $3,000 Triple Chance No-Limit Hold'em, began with just 16 players remaining in one of the final bracelet events of the World Series of Poker. When the final hand was dealt, Germany's Jorg Peisert made it back-to-back victories for Deutschland, following countryman Carsten Joh's win in the $1,500 No-Limit Holdem event the previous day.
Play resumed with the remaining players at the final two tables, with chip leader Jason Dewitt heading one table, and Alex Millar, the only other player starting with over one million in chips, heading the second table. Vladimir Kochelaevskiy started the day as the short stack and soon moved in with
against Millar, who was ahead with
. The
flop gave Kochelaevskiy another ten to double him up.
Millar would suffer another setback a few hands later. Jorg Peisert opened with a raise, Millar reraised, then Peisert announced he was all in and Millar made the call. Peisert turned over pocket aces, while Millar revealed pocket nines. The board brought no help to Millar while Peisert rose from his chair shouting "YES!" a few times, which prompted An Tran to shout back "NO!" at Peisert's outburst. Peisert's stack moved closer to 900,000 chips as Millar's stack continued to head downward.
Kochelaevskiy was poised to double up yet again when he got involved in a raising battle with Michael Katz, who eventually moved all in. Kochelaevskiy instantly called with
, leaving Katz to say "Good hand" as he showed the table
. When the flop came down
, Katz had flopped a straight, leaving Kochelaevskiy to hope the board would pair. Unfortunately, the dealer didn't cooperate, leaving Kochelaevskiy with just 6,000 in chips. Those chips went into the middle on the next hand with ace-high, but Jorg Peisert held pocket queens to send Vladimir Kochelaevskiy to the rail in 16th place ($19,068).
An Tran finished in 15th ($24,725), after his
ran into Jason Dewitt's red kings. Tran was soon followed by Joe Patrick in 14th ($24,725) when his pocket eights ran into Benjamin Gilbert's pocket jacks. Alex Millar was the next to be knocked out with pocket eights, his
up against Michael Katz's
. The flop brought another queen, sending Millar to the payout desk to collect his $24,725 for 13th place. Eric Lynch lost a big chunk of his stack when he doubled up William Erickson, and the rest of his chips evaporated after Lynch called an all-in raise from Benjamin Gilbert with pocket nines. Gilbert tabled pocket queens and when the board brought no help for Lynch, he headed to the cashier to pick up his $33,281 for finishing in 12th place. The final table was set when Thomas Applegate was not able to overtake Michael Katz, whose A-K dominated Applegate's A-10 to send him home in 11th place ($33,281).
Some controversy came about when the players were moved to the secondary feature table. It turned out that table wasn't available as it was being prepared for the Main Event and couldn't be used. This sent the players back to where they had been seated, but didn't give much access for fans on the rail to watch. Eventually tournament director Jack Effel compromised, moving them over a table which gave the fans a better view of the action and play resumed. A few hands later, Max Greenwood moved in with
against Jorg Peisert's
. Unfortunately for Greenwood, he lost the race as the flop came down
and no two-outer appeared on the turn or river, sending him home in 10th place, good for $33,281 as the official final table was now established.
Wes Watson became the next player to lose a race when his
went up against Jason Dewitt's
. This time the lead changed on the turn, as another jack for Dewitt ousted Watson in ninth place, pocketing $47,070 for his three days of tournament poker. Those hoping for a speedy end to the evening would be disappointed however, as the next several hours of play saw few flops and the all-in players kept doubling up. At the dinner break, Jorg Peisert was in the lead with 1,650,000 in chips, only 30,000 ahead of Jason Dewitt.
The post-dinner break period didn't bring much action to the final table at first, at least not until William Erickson moved in with
, only to see Jorg Peisert snap-call with
. No help for Erickson as he departed from the table in eighth place ($53,622). The next elimination got underway when Michael Katz made an under-the-gun raise to 76,000 as Karga Holt moved in from the small blind for 503,000. After the big blind folded, Katz agonized for several minutes as he came close several times to putting in the chips to make the call. He asked for a coin and Benjamin Gilbert obliged, tossing one over to him. Katz decided to make the call, turning over
as he was dominated by Holt's
. The flop was with Katz however, coming down
for the flopped full house, leaving Holt drawing to the three remaining aces. The
turn and
river were no good, sending Holt home in seventh place, adding $63,781 to his tournament earnings.
Katz was the next player sent packing when he moved in over the top of Jorg Peisert's opening raise of 150,000 with pocket fours. Peisert was dominated with pocket threes, but the flop came down
to move Peisert into the lead, while also giving Katz an open-end straight draw. The
on the turn, followed by the
on the river meant Katz headed to the cashier to do paperwork on his sixth-place finish, good for $79,385.
Benjamin Gilbert, the short stack at the time, then doubled through Jason Somerville when his
made a spade flush on the river against Somerville's
to move to 845,000 in chips. Gilbert would double up yet again with pocket jacks against Jason Dewitt's
to put Dewitt on the short stack. Dewitt would get his revenge a few hands later, when his
hit a king on the flop to double through Gilbert's pocket jacks. Dewitt continued increasing his stack when Jason Somerville moved in on him from the small blind with
. Dewitt made the call with
and when neither hand improved Somerville was left to collect $103,591 for his fifth-place finish after thrilling the rail with his play the past three days.
The final hour of play brought a round of quick eliminations, all at the hands of Jorg Peisert. Peisert opened with a raise to 170,000, then Michael Noda reraised to 430,000. Peisert then three-bet, sticking a huge pile of chips into the middle. Noda responded by moving all in, and Peisert called instantly with
, while Noda showed he was in front with
. The flop was good for Noda as it fell
, but the turn brought the
, giving Peisert and his supporters something to be happy about. When the
came on the river, Noda left the table in fourth place, good for $142,035. Benjamin Gilbert was down to his final 560,000 in chips when he moved all in. Piesert, holding over five million in chips, decided to give it a think before calling with
, which was well ahead of Gilbert's
. Another ace on the flop sealed the deal for Peisert as he knocked out Gilbert in third place, left to pick up his winnings of $205,180.
Jorg Peisert and Jason Dewitt were the last two standing, with Peisert holding most of the chips when heads-up play began. Dewitt was down to his last 600,000 in chips when he moved in over Piesert's raise with
; this time Peisert called quickly with
. With the Piesert section of the rail hoping for no king, the dealer obliged when the flop came down
. The railbirds' continued pleas were also met on the
turn and
on the river, giving Jorg Peisert all the chips and making his fans very happy. Jason Dewitt's second-place finish was good for $313,227, while Peisert gets the coveted WSOP gold bracelet and $506,800 for the victory.
As the World Series of Poker winds down, PokerNews is still going strong, covering the three remaining preliminary events before the Main Event kicks off this coming Friday!