The Nightly Turbo: Borgata Update, Record Breaking Poker, and is the Mouth Stripping?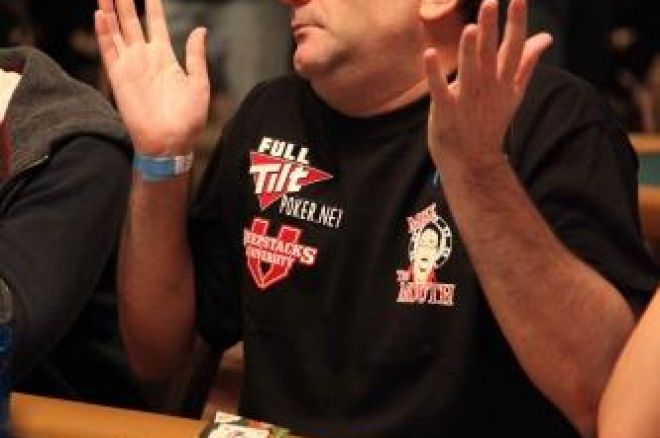 If you've got a case of the Mondays, take a break and catch up on some news. A lot of poker is going on: Borgata, WCOOP and WSOPE. We know you're glad you found everything you needed to know from today in one place, because if you didn't how else would you have extra time to work on your game?

In Case You Missed It
Sunday is a big day on the virtual felt. Yesterday was no different. We have your World Championship of Online Poker results and more in the Sunday Briefing.
The World Series of Poker Europe is underway in London. The final table for Event 1 was set (and while we were writing this, it finished.) JP Kelly is going home with the first bracelet of the 2009 WSOPE and we'll have full details later. If you want to know who was sitting with Kelly, our recap has your lineup.
Maybe you're headed to Aruba for the Aruba Poker Classic or maybe you're just planning a sunny vacation to Aruba's beautiful beaches. Either way, you're going to need to know what to do when you get there. PokerNews Jet Set: Aruba has you covered.
Breaking Records
Rumors are flying that the record for the biggest cash pot ever televised was broken during the Full Tilt Million Dollar Cash Game in London. We could give you three guesses as to who was the beneficiary of the pot, but you would only need one. Did you guess Tom "durrrr" Dwan? If you didn't, we don't know where you've been for the last year.
Season five of High Stakes Poker is probably one Barry Greenstein would like to forget. It was in that season that he lost a $900,000 pot to Dwan, setting the record, until now. Dwan is breaking his own records like Michael Phelps does and the numbers are getting astronomical. Phil Ivey was on the losing end this time and what a losing end it was. Ivey's straight was one-upped by Dwan's and the $1.1 million pot was shipped toward Dwan. It's better to get your run-bad out of your system now Phil, November isn't too far away.
PokerNews UK has more on the story.
Bodog's Quinceanera
Bodog is turning 15 and instead of dressing in a big pouffy dress and throwing a party, they're giving you a $15,000 freeroll. Bodog's 15 Days of Poker begins September 21 with 15 days of qualifying tournaments through October 5.
"For 15 years, Bodog has been a leader in the online gaming industry, giving players a superior gaming experience while awarding billions in prizes," said Bodog.com poker pro David Williams. "And Bodog.com's 15 Days of Poker tournament series gives online poker players a fun and profitable way to celebrate this colossal achievement with Bodog."
Each qualifying tournament will take place at 8:15 p.m. EST and will range in buy-ins from $5 to $15. The prize pool will be distributed like normal, but the top 30% of finishers will earn Tournament Leaderboard points. The points determine who will move on to the semifinal and then the $15,000 Freeroll Tournament.
We love birthday presents, especially when it's not our birthday. Sign up for a Bodog account and on top of Bodog's freeroll, you'll get a great PokerNews bonus. Lucky you!
Convicted and then Reversed
In 2006, a home game was raided by police in Mount Pleasant, S.C. Five of the players were convicted earlier this year of gambling. The men appealed and Circuit Judge R. Markley Dennis has overturned the conviction. In a letter, Dennis stated that it was his opinion that the Supreme Court would likely adopt "the dominant factor" test for deciding the case. Texas Hold'em, under the dominant factor test, is not gambling and therefore not illegal under state law.
This decision is not the final one for the five men, however. The players and their attorneys must prepare a proposed order for consideration and review by Judge Dennis. We think the judge could be a poker player himself, but either way, it's a good ruling for the men and for poker.
Read more at the Post and Courier.
Borgata Poker Open
Day 2 of the Borgata Poker Open is underway. The $3,500 buy-in and $2 million guarantee drew 1,018 players. A little over 500 players survived to see the second day and Gabriel Aminov began the day as the leader.
Jason Dewitt will be multitabling today as he currently has 232,000 chips in the Borgata Main Event and he also holds the chip lead in the two-day PokerStars WCOOP Main Event. We'd love to get a video of him pulling this one off. Notables still in the field include Gavin Smith, Jonathan Little, Dean Hamrick, Michael Binger and Roy Winston.
The Borgata Poker Open is bringing you the play by play.
Matusow Taking it Off
Twitter and NFL-loving poker players in London is apparently a toxic combination. The videos linked below, one from Phil Hellmuth and one from Andy Bloch, are prime examples of subjects that should not be tweeted — ever. Mike Matusow at the sight of Hellmuth entering the bar rips his shirt off and exposes his hairy chest and back for absolutely no reason whatsoever, Brandon Cantu discusses his 3-17 sports-betting record this year, and Jeff Madsen apparently won $200. The one glimmer of light was Liv Boeree giving us a half-second strip tease, which probably is not worth the pain you'll be in with all the aforementioned shenanigans. Whatever you do, DON'T watch the videos below.

If you're not following us on Twitter, how will you get your breaking news? Go do it. You don't wanna be the only one left out.