The Nightly Turbo: PokerStars WCOOP Results, A Gun Fight in Houston, and a possible "Durrrr", "FullFlush1" Showdown?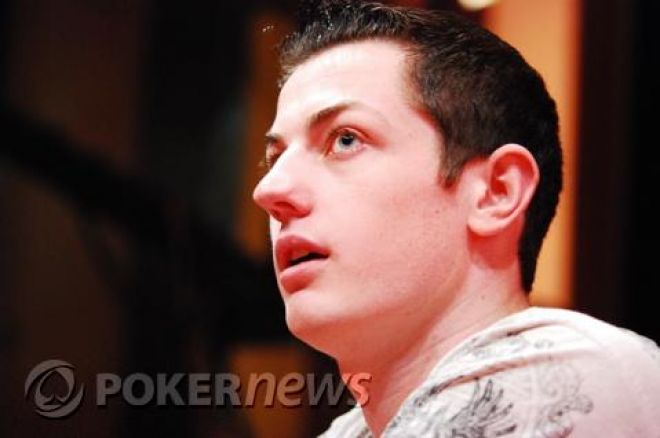 It's Labor Day weekend. Hopefully you are taking a break from the felt this weekend (who are we kidding the WCOOP is running). The Nightly Turbo will bring you This Week in Poker on Sunday but don't look for us on Monday because we're taking a break. We'll be back on Tuesday, though, bringing you the news as usual.
In Case you Missed It
Betfair is offering a $2,000 Cash Freeroll for all new players who sign up through PokerNews and earn one Betfair point. One point is not hard to get. Trust us. If you are not a new player, we've got your back as long as you signed up through PokerNews at some point. Learning is fun, so do more of it here.
Just in time for Bodog's 15-year anniversary (they're growing up so fast these days), Bodog.ca has launched. This launch will allow Canadian players access to Bodog Sports, Bodog Poker and Bodog Promotions. "We're extremely excited to be able to bring the unique Bodog experience to Canadian players. Canadians are passionate sports fans and are extremely savvy consumers," said Bodog Europe Managing Director Keith McDonnell. What else is happening in gaming around the world? Check the International Poker MarketPlace report, and hey you Canadians, sign up for Bodog now, that is if you're not too busy playing hockey, or drinking for that matter.
The Sports Legends Challenge has postponed its inaugural event, which sucks. What doesn't suck is that everyone who won or bought into the event is able to transfer their seats when the new date and location is announced. They're also looking at adding a guaranteed prize pool and lets face it, who doesn't like guaranteed money. Get the full scoop.
The Weekend Survival Guide has places to go, things to buy, tournaments to play, and of course British bunny rabbits. How can you go wrong there?
WCOOP Day 1: "ChopSueyyy" and Dan "djk123" Kelly Victorious
The World Championship of Online Poker kicked off yesterday and ended in the wee hours of the morning today. Online poker pro Dan "djk123" Kelly outlasted Matt "Plattsburgh" Vengrin to capture a Razz title and $53,410, while relative unknown "ChopSueyyy" pocketed $247,602.01 after the five remaining players were unable to make a deal. The busted negotiations have been toughest on "JP OSU" who probably can only justify buying a SMART Car now rather than a real Mercedes.
PokerStars WCOOP-1 $215 No-Limit Hold'em 6-max $1.25M Guaranteed
Buy-in: $200 +15
Prize Pool: $1,707,600
Entrants: 8,538
1. ChopSueyyy - $247,602.01
2. MMalipo - $170,760.01
3. Futuro - $119,532.01
4. LosChief - $68,304.01
5. JP OSU - $34,152.01
6. shuriken555 - $23,940.56
PokerStars WCOOP-2 $215 Razz $200K Guaranteed
Buy-in: $200 +15
Prize Pool: $305,200
Entrants: 1,526
1. Dan "djk123" Kelly - $53,410.01
2. Matt "Plattsburgh" Vengrin - $38,150.01
3. SebbGl - $28,994.01
4. grampabumkin - $21,364.01
5. adamevan - $15,260.01
6. pasacp - $9,156.01
7. hans61 - $6,104.01
8. Ottawa_Boy27 - $3,052.01
Get in on the WCOOP action yourself by signing up for a PokerStars account now.
Argentina Hopes to Legalize Online Gambling
A motion was passed by the Argentine government earlier this week that would allow online gaming operators to function legally. The government recently bailed out the Asociacion del Futbol Argentino by taking over the broadcasting rights of the AFA. Legalizing online gaming could help bring sponsorships to the failing soccer teams. PokerStars has already started to align itself in that market, readying itself if and when the law is passed. Whether or not Team PokerStars poker pro's will get a chance to show their skills on the pitch is undecided, speculative and probably unlikely.
Read more at Coinflip.com
Gun Fight Breaks Out in Houston Poker Room
Originally reported by Pokerati, three gunmen rushed an underground poker game being held at a local strip mall. One player decided to fight back and shot one of the thieves who was later found dead in a parking lot. The other two gunmen escaped and although one player was hit by a bullet, he apparently will be fine because he only suffered a noncritical wound. Apparently the gunmen ignored the old saying "Don't mess with Texas."
Pokerati has more, as well as a video from the Houston Chronicle.
Partouche Poker Tour Carries On
Day 3 of the Partouche Poker Tour saw Antoine Saout and Michael Tureniec continue to dominate the tables. Saout is currently king of this castle with 1.3 million chips and Turniec is right behind with just under 1.2 million. Turniec had so many chips at one point that he started to make one of his famously high chip walls only to have floor staff color him up when tablemates complained about not being able to see him. Maybe tonight Turneiec will rebuild his wall with a couple hundred home-game poker chips and try to use it as a card protector tomorrow.
The unfortunate bubble boy was recent EPT Kyiv Main Event Winner, Maxim Lykov. He was hoping to ride the momentum from the big win to but came up short, although he was awarded a buy-in to next year's Partouche Poker Tour Main Event, so all was not lost.
Play continues tomorrow, and again, please thank Gloria Balding by stalking her on twitter.
PKR Heads-Up Grand Slam Launches in London
Matchroom Sport and PKR have officially announced the inaugural PKR Heads-Up Grand Slam in London from October 8 through 10 with a sure-to-be highly anticipated draw happening live on MatchroomPoker.com and PKR.com on Wednesday September 9th.
Several young superstars are already confirmed, such as Tom "durrrr" Dwan, Luke "Full_Flush1" Schwartz, WSOP Europe champ Annette Obrestad, WPT Championship winner Yevgeniy Timoshenko, Antonio Esfandiari, and many others.
Eddie Hearn, managing director of Matchroom Sport, said, "We have been looking at creating a heads-up event for a while now and I'm excited that we have the formula just right. Shows such as the NBC Heads-Up Championship have attracted huge ratings and we expect this event to continue that trend."
Poker fans are surely salivating at the possiblity of a "durrrr", "FullFlush1" showdown, as there has been nothing trash talk between these two in the past. Will the rivalry continue? Or is the chatter in the forums and the virtual felt just a new form of good spirited banter that our pedestrian minds just can't handle.
Players can also qualify for one of six open spots with satellites that will run only at PKR.com
Remember we're out till Tuesday. If you miss us please let us know by sending us a tweet or two.