The Nightly Turbo: Poker in the Sky, A WCOOP Prediction, and More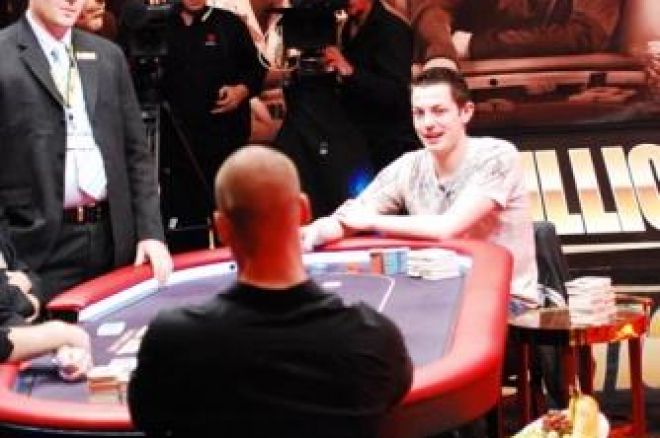 We're glad to see you've made it back for this edition of The Nightly Turbo. We're dedicated to making your life a little easier by bringing you the top poker news stories of the day all in one place.
Poker in the Sky
Ever wonder what it would be like to play poker in the sky? We're not talking about the new fangled wi-fi several airlines have implemented these days. We're talking about being hoisted up in the air 50 metres (for those here in the states - really high) by a crane. For those of us who are acrophobic (afraid of heights), this is pure insanity. For those of us who aren't afraid, PartyPoker has your ticket up.
Twenty-two players will be hovering over City Hall Square in Copenhagen. "Poker is a high octane game, and we want to give the Danish poker players a special experience that will really boost their adrenaline levels," said a PartyPoker spokesman. "We have an expectation that it will be the most spectacular poker event Copenhagen has ever seen. More details on those involved will be released shortly." Two of the seats are reserved for celebrities, so that makes 20 available for you thrill-seekers out there.
Sign up for a PartyPoker account if you dare — well even if you don't, we have some pretty sweet bonuses for signing up, so do it anyway.
Super Tuesday
A little over 300 players entered the PokerStars Super Tuesday $250,000 guarantee tournament yesterday. Alex "AJKHoosier1" Kamberis came out on top, taking home $66,053.50. According to his blog, Kamberis took some bad beats during his Tuesday night tournament stint, but first place in the Super Tuesday probably makes up for it.
PokerStars Super Tuesday Results
Buyin: $1000 + 50
Prize Pool: $323,000
Entrants: 323
1. Alex "AJKHoosier1" Kamberis - $66,053.50
2. joe E scar - $48,450
3. Aguskb - $36,499
4. Godfatti - $27,455
5. Mario "Pokerccini" Puccini - $18,734
6. David "BodogMaven" Chicotsky - $14,535
7. 12ziz12 - $11,305
8. G8vMyfLfeAway - $8,075
9. trontrontron - $6,137
Notables: Luke "Bdbeatslayer" Vrabel (14th-$4,360.5), Daniel "amichaiKK' Makowsky (19th-$2,745.50), jagz7 (24th-$2,745.50)
Sign up for your own PokerStars account and work toward your own Super Tuesday.
Banned In Massachusetts
In August, we told you about how hard it was to get a question on the voting ballot in Massachusetts. It seems as though Massachusetts' Poker Player Alliance state director, Randall Castonguay, and his team weren't able to meet the legal requirements to achieve their goal. Looks like online poker players in Massachusetts will have to wait another year before online poker gets a vote.
Massachusetts AP News has more.
Partouche Day 1B
Much has been written lately about the heater that the November Nine members seem to be on. It seems that hot streak has made its way to Europe as well this year. Day 1B of the Partouche Poker Tour is over and November Niner Antoine Saout is sitting pretty atop the chip leaderboard. Saot will start Day 2 with 224,850 chips, with 60,000 chips separating him from his closest competitor.
The field ended up with 521 entrants. Not bad for a tourney that hasn't had a lot of coverage outside of the francophone (that's french speaking for the nonlinguist). David Willliams, Josh "JJProdigy" Field, and Joe Cassidy were among the Day 1B field and will all be returning for Day 2. With so many "names" making it through from Day 1B, the legendary "soft" French tournament, which many players came here looking for, could suddenly become quite hard on Day 2.
Thanks again to Gloria for the update. Follow her on twitter here.
In Case You Missed It
888.com is taking the necessary steps to move into the U.S. market. It has tightened security measures and is now approved by the TRUSTe, a highly respected Internet safety provider. Check out 888.com Gets TRUSTe Stamp of Approval for more.
Ever wonder what Pulp Fiction has to do with poker? We broke it down for you in From the Big Screen to the Final Table.
Did you miss last night's WSOP coverage on ESPN? Well, you should have set your DVR. Or you could check out WSOP Main Event on ESPN for the recap.
Remember last January when everyone in poker couldn't stop talking about the "durrrr" Challenge? Do you think it lost a bit of its luster now that we're nine months into it and they hardly put a dent into the 50,000 hands they're supposed to play. We take a look at it in The "durrrr" Challenge: Best Yet to Come or Giant Bust and you should too.
WCOOP Prediction
A player of both World of Warcraft, and poker, Athene will play the WCOOP Main Event on September 20th. That's our prediction. He's predicting he'll win it. He'll also be streaming it live for everyone to watch. He started a thread on TwoPlusTwo about the whole thing. It's 67 pages and without going through all of them (because really, who has that much time) it seems like half the readers can't stand him and are getting laughed at by the other half who believe this is all just one big level. We don't care if it's a level or not. The videos are pretty funny. "Oh! Chicken."
If you're the 67-page type, check out TwoPlusTwo. Even if you're not, the first page has a few videos to make you laugh.
Check out our Facebook page and become a fan.