The Nightly Turbo: Antonius vs Vos, Ruling in South Carolina Poker Case, and More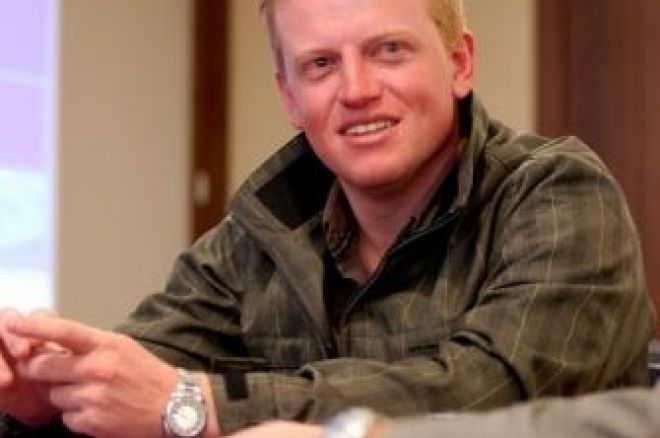 Welcome back to The Nightly Turbo. We look for the day's top stories, so you don't have to.
In Case You Missed It
The PokerStars Asian Pacific Poker Tour Auckland stop begins tomorrow or today, depending on which side of the International Date Line you are on. Maybe you just got settled into your hotel room at SKYCITY and were wondering what to do in the "City of Sails." Good thing we weren't so jealous of you being there that we couldn't bring you the PokerNews Jet Set: Auckland.
The PKR Heads Up Grand Slam crowned a winner this weekend. "Who was it?" you ask. We didn't write the recap for nothing. Head over and find out.
We probably sound like a broken record every Tuesday, but we won't stop telling you that the World Series of Poker is on ESPN tonight until it's not.If you want a sneak peek, you might find this review helpful.
November is getting closer. Last week we profiled Phil Ivey. Now we're bringing you the Brit of the group, James Akenhead.
Vos Wants an Answer
Patrik Antonius' latest interview marks the second time he has had some not-so-nice things to say about Mark Vos. The first time, we told you that Antonius wanted to break Vos' nose. This time in an interview with BlackBeltPoker.com, he calls Vos a "fucking idiot."
Vos wants some answers and he's hoping to get some from the TwoPlusTwo thread he started today. We don't really see Antonius as a TwoPlusTwo-er, but hey, you never know.
Vos said, "He says that I am spreading lies about him, WHAT LIES? I pointed out a peculiar similarity in his chat with someone else.... On THIS forum. I didn't state that he was multi-accounting, I just stated a fact, with a possible implication. While I accept that I may have been mistaken in my implication, it was provoked by a personal attack from his account after I had never said a bad word to him. The only time I mentioned it after that was when I read the interview that he wanted to punch me, cause I couldn't figure out what the hell he was talking about."
Well Vos, if he doesn't read TwoPlusTwo, maybe he reads The Turbo and you two can hug and become besties or not.
Mark Vos has more to say in this thread on TwoPlusTwo.
APPT Auckland
Lynn Gilmartin is in Auckland, New Zealand, along with the rest of the PokerNews Live Reporting Team and they will be bringing us updates from the PokerStars Asian Pacific Poker Tour. Lynn has decided to take us on a tour of Auckland and tells us some interesting facts about the city.
Be sure to follow PokerNews on Twitter for up-to-the-minute news and add us on Facebook.
Making a Comeback
Gus Hansen better get in the swing of things fast if he wants to end 2009 in the black. He's definitely trying. He started playing the 7 Game mix on Full Tilt Poker instead of his normal no-limit hold'em or pot-limit Omaha games. Thanks to the the change of pace for Mr. Hansen and a certain someone named Ilari "Ziigmund" Sahamies, Hansen is up over $400,000 for the month of October. He's still down $2.9 million for the year though, but if he keeps running like this, it'll only take him a few days to catch up.
HighStakesNews.com has more.
Plus One for the Good Guys
We told you a few weeks ago about the five poker players from Mount Pleasant, S.C., who were being tried for playing poker. If you don't remember, here's the link.
The charges against the five poker players were dropped when the South Carolina court ruled that poker was a game of skill and not of chance. Isn't that what we've been saying all along? Hello! Strategy section.
"All poker players are well aware that the game is based on making the correct, informed decisions, not just mere chance, and games of predominant skill should not be classified in the same league as slot machines or lotteries," said John Ridgeway, South Carolina's state sirector of the Poker Players Alliance, "We're very pleased that the judge considered the overwhelming evidence and came to the same conclusion."
Will poker slowly but surely win the battle towards main stream acceptance? Steps in the right direction, although they may be baby steps, are never a bad thing.
Read more about the ruling at South Carolina News.
Still Racing
We're three episodes into "The Amazing Race" and Tiffany Michelle and Maria Ho are still representing — barely. The duo sucked out on the river to escape elimination this past week when another team lost a passport and couldn't continue. So we searched some blogs to find some perceptions of the poker playing duo.
TVGrapeVine.com had this to say: "This team comes across too strong. I really think that the reason I can't warm up to them is they started the trip with a lie. Professional poker players – especially those who are ranked – should have known that their secret would be revealed. And after coming off of Big Brother and Natalie the poker player, the profession has left a slight sour taste in my mouth. While they seem determined to win, I don't honestly see them respecting the other teams or the cultures around them. If they did, would they have lost two members of their tour group in Japan?"
The Amazing Race blog on FanCast.com said: "The poker girls Tiffany & Maria really struggled in this episode. These gals are used to stress and tension in their card-playing careers so we would not be surprised to see them whip out an "ace" next episode and take the other teams off guard."
We'll just have to wait until next week to see how lucky the girls can get.
Watch episodes from the race at CBS.com.