Vladimir Geshkenbein Wins the PKR Heads Up Grand Slam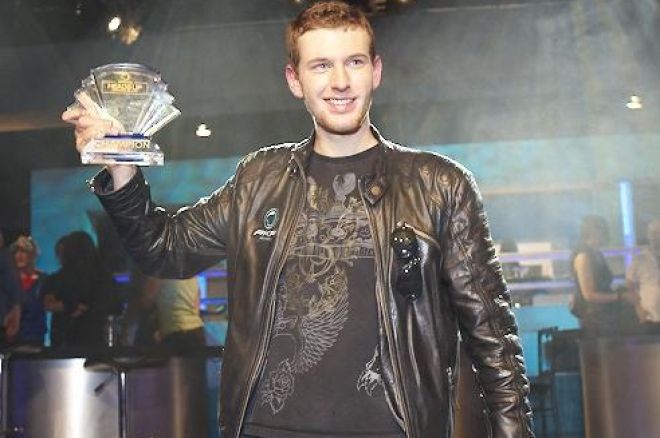 The first ever PKR Heads Up Grand Slam was won this weekend by Vladimir Geshkenbein. "Who?" you might ask, since the Russian's only other major success was winning the APPT Macau High-Rollers event beating Johnny Chan heads-up.
Geshkenbein though, came out on top of a pro-heavy field, beating Alex Keating, Brahim Hajji, David Steicke and James Sudworth to make it there.
Many big-name players busted out early on. Annette Obrestad was out after just 14 minutes against Ian Frazer, while Ilari Sahamies beat that, lasting less than 10 minutes against Alec Torelli who made two pair against Sahamies' pocket kings to win practically all the chips early on.
One of the early highlights was Yevgeniy Timoshenko facing Luke Schwartz, two stalwarts of the online world who found their battle cut short when Timoshenko got his kings all-in preflop against Schwartz's jacks only for the knave to find a third jack on the turn.
Meanwhile, Alec Torelli continued quickly through each round before a slice of luck made you think this could be his tournament. Torelli was all-in on a
board holding
against Antonio Esfandiari's
but after the turn was a blank, the river brought him the
for a one-outer to a straight flush for his survival. But alas, that clearly was his last bit of luck because in the semifinals he ran pocket tens into Juha Helppi's pocket aces.
The other semifinal, between Geshkenbein and Sudworth, was a much less sedate affair. The two loudly drank and gambled, seemingly uncaring about who made the final. At one point, Sudworth raised before his cards had been dealt and Geshkenbein responded by moving all-in before he had seen his hand, forcing Sudworth to fold. The Russian then picked off a few bluffs before he caught a break to knock out the young PKR pro with his Q-5 beating Sudsworth's A-6.
At the final table, Geshkenbein faced Helppi and right away created a wild image by raising the first hand with
and flashing it after Helppi folded.
Helppi, the more experienced of the two, was unable to defend against Geshkenbein's relentless aggression and occasional sudden changes of pace. A crucial hand played out when Geshkenbein check-raised a
board before setting Helppi all-in when the
fell on the turn. Helppi thought for ages but folded what was probably the best hand only to be shown Geshkenbein's monster drawing hand
.
A couple of hands later it was all over. Helppi was all-in with
against
but the board came
, the queen-high flush securing the title for Geshkenbein. You might not have known him before now but some of his plays and antics will surely become more frequent on the circuit after this win.
For a full dose of poker, follow us on Twitter and to check out PKR yourself sign up for an account here.