The PokerNews Jet Set: Auckland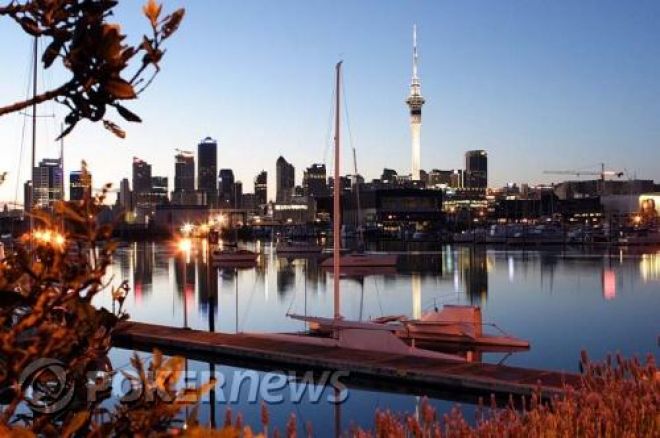 New Zealand is one of those destinations worth every minute you'll spend in a cramped airplane seat to get there. This week, PokerStars' Asian Pacfic Poker Tour rolls into Auckland, a surprisingly cosmopolitan metropolis of 1.3 million affectionately known by its residents as the "City of Sails." Situated on a tiny strip of land bordered on one side by the Tasman Sea and on the other by the South Pacific, Auckland life is centered around its majestic harbor. Players, you'll want to seriously consider adding an extra day or two to your itineraries, as there is a wealth of beauty, culture, and adventure to be found in this spectacular island nation.
Getting there is (not really) half the fun. A direct flight from Los Angeles to Auckland takes about 13 hours from wheels up to wheels down. Upon arrival at Auckland International Airport, travelers are greeted by over 50 duty-free retail outlets before even hitting the passport-control desk. Pick up some local wines, a discount bottle of booze, or any electronic gadgetry you may have forgotten (did you remember your power adapter?) right here at a far lighter price than you'll find in the central business district. Once you've cleared customs, you have a few options for getting into the city. The easiest option is to simply grab a taxi but the 40-minute journey downtown will run about $70 NZD ($52 USD). If you're staying in the central business district and have light luggage, the Airbus is a less expensive option at only $15 NZD one-way or $25 round-trip. Buses run every 20 minutes from 6:30 a.m. to 10 p.m. and if your hotel is on the main route, the driver will happily drop you off.
Places to hang your hat: We always recommend that whenever you travel to a tournament, you should stay at the venue if possible and this one is no exception. The APPT Auckland will play out at SKYCITY, a sprawling complex right in the middle of the central business district, which houses two hotels, dozens of restaurants, a 700-seat theatre, and the SKYCITY casino. While the clean, modern rooms at the SKYCITY Hotel are a bargain at around $120 USD per night, consider upgrading to the SKYCITY Grand. As we're in the "off-peak" season, a luxury room with a king-sized bed and a view of the harbor runs only about $50 more per night.
If you're looking to splurge and don't mind putting a little distance between yourself and the tables, a number of swanky options are only a short walk from SKYCITY. The Langham Hotel is a five-star gem located right off the central business district's main drag, Queen Street. Boasting sumptuous rooms, million-dollar views and a fantastic rooftop pool, the Langham perpetually ranks among the top hotels in New Zealand. Planning on a longer stay? The rooms at CityLife Auckland are more like mini-apartments with fully equipped kitchens and in-room washers and dryers. It won't break the bank either; rates start at under $100 USD per night.
Eating and drinking: There are plenty of restaurant options inside SKYCITY, from upscale culinary palaces to grab-and-go noodle bars. The swankiest by far is Dine, by Peter Gordon, featuring an elegant seasonal menu prepared with fresh local ingredients. For a little slice of heaven, try the lamb loin set atop a chorizo mash with red wine glazed shallots and wash it down with a local pinot noir from the Marlborough region. Equally as tasty, but far easier on the wallet, is local favorite The French Café, a short cab ride away on Symonds Street. Foodies will drool over the foie gras and savory pork belly. For a superb dining experience right on Viaduct Harbour, hit up Soul, a bar/bistro combo with a stunning water view. Entrees range from $18-$40 NZD and run the gamut from pasta and seafood to steak and lamb. It's a perfect place to watch the sun set after a long day at the tables.
Fun off the felt: When in New Zealand, do as the Kiwis do — leap off tall structures while attached to a cord. Auckland's Sky Tower, conveniently located right at SKYCITY, is the tallest structure in the Southern Hemisphere and for only $195 NZD, adrenaline junkies can bungee jump right off the top, enjoying an 11-second free-fall before landing on the plaza below. If you're not keen on jumping but still want to enjoy the view from the top, take the SkyWalk, where you'll have the opportunity to circle the top of the tower on a 1.2-meter-wide platform. Adventurous types should also check out the Harbour Bridge Experience where one can cross the bridge and then bungee jump off the top.
Prefer to do your sightseeing from sea level? Try sailing on an authentic America's Cup yacht. SailNZ offers an America's Cup Sailing Experience package for $150 NZD per person. You'll have the choice to participate in the voyage as a crew member or simply sit back, relax, and enjoy the scenery. Yachts depart daily from Viaduct Harbour. If you happen to bust out early or find yourself with an extra day in Auckland, hop on a ferry to Waiheke Island. Only a 35-minute journey from the CBD, Waiheke is a mini-paradise with white-sand beaches, rolling green hills and over 40 wineries.
If you're itching to hit the links, there are a number of world-class golf courses to choose from. The Bob Charles-designed Formosa Golf Club is about 45 minutes outside of downtown Auckland and offers stunning views of the Hauraki Gulf and Waiheke Island. The Gulf Harbour Country Club is another outstanding course, located on Whangaparaoa Peninsula, about a 35-minute ride from the central business district.
Lynn Gilmartin just touched down in Auckland and gives us all a quick look around the city.
For up-to-the minute dispatches from the SKYCITY casino, make sure to check out our Live Reporting page as PokerNews brings you wall-to-wall coverage of the PokerStars.com APPT Auckland Main Event. Last season, local boy Daniel Craker took home the title and $257,040 NZD after earning his seat in an $80 satellite. Now that's what we call a return on investment!