The Nightly Turbo: Piece of Ivey, What Negreanu Thinks of Ultimate Bet, and More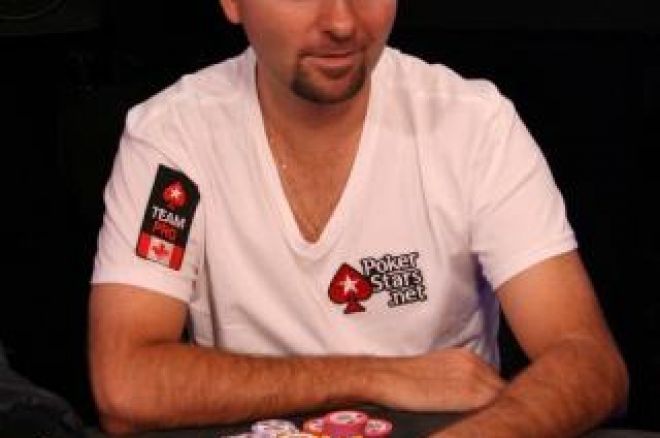 It's that time again. Your tournaments just went on one of those synchronized breaks and you have five minutes to get your fill of the news. Good thing we're on top of things and rounded up the news for you.
In Case You Missed It
Are you a Natural Born Killer? You need killer instincts if you're going to make it as a professional poker player. Check out From the Big Screen to the Final Table for some words that ring true for poker players.
The 2M2MM crew aren't close to their goal so they decided to lock themselves in the war room. If you missed last night's episode, don't you worry, 2 Months. 2 Million: Lockdown! has your recap.
We know Day 3 of the Aruba Poker Classic is underway but this doesn't mean you can't check out the Day 2 recap to find out how we got to where we are now. When you're done with that, go to the Live Reporting page and find out who's in and who's out today.
Don't Trust Matt Savage with Your Phone
Melissa Castello caught up with tournament director Matt Savage while down in Aruba for the UltimateBet Aruba Poker Classic. They discussed the benefit of the tournament not having dinner breaks, as well as more pressing matters such as an increasing number of players having waterlogged and destroyed cell phones.
Like the Nightly Turbo? Have something to say? Let us know below. Give us a thumbs up, too, while you're at it. Also, if you're not following us on Twitter, you're probably missing out on the news. So go do it.
Seebs Updates Us on the UB Hand History Situation
While we're on the subject of Ultimate Bet, Joe Sebok has written a blog while down in Aruba, giving us an update on the hand history situation. They've tweaked the process a bit.
Just as before, when UB receives your request, they will send you two spreadsheets. One that tells you the cheating accounts you played against, the total number of hands you played against each of those accounts, and the amount of money you won orlost. Then you'll get a data sheet that has all the information you could want regarding your win or loss vs each cheating account minus the hand histories. Here's the new part: once you've received the initial breakdown, if you want the actual hand histories, you must send a second email to UB to get them.
Sebok breaks it all down for you in his latest blog on PokerRoad.com.
Ivey's Selling a Piece
No, Phil Ivey is not selling himself on the Las Vegas Strip, and he's not really selling a piece of his Main Event action either, but thanks to Full Tilt you do have the chance to win a piece of his World Series of Poker Main Event winnings. From October 8 through November 5, Full Tilt Poker will be running their Piece of Ivey promotion.
Full Tilt players can earn tickets by playing their favorite real money games. The tickets will be entered into three different draws:
Nine players will earn a seat in a sit-n-go in which the total prize pool is equal to 5% of Ivey's Main Event winnings.
Seats will also be given to a $50k freeroll for which the winner will receive 1% of Ivey's Main Event winnings.
Daily prizes will also be given away during the length of the promotion.
Sign up for the Piece of Ivey promotion by going to the My Promotions page in the Cashier and to find out when the scheduled drawings are.
You can sign up for a Full Tilt poker account with PokerNews to get your chance at 6% of Ivey and you'll get our sign up bonus too.
Put Down
Last week we told you about the shady business going on at Pitbull Poker. Well, there won't be anymore of that going on — the site has been put to sleep. At log-in, players will be met with a page that says, "It is with great sadness, that we have closed Pitbull Poker. To cashout your balance, please email support@pitbullpoker.com." There are also seven affiliate banners that Pitbull recommends to their players in what could be perceived as adding even more sketchiness to the situation. Hopefully this can all be resolved and players can get their money.
Eye On Gambling has more.
Daniel's Opinion
Last night, Daniel Negreanu was interviewed on the Hardcore Poker Show. Eleven-time WSOP bracelet winner Phil Hellmuth was recently a guest of the show and voiced his thoughts on the WSOP. We all know he will say what's on his mind and that's exactly what he did.
When asked what he thought of Hellmuth's comments, Negreanu first told us what he thought of Ultimate Bet, saying he wants nothing to do with "that company."
"Personally, I don't even think they should exist anymore based on what happened. I don't think we owe them any favors," he said. "Abolish it. Destroy it."
As for the WSOP and its online site, he thinks it's, "highly unlikely that they [WSOP] would be foolish enough to start a war, for example, with the majority of the players who support the WSOP."
Pokerati has this piece of the audio for you and for the entire interview, you can check out HardcorePokerShow.com.