The Nightly Turbo: Mixed Martial Arts, Poker Rappers, and Rappers Playing Poker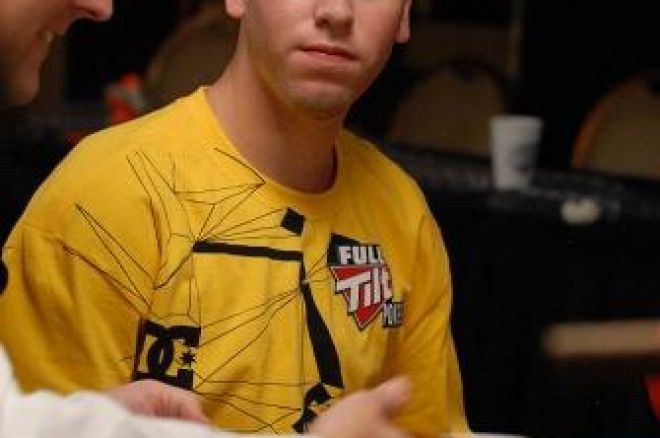 What does poker have to do with the UFC, MMA Connected, rugby, and rap? You'll find out in this "battle" edition of The Nightly Turbo.
In Case You Missed It
Bankroll busto? We're here to help. Part 2 of our Bankroll Builders series is up. Check it out for tips on how to succeed and build your roll playing super turbo sit-n-gos.
Day 1a of the European Poker Tour Warsaw is in the books. Carter Phillips has taken the early lead. Check out our recap of Day 1a to see who has made their way to Day 2. Don't forget, the Day 1b play-by-play is being brought to you by our awesome Live Reporting Team.
After all the reminding we do for you every Tuesday, we find it hard to believe you missed last night's coverage of the World Series of Poker Main Event on ESPN. In case you did, or want to see it through our eyes, you can find the recap here.
The first day of the World Poker Tour Festa al Lago is today. Maybe you're at the Bellagio for the tournament or just in town for the weekend and you're looking for something to do. PokerNews Jet Set: Bellagio is giving you the scoop on what to do after you're done gazing at the Dale Chihuly glass flower masterpiece in the lobby.
Ultimate MMA
UltimateBet has signed an agreement to continue sponsoring the Rogers Sportsnet weekly mixed martial arts television show, "MMA Connected" for another season. The show features the latest news, previews and reviews from past and upcoming fights as well as analysis and profiles of fighters.
To celebrate the partnership, UB is running an Ultimate Fighting Championship promotion. Qualifiers will run daily from October 19 to November 7 and the top 27 players from each qualifier will be entered into the November 8 UFC 106 Main Event tournament. The winner of that event will get two tickets to UFC 106 and $2,000 for travel and accommodation.
Sign up for an UltimateBet account and win your way to Las Vegas to watch Brock Lesnar defend his title against Shane Carwin.
PokerStars Sponsors Rugby
It's no secret that PokerStars loves their sports. They have their Team SportStars, they've sponsored the Aston Martin racing team, the Mexican soccer team, Chivas, and now, they've set their sights on rugby.
PokerStars is teaming up with the Rugby Football Union for at least the next two years as their official gaming and casino partner. PokerStars will advertise at matches and have access to tickets and autographed merchandise for tournament prizes.
"As a brand we are excited to be involved with the RFU. This two-year sponsorship deal will continue to associate the PokerStars brand to premier sporting events and talent, whilst also enabling rugby fans to interact with the world's premier online poker room in live environments," said PokerStars Regional Director,Julia Tasker.
Read more at OnlinePoker.net.
You Got Served
We have to say "thank you Aruba and alcohol" for this little gem. The usually on-point Jeff Madsen gets schooled by Poker Rapper during Phil Hellmuth's penthouse party while in Aruba for the UltimateBet Aruba Poker Classic.
Let us know how you like the Nightly Turbo below. Also, follow us on Twitter, you don't know what you're missing.
Newest PokerStar?
First there was the Katy Perry video, then the Fabolous video, and most recently, LeBron James was playing online at PokerStars in the Drake video for the song "Forever." Drake, though, is the first artist to host a freeroll on the site.
This has lead to some speculation (on TwoPlusTwo) as to whether or not the site may be looking to sign the rapper. Maybe PokerStars is thinking Team HipHop Pro, they did, after all, have Nelly patched up at the World Series of Poker this year.
Sign up for a PokerStars account and play against the pros today.
UFC Poker Room
The UFC has launched a poker room. We'll spare you the "looks like their taking the phrase 'battle on the felt' literally" pun. They seem to be taking a page out of the SpadeClub or ClubWPT book. The poker room requires a membership and the site boasts $100,000 in cash and prizes every month.
From the screen shot, it looks like members will be battling it out in the octagon. Some of the avatars include Brock Lesnar, BJ Penn, and Machida. Cash, Tapout gear, and even tickets to UFC fights are up for grabs.
Check it out at UFC.com.