The Online Railbird Report: Tom "durrrr" Dwan Up $2.7 Million in December, "XBLINK" Turns $11 into $800K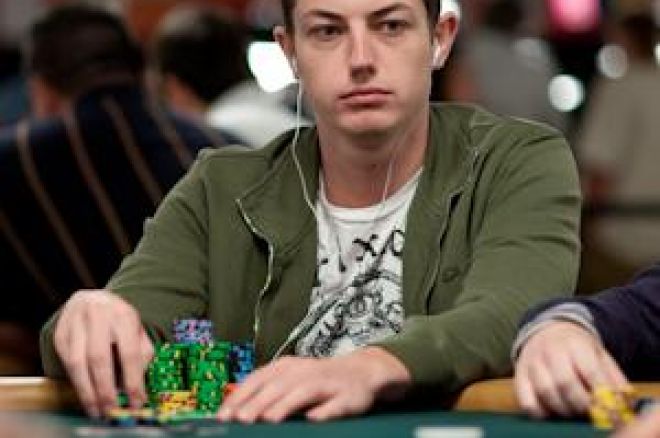 Taking a break from the nosebleed stakes appears to be exactly what Tom Dwan needed. After losing more than $6.37 million at the virtual tables in November, the man best known as "durrrr" mounted a holiday comeback, earning $2.66 million over the last 30 days on Full Tilt Poker.
Once down a staggering $7 million for the year, Dwan's December run cut his losses to $4.17 million with about 36 hours left in 2009. While Dwan was busy repairing the damage inflicted upon him by mystery Swede "Isildur1," a mystery Canadian appeared on the scene over on Ultimate Bet, the 20-year-old known only as "XBLINK" running up a six-figure bankroll from the last $11 in his account.
"durrrr" Makes a $2.7 Million Comeback
After a disastrous run against Isildur1 in early November, Dwan was left with a far lighter online bankroll and took a dramatic step down in stakes. For most of the month, Dwan ground it out in the $50/100 pot-limit Omaha games, making occasional forays into higher-limit heads-up matches. He was back at the $300/600 and $500/1,000 tables on Monday night, however, surrounded by familiar faces including Brian Townsend, Hac "trex313" Dang and Ilari "Ziigmund" Sahamies.
Dwan's evening began with some short-handed $50/100 PLO, in which he faced a number of regulars including "geoff7878" and "OneUponaStar." After a bit more than an hour there, he moved up to $100/200, and the same cast of characters followed. From those two sessions, Dwan earned close to $124,000 in 214 hands.
Shortly thereafter, Dwan decided to raise the stakes again, sitting in at $300/600 PLO. Although he started off playing heads-up with Sahamies, he was soon joined by Townsend, Dang, "rospodin," Chau "La Key U" Giang, and Richard Ashby. Dwan booked a $54,000 win at $300/600 and then returned to his old stomping grounds, the $500/1,000 heads-up tables, where he engaged in a brief battle with Sahamies.
The Dwan-Sahamies match was nothing less than a bloodbath, Dwan pulling more than $550,000 out of the Finn's bankroll, including this cooler of a $246,000 pot.
Sahamies opened the action with a $3,000 raise from the button holding
, and Dwan elected to flat-call with his
rather than three-bet. Fireworks ensued on the
flop, Sahamies hitting a set of eights while Dwan made a set of queens. Dwan led out for $4,800, Sahamies raised to $20,400, Dwan reraised to $67,200, Sahamies popped it to $114,000, Dwan moved all in for $120,290 and Sahamies called only to discover that he was down to a single out, the
. The turn was the
, the river was the
and Dwan's set of queens earned him the $246,580 pot.
All in all, Dwan came away with a $730,000 profit for the night.
XBLINK = The New Isildur1?
Meanwhile, over on Ultimate Bet, an interesting story was brewing around a player known only as "XBLINK." First appearing on the site in late November, XBLINK took the last $11 in his account and bought into an $11 no-limit hold'em tournament. After taking down the first-place prize of $750, he ran it up to six figures in five days.
Posting under the name "89blist" on the Two Plus Two forums, XBLINK gave the Cliff's Notes on his remarkable run in the following post:
1. $11 tournament won 1st place ---> $750 (all I had on my account, was going to redeposit if i lost the tournament)
2. $750 grinding low stakes omaha.
3. $750 --> $4k the next day, move up to 2/4 and 3/6 PLO, then to 5/10.
4. 4k -->$16k, played 5/10 and 10/20 PLO
5. For the next 2 days, I was bouncing from $20k - $60k playing 10/20 PLO.
6. 5th day: Start 25/50 PLO , I see 6 digits now.
7. 6th day till now - play 25/50, 50/100, 100/200, 200/400 PLO, and NL when theres no PLO.
Went busto 20+ times by now for $500 each. Hope I dont go busto this time.
I only played on UB and this is my only account.
A search on Poker Table Ratings.com showed that XBLINK's story checks out. He has been tracked playing limits as low as $0.50/1 short-handed NLHE and as high as $200/400 heads-up NLHE. His online winnings peaked at $833,193 on December 11, but he has lost about $215,000 since then, playing a mix of $50/100, $100/200 and $200/400 PLO.
A 20-year-old student from Vancouver, B.C., XBLINK still lives with his parents and took last semester off from school to play poker. We think it's a pretty safe bet that he'll be skipping next semester as well.
The highest-stakes action all unfolds on Full Tilt Poker. Open an account today and see for yourself.