The Online Railbird Report: Townsend and South Clean Out Isildur1, Dwan Drops Down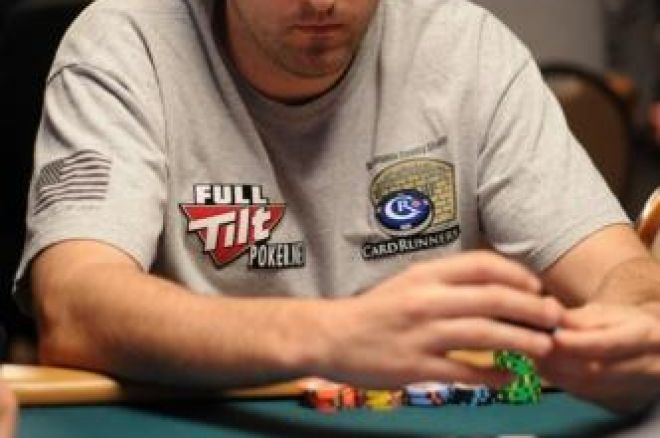 With game catalyst "Isildur1" still licking his wounds from his $4.2 million loss to Brian Hastings, and many high-stakes pros who are based in Las Vegas focusing on the live action surrounding the Bellagio Five-Diamond Classic, the nosebleed action on Full Tilt Poker was almost nonexistent this week.
Gone were the $500,000 pots and million-dollar swings that railbirds have come to expect as Tom "durrrr" Dwan and Isildur1 set about rebuilding their damaged bankrolls at far lower stakes than we're accustomed to watching them play.
Dwan stuck to pot-limit Omaha games with a $10,000 or $20,000 buy-in while Isildur1 attempted to grind back some of his losses via heads-up matches with CardRunners pros Brian Townsend and Cole South.
Townsend Takes $352,000 off Isildur1
Down to his last few hundred thousand in his Full Tilt account, Isildur1 took on Townsend in a four-table $300/$600 pot-limit Omaha match on Saturday night. With his entire account balance in play at one point, Isildur1 started off the match strong, but Townsend roared back in the second half of the session. Although Townsend was ahead by as much as $300,000 over the Swede, Isildur1 staved off ruin and quit the session an $80,000 winner.
The largest pot of the session weighed in at $223,000, Townsend leading off the action with a raise to $1,800 from the button holding
. Isildur1 three-bet to $5,400 with the far more modest holding of
, and Townsend responded with a reraise, making it $16,200 to go. Isildur1 hit trips when the flop came down
and check-raised Townsend's $13,200 continuation bet to $37,600. Townsend called and the
hit the turn, giving Townsend the nut flush draw and Isildur1 a jack-high flush draw to go with his trip sevens.
Then, with over $107,000 already in the middle and $57,798 behind, Isildur1 moved all-in and Townsend made the call. One can only imagine how many expletives Isildur1 muttered as the
hit the river, giving Townsend the winning full house and $223,197 pot.
The two reunited on Sunday for another thousand-plus hands of $300/$600 PLO. This time, it was all about Townsend, and the man formerly known as "sbrugby" booked a $432,000 win. He pulled in the session's largest pot at $197,000 when he flopped a set of queens against Isildur1's turned two pair, then claimed the second-largest as well when his
held against Isildur1's
, earning him the $186,000 pot.
South Claims the Last of Isildur1's Full Tilt Bankroll.
With approximately $70,000 remaining in his account, Isildur1 challenged South to a four-table match at $100/$200 PLO. Isildur1 quickly lost all but $23,000, then took that sum to a single $200/$400 table where he ran it back up to $53,000. That $53k went back on three separate $100/$200 tables, where the two went heads-up until South claimed the last of Isildur1's account balance.
Before you could say "busto," though, Isildur1 reappeared, having redeposited some additional funds. He sat at six $100/$200 PLO tables with $20,000 in each stack and South joined him for round two. Unfortunately for everyone's favorite hyper-aggro Swede, he could not gain any traction on South and saw the rest of his balance evaporate, South banking a grand total of $216,000 for the evening.
The session's largest pot came in at $126,000 and was five-bet before the flop. Isildur1 made it $600 to go, South reraised to $1,800, Isildur1 came over the top for $5,400 and South repotted to $16,200 before Isildur1 made the call. South led out for $14,600 on the
flop, Isildur1 moved all-in for his remaining $46,996, and South called, his
leading over Isildur1's middle pair and wrap draw with
. The
on the river made South top set and he raked in $126,391, felting Isildur1.
South and Isildur1 were at it again Tuesday morning, Isildur1 putting his last $31,000 in play at $50/$100 PLO. After losing a buy-in to South, Isildur1 upped the stakes to $100/$200 but didn't fare any better there. He put all that remained of his Full Tilt roll in play at a single $200/$400 table, and South scooped up Isildur1's last few dollars when he turned a jack-high straight against Isildur1's ten-high straight. All told, it took South only 15 minutes to claim Isildur1's case $31,000.
Dwan Drops Down. Way Down.
While Townsend and South were busy claiming what was left of Isildur1's bankroll, Tom "durrrr" Dwan sought about rebuilding his own by dropping down in stakes. Playing as low as $25/$50 and as high as $100/$200, Dwan stuck to six-max and heads-up PLO this weekend, taking on a range of opponents who included "harrington25," Brian Hastings, "URnotINdanger2," "geoff7878," "tibster24," and Hac "trex313" Dang. Over the last 24 hours, he booked over $189,000 in winnings, but still has a long road ahead of him when it comes to erasing his $6 million in losses for 2009.
Who's Up? Who's Down?
This week's biggest winners (12/8-12/14): Brian Hastings (+$4.3 million), Patrik Antonius (+$1.02 million), Cole South (+$429,000)
In the red: Isildur1 (-$3.53 million), Matt Hawrilenko (-$655,000), Ilari "Ziigmund" Sahamies (-$653,000)
The highest-stakes games on the internet all unfold on Full Tilt Poker. Open an account today and see for yourself.