PokerStars Caribbean Adventure Day 6: Harrison Gimbel Plunders and Pillages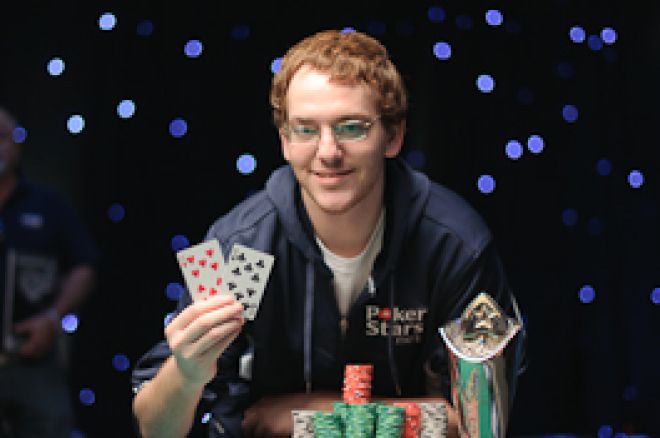 The most anticipated winter poker event in the world — the PokerStars Caribbean Adventure — has come and gone in a whirlwind of action. It took more than 32 levels of frenzied play over seven days to whittle the 1,529 hopefuls down to just one winner. When the last river card was dealt, all of the chips were stacked in front of Harrison "gibler321" Gimbel, the 2010 PCA Champion!
Monday saw the last eight players file onto the newly designed NAPT TV set to take their seats under the bright lights. A great spectator crowd was on hand as well, many of them having come from far abroad to cheer for their close friends and family members. With a first prize of $2.2 million up for grabs, it figured to be a hard-fought battle, and the play did not disappoint.
At precisely noon or so local time, the cards went into the air. Just six hands in, Harrison Gimbel and Ryan D'Angelo played a pot for more than 10 million chips. D'Angelo opened to 220,000, drawing a reraise to 650,00 from Gimbel. D'Angelo doubled that with another raise, Gimbel moved all-in over top, and D'Angelo quickly called to put his man at risk. It was a coin flip for 100 big blinds as D'Angelo's J♠ J♣ held a narrow lead over Gimbel's A♦ K♦. The board ran favorably for the at-risk player, though, as it came A♠ Q♥ 3♥ A♣ K♣. Gimbel's full book was plenty good enough to secure his double-up and essentially trade stacks with D'Angelo.
Eight hands later, Tom Koral became the first casualty of the final table after a remarkable pot unfolded. Benjamin Zamani and Ty Reiman limped into the pot before Koral stuck in a raise to 550,000. The table folded around to Reiman, and he reraised to 1.32 million. Koral shoved all in for about 3 million on top, and Reiman instantly called with the surprise A♥ A♦. There wasn't much Koral could do; he showed up Q♠ Q♥, and the board blanked off to send him home in eighth place ($201,300).
Zachary Goldberg was eliminated in seventh place ($300,000) not long thereafter. The short stack got it in with 10♠ 10♦ and was racing for a double-up against Aage Ravn's A♠ Q♦. The flop was clean, but an ace on the turn marked the end of Goldberg's day. Ravn was still short-stacked, though, and he was next to fall (6th place, $450,000). In a three-way pot, the Norwegian put himself at risk with A♣ Q♣ against two pocket pairs, the J♣ J♦ of Gimbel and the 8♠ 8♥ of Zamani. The pocket eights flopped a set, and Ravn never found much to sweat on a board that ran 5♣ 8♠ 7♦ 2♠ 6♦.
Five-handed play lingered for a bit, punctuated by heavy action and short-stack double-ups. Finally, on hand #95, D'Angelo and his J♠ J♥ flipped for double or nothing against Reiman's A♠ K♥. Reiman picked up a wheel draw on the turn, and he binked the K♦ on the river to send the start-of-day chip leader to the cashier to collect his fifth-place consolation prize of $700,000.
A short while later, Zamani tried a coin flip of his own with A♥ 10♦. He'd made the call for his tournament life against Gimbel's 8♣ 8♥, and the 8♠ in-the-door was an ugly sight. He could not improve to double-up, although he should find some satisfaction in collecting a check for a cool $1,000,000 after exiting in fourth place.
Barry Shulman was all-in more times than you could count over the course of the final table, and his luck finally ran afoul after 134 hands of survival. With the other two stacks towering over his, Shulman made his final preflop move with Q♣ 10♠. Gimbel frowned and called with A♥ 9♦, and his ace-high played on the board of 5♥ 3♣ 6♠ J♦ 7♣. Shulman and his large cheering section headed for the exit with a third-place finish worth $1,350,000.
That left Reiman and Gimbel heads up for the title with Reiman holding a chip edge of 28 million to 17 million. Gimbel says he doesn't consider himself adept at heads-up play, but he hid his secret well during the 45-hand duel. Within just a few hands, Gimbel had turned the tide and reversed the stacks, and he continued to whittle Reiman further and further down toward the felt.
Gimbel's big moment finally came in hand #180. After a preflop raising war, Reiman got his remaining chips into the middle with 8♦ 8♣. Gimbel was lucky enough to find 10♥ 10♣, and even luckier to find a third ten on the flop. Reiman found his own set on the turn, but it was too little too late for the soft-spoken internet pro. In the end, the board of 10♦ 6♦ 2♥ 8♥ J♠ was the last of the night, and Reiman was out in second place (1,750,000).
That left Harrison Gimbel standing alone as champion with every last chip stacked in front of him. The 19-year-old pro from Florida becomes the youngest person ever to claim the PCA title, and his $2.2 million payday is far and away his best result to date.
That wraps up the Main Event from the PCA, but the High Rollers' event is just getting underway. Follow along with our coverage in the Live Reporting blog, and follow us on Twitter for up-to-the-minute news updates.