PokerStars.net North American Poker Tour High-Roller: Ashton Griffin Wins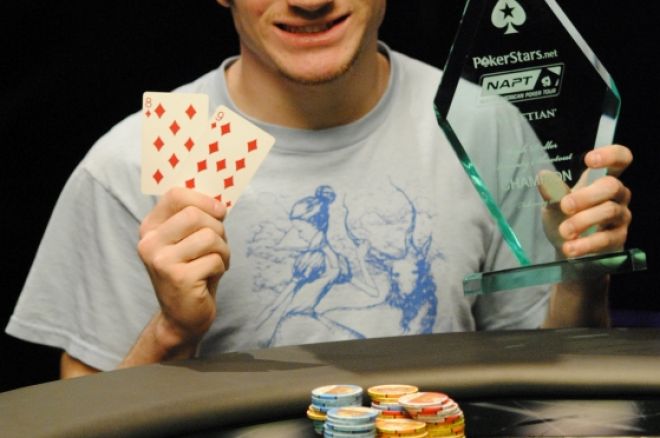 The 2010 PokerStars.net NAPT Venetian wrapped up in the early hours of Friday morning after the $25,000 High-Roller Bounty Shootout final table was completed. After nearly 12 hours of play at the final table, it was youngster Ashton Griffin who took home the title.
The event boasted a unique format in which seven tables of seven players kicked off the action on Tuesday. Everyone at the final table made it there by winning their first table and no matter how many players they eliminated, each began the final table with 150,000 chips.
Scott Seiver was riding a wave of momentum going into the final table after having eliminated all six of his opponents at his preliminary table. Each time Seiver busted a player, he earned himself $5,000. Another $75,000 was given to each player for winning their first table and that put Seiver at $105,000 in winnings before the final table even started. PokerStars.net was throwing in a little extra as well. The player who was the top bounty hunter would be given $100,000 and Seiver was the early favorite to add that to his pockets.
Peter Eastgate was the only member of Team PokerStars Pro to make it to the final seven. He was then the first player eliminated from the event. After Seiver doubled through Eastgate with two aces, the former WSOP Main Event champion was left short. It was Seiver who busted him moments later.
Next to go was Brett Richey, who took a sick beat at the hands of Griffin. A three-outer on the river was what did it to Richey, and he went home in sixth place. Following him out the door was Faraz Jaka. He went out at the hands of Seiver as well and that put Seiver in the driver's seat to become the top bounty hunter. In order for him to lose that title at that point, either Joe Cassidy or Hoyt Corkins would have needed to eliminate each of the other three players and win the event to tie Seiver and split the prize.
Things looked good for Corkins to possibly tie Seiver for the bounty hunter title when he sent Seiver home in fourth place. But over three hours into three-handed play, Griffin sent Cassidy to the rail and locked up the bounty hunter for Seiver. From there, heads-up play lasted only a couple of minutes.
The short break before heads-up play lasted longer than the actual play between Corkins and Griffin. Several hours had passed of slow action, but these two couldn't get the money in fast enough and did so on the second hand they played against one another.
On a flop of
, it was Griffin's
up against the
of Corkins. After the turn came down the
, it eliminated any chance of a chop for Corkins and he needed a three on the river. The river was the
and Griffin's pair of nines with his eight kicker held up to eliminate Corkins in second place.
Corkins took out five players along the way and earned himself a total of $100,000, but it was Griffin who won the biggest prize of them all. For his win, Griffin took home $560,000 — $75,000 for winning his first table, $30,000 in bounties, and $455,000 for first place. Not a bad day's work for someone who hadn't slept a wink coming into the final table.
That's right, no sleep. Griffin admitted to being a little nervous about the final table and said he didn't want to try and get a few hours of sleep and risk not waking up in time. So instead, Griffin fired up some online poker tables and went at it. He had intended to just ease some nerves before the big day today, but ended up playing right up until the early afternoon today when he needed to head to start the final table.
During each break, Griffin could be found napping along a row of chairs in the stands before someone would have to wake him up when play was ready to begin once again. As the night grew on, Griffin looked to be crashing and was dozing off between hands. If he wasn't playing a hand, you can bet that Griffin has his head down and eyes shut. Even without the sleep, Griffin was able to top the tough field and become a champion!
Here's how the players finished up at the final table and how much money each earned.
1st: Ashton Griffin - $560,000 (6)
2nd: Hoyt Corkins - $100,000 (5)
3rd: Joe Cassidy - $95,000 (4)
4th: Scott Seiver - $215,000 (8)
5th: Faraz Jaka - $95,000 (4)
6th: Brett Richey - $90,000 (3)
7th: Peter Eastgate - $85,000 (2)
Follow us on Twitter for up-to-the-minute news, and also become our fan on Facebook.