The Nightly Turbo: Environmentalism with Tony G, PokerStars' 40 Billionth Hand, and an Alabama Poker Raid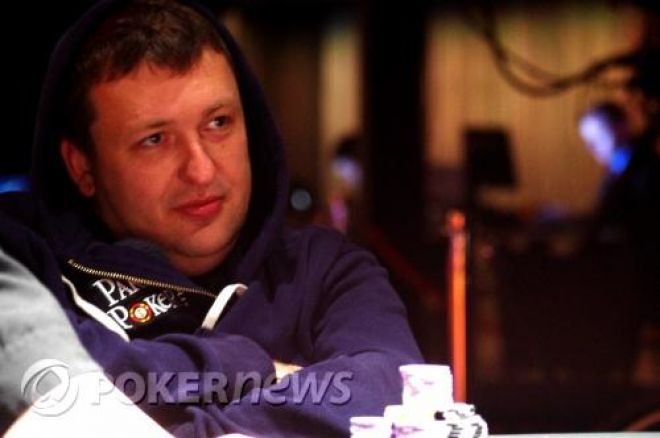 Tonight's Nightly Turbo is bringing you the skinny on Tony G being an environmentalist, PokerStars' celebration of its 40 billionth hand, and a raid on an Alabama poker game.
In Case You Missed It
The sixth season of High Stakes Poker is coming up this weekend. In anticipation of the upcoming season premiere we here at PokerNews HQ have debated the most memorable hands in HSP history. This is Part 1 of what we've come up with.
If you haven't heard already, the PartyPoker Premier League is being filmed in Las Vegas this weekend and next week. There are two seats still available and two groups are battling it out on the felt to see who gets the spot. Check out a recap of Day 1.
The World Series of Poker Circuit has made its stop in Tunica, Mississippi and they're playing out the final table today. Paul Wasicka began the day as the chip leader and if you want to find out who else is there, you'll have to read this.
40 Billionth Hand Celebration
If we tried to count to 40 billion, it would probably take us all day and then some, and quite honestly, we don't have that much time. It is a lot, though. PokerStars, however has no problem counting and is coming close to dealing its 40 billionth hand. Luckily, Stars wants everyone to join the celebration.
There will be all kinds of cash-game prizes and even bigger guarantees in some of the biggest tournaments around. There's just too much going on over at PokerStars for this milestone to tell you about here. We'll just tell you that next Sunday (Feb 21) the Sunday Million will have the biggest prize pool ever - $4 million, with at least $1 million going to first. Also, cash-game players dealt into every millionth hand will earn $40 for every VPP they've earned in the previous 40 hands at that table.
Those were just teasers. There's even more going on and you can read about it at PokerStars.com.
Alabama Poker Raid
A poker game in Pelham, Ala., was raided on Saturday. When Pelham and Hoover police served the search warrant, 72 players were in action and thousands of dollars were involved. No arrests were made, however, but several pieces of equipment were seized.
All of you in Alabama hosting your weekly home games, it seems that you may be in the clear, that is of course, unless you have people coming in from all over the state. "I would not consider the situation playing cards in your neighborhood. Now there are instances where that may be considered a violation of the law. Now this case involved multiple people coming from numerous parts of the state," said the case's lead investigator, Lt. Scott Tucker.
Read more at MyFoxAL.com.
888 Q4 Report
Online gaming group 888 Holdings has released its 2009 fourth quarter results and things are looking up. The 2009 Q4 report showed an operating income increase of 14 percent to $68 million from the 2008 Q4 report of $60 million. Also, the fourth quarter of 2009 was up 12 percent from the third quarter.
The total operating income for the group dropped to $247 million in 2009, which is a 6 percent drop from the total operating income in 2008. The first quarter of 2010 has started off on a good note with an increase of 7 percent in the average daily operating income from Q4.
"Our positive momentum continues into 2010 and, supported by the successful Wink acquisition and our various business initiatives, we expect to grow the business further during the current year," said 888 chief executive Gigi Levy.
OnlinePoker.net has more.
Your Facebook page can use another friend, so add us, and follow us on Twitter for up-to-the-minute news.
Going Green with the G
Tony G is in Las Vegas, so Sin City may be seeing more bikes on the Strip than normal. He's in town for the PartyPoker Premier League IV and he's feeling confident, according to his new blog.
The G is a bit upset with his sponsor, though, as it didn't allow his personal concierge from the Aussie Millions, Jessie, to make the trip with him. He's going to have to find a Vegas local to do the job. He's also poking a little fun at Phil Hellmuth already.
"...there was also murmurings about the likes of Hellmuth getting distraught if I had a personal concierge and they didn't. My response, Hellmuth always has to have a limo – I come in on my bike. I am an environmentalist not a gas guzzler. I have more chance of saving the world than the poker brat. The emissions that come from his mouth are much more toxic to the ozone layer than mine," he said.
Oh, and he has a tricycle with Luke "Full Flush" Schwartz's name on it ready for poker's resident bad boy to hop on and go for a spin.
Read the G's entire blog here.