The Nightly Turbo: Full Tilt Poker Lounge, Poker Bust, and Newly Sponsored Pros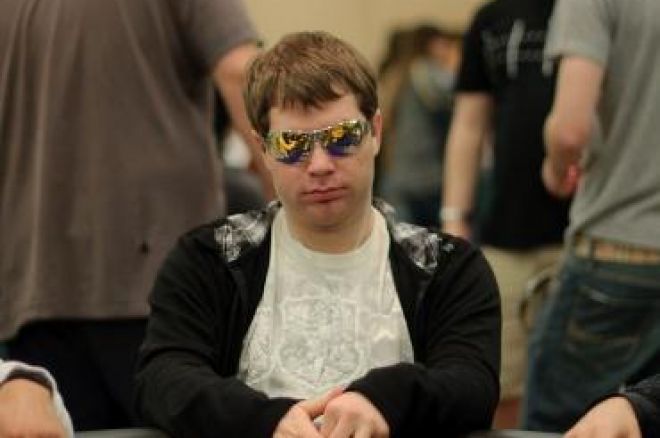 Full Tilt Poker has an answer to PokerStars newest television venture, a home game in South Carolina goes bust, and Jonathan Little is just one of the pros with a new sponsorship deal that you'll hear about in tonight's Nightly Turbo.
Wondering where you're going to find the $10k to buy into the WSOP Main Event this year? We've got you covered. It might not even cost you anywhere near that. Check out our Guide to Getting to the 2010 WSOP for more.
Headed to Vegas and looking for the biggest promotions and tournament series to take on while you're there? Maybe you live in Vegas and you're looking for the same thing. Well, look no more, the Vegas Grinder has what you need.
Ziigmund is running hot or like Usain Bolt, as he would say. The Online Railbird has the scoop on how much he's up and how much the others are down.
Busted
A home game in the Myrtle Beach, S.C., area was busted Sunday and seven people were arrested. Authorities were tipped off by an anonymous caller — a concerned mother who said her son was at the location where a high-stakes poker game was being held.
Michael Green, the building's owner, admitted to playing poker inside and was charged with unlawful games and betting. Six others were also taken into custody. The players were released later on that day on $250 bail.
Check out TheSunNews.com for more.
Follow us on Twitter and become a fan on Facebook.
Tit For Tat
PokerStars announces a new poker television show? No problem, Full Tilt Poker has an answer to that. Just days after PokerStars announced their plans for "The Big Game," Full Tilt has announced their newest TV show, "The Poker Lounge."
The buy-in is $20,000 and six players, one qualifier and five Full Tilt pros, will battle it out for $120,000 in a winner-take-all format.
The Poker Lounge will be filmed in London and will run for 10 episodes, the first beginning on June 21. Channel 4 will carry the show on Mondays from 00:00 to 01:00 GMT.
Want to qualify to play with the pros? Sign up for a Full Tilt Poker account today.
Hanging With the Guys
Team PKR has recently announced the latest addition to their team, as well. Sofia Lövgren from Gothenberg, Sweden, is the first woman to join Team PKR. Lövgren has been a regular at the PKR cash tables since 2008, playing under the screenname "welllbet."
"It's a pleasure to be the first female on the Team," said Sofia. "It's a very good opportunity for me to get to play big live tournaments and take my online game to the live scene. Playing poker and travelling are my favourite things, so this will be a great experience."
Her first live tournament will be later this week at the Irish Open where she will join six of her teammates. "It's fantastic to have Sofia on board. She is a top cash player with a lot of potential. We think she can go far, and this is only the beginning. Keep your eye on this girl for big things in the future," said PKR Marketing Manager Erika Schwartz.
Take Sofia on at the tables by signing up for a PKR account.
Victory's Latest Additions
Victory Poker has added two names to their roster: Jonathan Little and James "Andy McLEOD" Obst. They join the likes of Antonio Esfandiari, Andrew Robl, Sarah Underwood, and more as Victory Pros.
"I am proud to be the newest addition to Victory Poker. The site is full of great poker players as well as a wonderful team behind the scenes. We are working hard to make Victory Poker the best poker site on the web. Victory is actually run by poker players, not poker playing celebrities, which means we will tailor the site to people that actually play poker. Simply put, we are out to change the face of online poker," Jonathan Little said about signing with the online site.
Victory will give the everyday grinder the chance to live like a pro later this year. Check out the press release here.
Where in the World is the PokerNews Crew?
The PokerNews Live Reporting Team just finished giving you the play-by-play at the European Poker Tour Snowfest. Wondering where we'll be next? Are you stalking us or maybe your friend who's on the tournament circuit? Either way, here's where you can find us through May.
April 2 - 5: Paddy Power Irish Open, Burlington Hotel Dublin
April 7 - 10: PokerStars NAPT Mohegan Sun, Conn.
April 15 - 21: PokerStars EPT San Remo, Italy
April 25 - 30: PokerStars EPT Monte Carlo, Le Sporting Club Monaco
May 18 - 23: PokerStars APPT Macau, Grand Lisboa Casino, Macau
So if you're there, stop by the desk and say hi. If you're railing your friends on the Live Reporting Page, give us a shout in the shoutbox, and if you're not doing either of those, maybe you can look at a picture or video from one of our stops.