2010 PaddyPowerPoker Irish Open Day 4: James Mitchell Takes the Title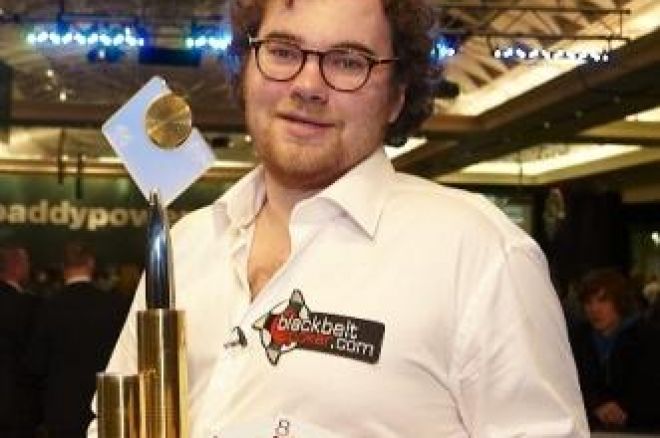 Last night, U.K. pro James Mitchell became the 2010 PaddyPowerPoker Irish Open Champion when he bested a record-equalling field of 708 to take home the coveted title and the hugh comedy check with the serious €600,000 figure.
The final hand came when Mitchell's
held up against Paul Carr's
all-in on a
flop, but the key moment occurred several hands earlier, Mitchell outdrawing Carr's
with
when an ace from space arrived on the river of an otherwise uneventful board.
The final table as a whole was an turbulent affair. The first man out was Peter Murphy, whose
was outdrawn by Mitchell's
. He was soon followed by Declan Murphy when
failed to outflip the
of Carr. Sixth went to Edmund Sweeney with his
running into the
of Ben Roberts, while Gentleman Roberts himself snapped up fifth with
unable to topple the
of Santeri Valikoski. Fourth went to the Paddy Power Poker Sole Survivor Rob Sherwood who hit the deck next when his
was pipped by the
of Carr.
With three remaining, it was really anyone's game, but after a back-and-forth struggle, it was Valikoski who exited in third, the Finn pushing a short stack in with
, but being picked off by the
of Mitchell, which was just about good enough on the
board.
This year's Irish Open was as fun-filled as ever with both pros and amateurs alike looking to capture Christer Johansson's crown and become Duke of Dublin. Among the field were the likes of Dan Harrington, Sandra Naujoks, Brian Townsend, Kara Scott, Marty Smyth and Neil Channing, while the notables who cashed included Andy Black, Marty Wilson, Liam Flood, Ross Boatman and snooker legend Ken Doherty, not to mention 79-year-old Paddy Hicks.
But in the end, it was Mitchell who rose highest, the 20-year-old poker pro upsetting the home crowd by snatching triumph from the jaws of defeat. However, he remained modest in victory, commending his opponent's heads-up play and saying how pleased he was that things went his way on the night.
1. James Mitchell - €600,000
2. Paul Carr - €312,600
3. Santeri Valikoski - €205,200
4. Rob Sherwood - €163,300
5. Ben Roberts - €130,600
6. Edmund Sweeney - €100,800
7. Declan Connolly - €75,000
8. Peter Murphy - €56,300
9. Yann Dion - €37,700
Follow us on Twitter for up-to-the-minute news, and also become our fan on Facebook.