The Nightly Turbo: Jean-Robert Bellande Broke, Andrew Feldman's Lawsuit, and More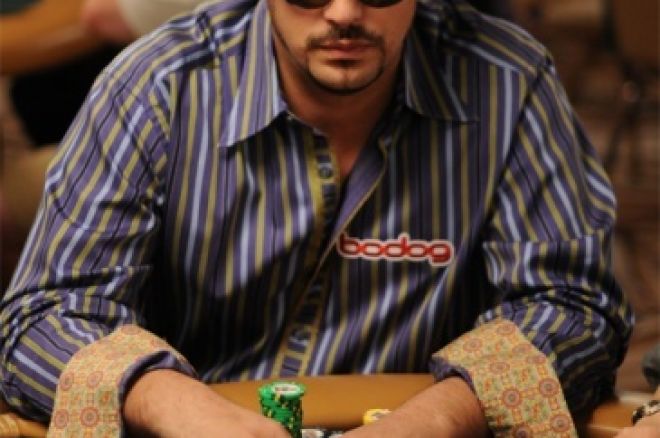 Hopefully you're well rested from the weekend and you shipped some big scores in the SCOOP and MiniFTOPS. Now it's back to the grind. We're bringing you the day's top poker news stories including JRB's bankroll going bust, Andrew Feldman sues a rabbi, and more.
In Case You Missed It
There was plenty of online poker to go around this Sunday. Check out the Sunday Briefing for all the results.
The PokerStars Spring Championship of Online Poker is still rocking and rolling and we've got the results from Day 8. Check them out here.
The sixth season of High Stakes Poker has come to a close. The last episode was full of antics and you can read about them in our Episode 13 recap.
WSOP Seat from 888
PokerNews and 888 Poker want to get you to Las Vegas this year for the World Series of Poker Main Event. If you sign up for an 888 Poker account or have previously signed up for one, you're eligible for four freerolls throughout May, the last one being a one for $16,000 WSOP package. This all assumes you've earned the required points, of course.
May 20: $1,000 freeroll - must have earned 20 points
May 21: $3,000 freeroll - must have earned 50 points
May 22: $5,000 freeroll - must have earned 80 points
May 23: $16,000 WSOP Package ($15k Main Event package + $1k cash added) freeroll - must have earned 200 points
Not only that, but 888 is giving you 8 ways to win one of 88 packages to the WSOP, as well. There are 41 Main Event packages up for grabs and 47 packages available for Event #54.
Find out more here.
Partying with Nacho
Kristy Arnett caught up with Nacho Barbero at the World Poker Tour Grand Prix de Paris. They talked about his SCOOP win and what he does for fun.
Follow us on Twitter for up-to-the-minute news and be sure to add us on Facebook.
Feldman Fleeced
To try and recoup some money allegedly lost from playing poker,Andrew Feldman decided to make some investments in the stock market. To do that, he enlisted the help of Simon Nissim, a 34-year-old rabbi whom Feldman met through a Jewish charity in north London. Nissim was someone Feldman "looked up to and placed trust in."
According to the Telegraph, Nissim offered to place spread bets for Feldman on the Dow Jones. Nissim would give Feldman any winnings, and Feldman was responsible for any losses. As you can guess, Feldman ended up with a bill, for £140,000.
Feldman is now asking the High Court to "set aside a statutory demand for the money served on him" by Nissim. According to Feldman, Nissim placed a "considerable number of spread bets on his own behalf using the same spread betting account" in October of 2008 and Feldman had not authorized these bets. The Nissim camp is singing a different tune. Guess we'll have to wait and see what the judge has to say.
The Telegraph has the whole story.
Life in the Fast Layne
Another poker player reality show is apparently in the works. Layne Flack is being followed by a camera crew and all of his exploits are being filmed for the viewing public. There's a teaser trailer up from Gutshot Entertainment that shows his trip to Aruba for the UB Aruba Poker Classic. Gavin Smith and Brandon Cantu also make appearances. We don't know if it has been picked up or not or if it's going to be web-only, all we can show you is the trailer. Enjoy.
JRB-usto
On top of keeping us updated on his adventures, Jean-Robert Bellande has been using his Twitter to log his bankroll status, which has seen some wild and crazy swings. The bio on his Twitter page says it all: "Poker Pro. Track my crazy swings as I take my bankroll from zero to a million."
From, "I can't take it anymore. Accepting the 15k loss. David Benjamine [sic] just too tough. 55k." To this tweet: "Bobby's room is cool but which would you rather be doing? 61k," which had two pictures attached — one from Bobby's Room and one showing him surrounded by women. At one point, on April 14, his bankroll was close to $100,000. Then, the ride came to a stop.
On May 8, JRB tweeted, "Cash 0 Stars 0 FTP 0 I feel sleepy." Of his 4,000+ followers, quite a few have written to him with jabs or sadness that Twitter isn't interesting anymore, like this one fromjtiddah, "@BrokeLivingJRB Get your bankroll situation back together. Youre making my tweet viewings boring. Nothing to check now."
If we know JRB, he'll be back at it in no time. You can follow him on Twitter at @BrokeLivingJRB.