The Online Railbird Report: Hansen's Up, Dwan's Down and Benyamine's Back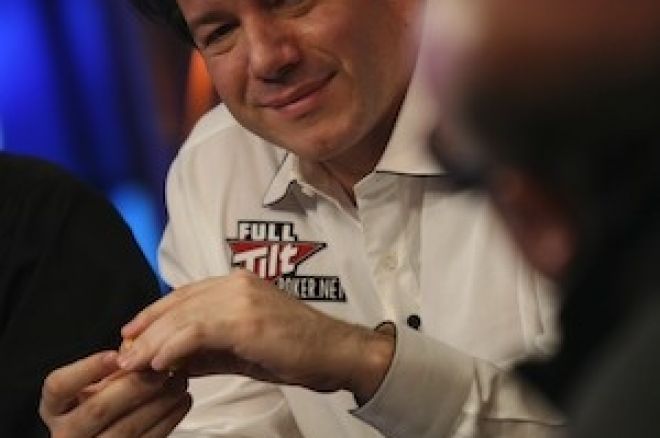 High-stakes online games were hopping at the end of last week, grew quiet over the weekend, and then roared back to life on Monday. Still trending downward were Tom "durrrr" Dwan and Brian Townsend, while Gus Hansen and jungleman12 continued their winning streaks. David Benyamine returned to the tables on Full Tilt this week, as well, while Ilari "Ziigmund" Sahamies and Brian Hastings played the fourth-largest pot of the year at a whopping $568,000.
Durrrr's mega-downswing continues
Just as Tom "durrrr" Dwan crossed the $7 million mark in his online profits this year, he began a steep downswing that is still ongoing. Although Dwan is still the most profitable online player this year with $3.23 million in earnings, he has lost a staggering $3.8 million since April 22. His biggest benefactor thus far has been "jungleman12" who has won more than a million dollars from Dwan over the last few weeks.
Dwan shed another $551,000 this week, most of those losses stemming from a volatile session of $500/$1,000-cap pot-limit Omaha and an unsuccessful stint in the 7-Game mix. Phil Ivey was the big winner in the PLO game, taking $211,000 from Dwan.
Gus takes South for $812k
While Dwan's online balance continued to plummet this week, Gus Hansen remained on the upswing, bringing his total winnings for May up to $1.25 million. The Great Dane's biggest session of the week came against Cole South, the two meeting up at the $500/$1,000-cap PLO tables. By the end of their 1,700-hand match, Hansen had made away with $812,000. Hansen ended up dropping a bit of those profits in the 7-Game mix later on that evening but still ended the day more than $600,000 to the good.
Hansen and South's largest confrontation took place when they moved over to the $1,500/$3,000 7-Game and were free of the $80,000 cap on their straight PLO table. Playing no-limit hold'em, Hansen limped in on the button and South raised to $2,345 from the big blind. Hansen tried to end the hand right there, moving all-in for $44,453, but South made the call. They were off to the races, Hansen with
and South with
. Hansen hit top pair on the flop, the board running out
to give him the $88,906 pot.
Benyamine's back!
Everyone's favorite Frenchman, David Benyamine, hasn't been around the online tables too much this year and surprised everyone when he logged on late last week and stuck around for nearly 1,200 hands, playing everything from the 7-Game mix to $200/$400 PLO. It has been a rough couple of years on the virtual felt for Benyamine, and, unfortunately, this session didn't change anything as he lost about $184,000 on the day.
Benyamine, however, did catch a golden river card to wrest this $80,000 pot from Brian Townsend. Benyamine opened for $1,200 on the button and Townsend called. Townsend checked the
flop over to Benyamine who bet $2,000. Townsend came in with a check-raise to $7,200 only to face a reraise to $24,000. Townsend shoved for $38,800 and Benyamine called, turning up
for an overpair and a flush draw while Townsend revealed
for top two pair. The
on the turn improved South to a better two pair, but Benyamine spiked the
on the river to make his set and stack Townsend.
Townsend weathers $620k loss
Speaking of Townsend, although he had some good results against Benyamine, his online balance took a nosedive on Sunday as he endured a $620,000 loss in 7-Game and capped PLO. Townsend is already down $2.8 million overall in 2010 and couldn't find any traction this weekend as demonstrated by this $142,000 pot he played against David Oppenheim.
Playing the $300/$600 PLO round during the 7-Game mix, Townsend opened the pot for $1,800 from the button and Oppenheim called. The flop was
, and Oppenheim checked over to Townsend who bet $3,000. Oppenheim raised to $8,400, Townsend three-bet to $28,800, Oppenheim shoved for $70,587, and Townsend called all-in for just a bit less. Oppenheim held top set with
while Townsend flopped the nut-flush draw with
. Townsend could not find a spade, the turn and river falling the
and the
to give Oppenheim the $141,598 pot.
Monsterpotten of the week: Brian Hastings vs. Ilari "Ziigmund Sahamies" for $568k
With all the cap game activity going on, it has been a while since we've witnessed a half-million pot. Last night, however, Ilari "Ziigmund" Sahamies and Brian Hastings met up on the $500/$1,000 uncapped PLO tables where Hastings claimed the fourth-largest pot of 2010 and ended the night a $348,000 winner.
Hastings opened for $3,000, Sahamies three-bet to $9,000 from the big blind and Hastings called. Sahamies led out for $12,500 on the
flop, Hastings raised to $34,000 and Sahamies re-popped him to $120,000. Hastings made it $412,000 to go, enough to set Sahamies all-in, and he made the call for the $258,496 he had behind, turning up
for an overpair and a flush draw. Hastings, however, flopped the nut straight with
. They ran it twice, the first turn and river falling the
and the
and the second the
and the
. Sahamies couldn't hit a diamond, and Hastings won both halves of the pot for a total haul of $568,992.
Who's up? Who's down?
This week's biggest winners (5/11-5/17): Gus Hansen (+$597,000), jungleman12 (+$460,000), Phil Ivey (+$358,000)
In the red: Tom "durrrr" Dwan (-$551,000), Brian Townsend (-$484,000), Cole South (-$474,000)
Top earners, 2010 to date: Tom "durrrr" Dwan (+$3.23 million), Phil Ivey (+$2.03 million), jungleman12 (+$1.99 million)
The highest-stakes games on the internet all unfold on Full Tilt Poker. Open up an account today and see for yourself.