Online Poker Spotlight: Evan "MacDaddy34" Panesis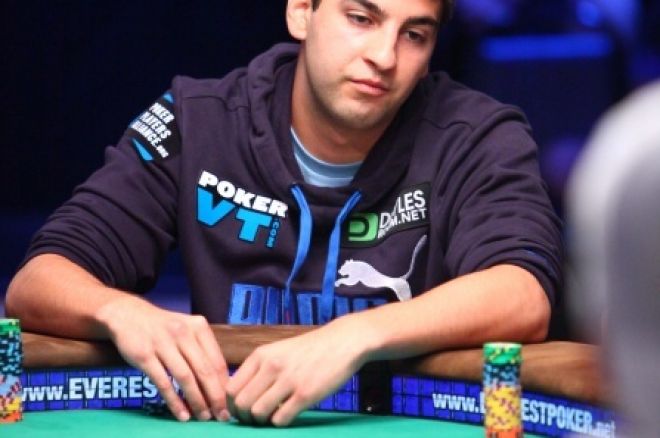 We sat down with Evan "MacDaddy34" Panesis recently to talk poker, his World Series of Poker schedule, who he would like to switch places with for the day, and more.
Hello Mr. MacDaddy! First off, congrats on earning your top hat on Poker Table Ratings. There are not many players who have won $1 million+ online. Tell us your thoughts and what has been going on with you.
Thanks a lot, I've definitely had the Top Hat as a goal of mine for the past few months, so I'm excited I got up there. I've just been grinding cash lately and just being a "brah" hanging by the pool and playing a lot of volleyball. I'm going to be heading to Vegas in the next few weeks to play some tournaments and cash games
You are one of the best online no-limit cash players. Are you going to Vegas for the juicy side cash games or more for tournaments?
Both, and also to meet up with a lot of friends. I'm most excited for the Main Event. I'm really hoping for a big run in that. I'm going to swap a lot of pieces, so I hope either I or someone I know can do some damage.
What MTT events are you planning on playing? Also, when you go to the cash-game rooms, how high will you play?
The Main Event of course and it just depends when I go out there but I'm looking at the $2,500 6-max, $5,000 6-max, the $10,000 heads-up and maybe the $25,000 6-max. I usually play $10/$20 to $25/$50. $25/$50 runs really deep. One of my friends was telling me about a $25/$50 game at Bellagio the other day and a few people had $50,000 stacks. When people raise to $300 - $400 preflop it plays more like a $50/$100.
How do you adjust to the cash games then when it plays that deep? What are the key things that you are focusing on, especially transitioning from online to live?
Position matters even more when you're playing that deep. You play in a lot more multiway pots in live poker compared to online poker and that's something I wasn't used to at first. You can't just three-barrel all the time in live because four to five people are going to be in the pot. In deep live games, you don't always have to protect your hand but you should be concerned about protecting your stack and be ready to know how to react to a raise when you bet.
Good insight! Where do you plan on staying in Vegas? Any roommates or any prop bets? Give us the whole scoop.
I'm just going to wing it when I go out there. I have some friends staying in a house and some friends staying at the Rio, so I'll probably do a little bit of both. During the Main Event, my friend "UMD Tennis" has a free stay at the Hard Rock so I'm gonna be there. He got that free stay by putting in long hours at the Blackjack tables a few months ago. If you want to meet a real legend, then hang out with the UMD in Vegas; he will not let you down. No crazy prop bets for me but I will advertise a prop bet offer from UMD. He wants challengers in basketball, tennis, drinking, and golf, so hit him up if you think you can take him. There's a sand volleyball complex in Vegas so I'm hoping to get a bunch of guys up there to have a big tournament one night.
Time for some head-to-head questions! Besides playing poker, what are your other interests or hobbies?
Watching sports and working out/playing sports takes up a lot of my time. I've heard so many people doing P90x so I decided to give it a shot last week. It has been tough, but it also keeps me motivated because it's every day and it makes me push myself. I also love to eat, travel, and just hanging out with all the people around me and my dogs!
Who are top three no-limit cash-game players in the world, and which one do you fear the most?
Tough to pick just three, but I'll go with Isaac Haxton, "Nutsinho", and Phil Galfond.
If you could listen to one song the rest of your life or had to keep the iTunes on repeat, what would it be?
"It Was a Good Day" by Ice Cube. It always puts me in a good mood.
If you could switch shoes with someone for a day, who would it be and why?
Got to go with Phil Ivey, would be awesome playing the biggest games in the world, taking craps tours across the country, and going to Cabo, Mexico, on my private jet.
If you could have one super power in the world, what would it be?
I'd pick flying as my super power. I could travel anywhere I wanted and my enemies would not be able to catch me.
Thanks for sitting down with us Evan. We wish you the best of luck at WSOP!
Check in on all the live coverage of the action happening at the World Series of Poker and as always, follow us on Twitter for up-to-the-minute news.