2010 World Series of Poker: Deconstructing the $25k 6-max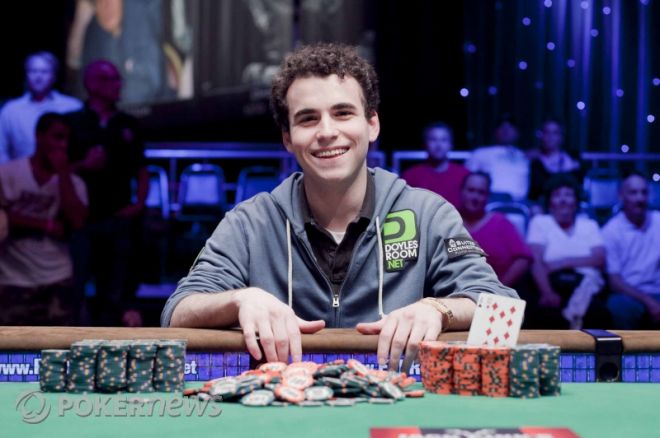 It was quite fitting that the World Series of Poker's inaugural $25,000 buy-in no-limit hold'em short-handed event was won by a 21-year old Villanova University senior playing in his first year of eligibility. Through online tournament play, Dan "djk123" Kelly has won far more than the $1.3 million he took home on Sunday night, but to look at his live results alone prior to this event might leave a less-informed poker fan scratching his or her head. The $25k was full of surprises, from the number of entrants, to the speed of play, to the structure, to the sextet of players who made the final table. Let's take a look back.
Field size fails to break 200
Almost anyone with a bet on the "under" on the number of entrants in the $25k got to cash in as registration closed on Day 1. 191 players bought in, anywhere between 40 and 50 less than most pundits were predicting. Last year's $40,000 buy-in NLHE event drew 201 players, but it was also scheduled at the very beginning of the 2009 WSOP, while the $25K was Event #52 of 57 this year. This late in the Series, to put it bluntly, a lot of people are broke. There are a lot of NLHE pros out there that are dealing with less-than-encouraging results this summer and when you're looking at a donut hole, it's hard to reach into your pocket and pull out another $25,000 to play in a tournament where there are virtually no soft spots.
Three-bet, four-bet, five-bet, six
Despite a 75,000-chip starting stack, the pace of play was lightning-quick. Tom Dwan was out in the first level. Howard Lederer lasted about 20 minutes. Same goes for Yevgeniy Timoshenko. The steep price tag didn't do a bit to discourage these players from pushing their chips around at a breakneck pace. If I had a dollar for every three-bet in this tournament, I could have skipped the WSOP and lounged on a beach in Maui for the last five weeks.
That's how the kids like to do it these days. Even the final hand (where 11.2 million chips were in the pot) ended in a pre-flop five-bet shove and a call.
The structure received some complaints - or at least one loud one
Back on March 7, Daniel Negreanu wrote a post on his blog detailing what he believed to be the "world's top ten toughest tournaments." Although the inaugural $25k event was still almost four months away at that point, Negreanu ranked it second on his list. His prediction about the level of talent in the field was certainly true, as the world's top online no-limit hold'em players did end up dominating the event, but by Day 3, Negreanu changed his tune when it came to the structure.
"The structures for all WSOP will be solid. No worries there," Negreanu wrote on March 7.
On Day 3 of the $25k, Negreanu was among the 18 players that made the money and returned to play down to the final table. One full table of players busted within the first level and at one point during that flurry of eliminations, Negreanu walked up to me and expressed his frustration with the structure. At that stage of the tournament, the average stack was about 41 big blinds, and Negreanu thought there should be a lot more play later in the event for this level of buy-in.
"150-300 with a 25 ante is way too high to start," he said.
"What about making them 75-minute levels instead of an hour?" I offered.
"How about 90-minute levels like in the $50k?" he countered.
A bit of research and number crunching did reveal that the stack sizes were similar at the same stage of last year's $40k NLHE event. When the money bubble burst in that event, at 27 players, the average stack was 44.8 big blinds. In the still-running Event #56, $2,500 NLHE, the average stack when players hit the money was 30.8 big blinds.
Frank Kassela = surprise final tablist
At this point, it's no secret that Frank Kassela is a world-class stud player. His two bracelets this year came in the $10,000 World Championship Seven-Card Stud Hi-Lo event and the $2,500 razz event. However, talk to Kassela himself and he'll tell you that no-limit hold'em is his worst game.
Well, Kassela must have eaten his Wheaties or something on Sunday morning because he played some stunning poker at the final table of this event. Kassela adjusted extremely well to his opponents, specifically Dan Kelly. Kassela came over the top of Kelly's perpetual three-bets on several occasions, sending a clear message to his opponents that he wasn't going to be pushed around. Then, in a brilliant piece of advertising, Kassela open-folded ace-king to a four-bet shove from Kelly, a decision that perfectly set up the move he made on this hand.
Kassela opened for 140,000 and Kelly called from the small blind. Kelly checked the
flop over to Kassela, who bet 180,000. Kelly called, and they both checked the
on the turn. When the
landed on the river, Kelly made it 400,000 to go and Kassela came in with a raise to 1,025,000. Kelly looked tortured about it, but he made the fold, and he got even sicker when Kassela showed him
. Kelly had folded ace-jack.
If not for a horrible river card after getting his money in against Shawn Buchanan as an 82 percent favorite, who knows how differently this tournament might have turned out. Regardless, Kassela still put a hammer-lock on his lead in the WSOP Player of the Year race.
The final table having its own day of play does make a difference
Dan Kelly made a stunning comeback on Day 3, going from 260,000 in chips to more than 5.8 million. Momentum was certainly on his side. However, in the early part of Day 4, Kelly seemed to lose his mojo just a bit as his opponents adjusted to his constant aggression. Sure, Kelly's result ended up being the same as it might have been if the tournament had just played all the way down on Day 3, however he did get knocked around a bit at the beginning of the final table. It's a tribute to his fortitude and mental toughness that he was able to shake off setbacks like discovering he'd folded the best hand to Frank Kassela's river raise, and get right back on the horse.
Follow us on Twitter for up-to-the-minute news.