Living in High Style: Corporate Mansions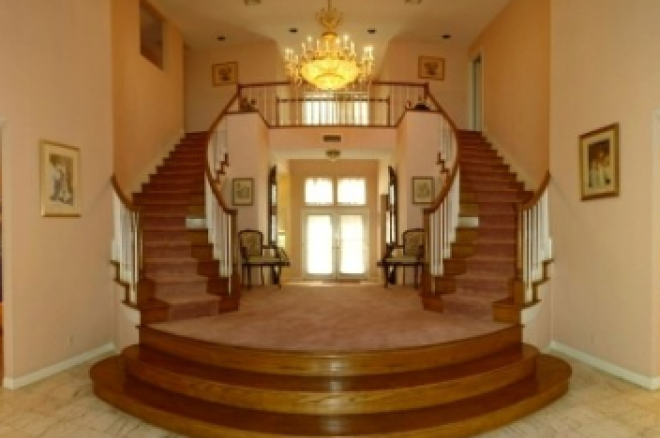 The PokerNews Team has come to Las Vegas from all over the U.S. and the world to bring you coverage from the 2010 World Series of Poker. The Hard Rock isn't housing our entire team. Some members are staying in a beautiful neighborhood just off the strip, leased from Corporate Mansions.
Corporate Mansions was started by Bill Lyons after investing in luxury Vegas Mansions and leasing to celebrities, sports athletes and executives who were looking for a comfortable home to entertain family and guests rather than a penthouse hotel suite on the Las Vegas Strip. The PokerNews house, called the Tuscany Estate, is a six-bedroom, 6,300-square-foot home right on a golf course. It has cathedral ceilings, a huge kitchen, a dining room and living room separated by a fireplace wall, and a massive backyard porch with a pool and spa.
Corporate Mansions also has other properties in Vegas such as the Elvis Presley Mansion, across the street, which is the home of Elvis' manager Col. Tom Parker, who lived there for 15 years and where Elvis sometime stayed while performing at the Hilton. It's a fully furnished 6,500-square-foot home on the golf course, has an enormous pool with a waterfall, and a grotto, perfect for prop betting with buddies about who can emulate Hugh Hefner's lifestyle best.
The Dean Martin Retreat is another gem. It's next to the actual house that the famous Lefty Rosenthal lived in for almost 20 years. Robert De Niro portrayed Lefty in Casino and this is the setting used for the film. It's a 1980s character home with a 40-foot ceiling at the entrance, a large pool, and a private patio off the master bedroom with great views of the golf course and Vegas strip. In the '80s, this neighborhood was frequented by Dean Martin and Frank Sinatra, and it still has plenty of Vegas charm.
At the moment, not only is the PokerNews Team staying in one of the Corporate Mansion homes, but so is Michael Mizrachi and other notable WSOP finalists. In this neighborhood, Corporate Mansions has five homes filled with international poker players from Holland, England, New Zealand, Ireland and Canada. So, if you're looking for something a bit more roomy than a hotel room, or looking to rub elbows with some big name celebs, you might want to take a look at Corporate Mansions and the houses they offer.
You can find out more at CorporateMansions.com.