The Nightly Turbo: Foxwoods Mega Stack Challenge, British Columbia's Online Casino Disaster, and More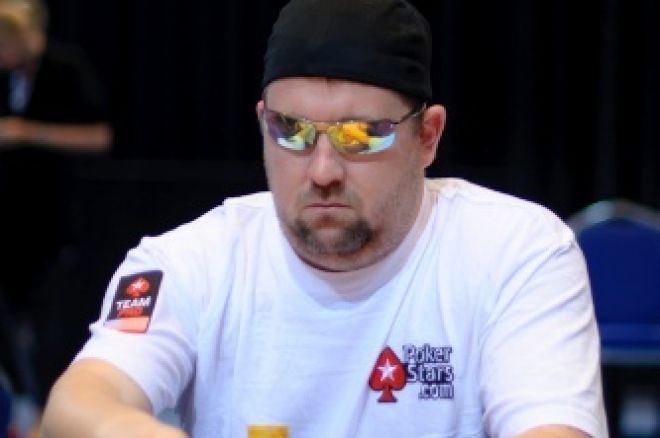 For those of you that are still trying to scratch that poker itch, the Foxwoods Mega Stack Challenge, hosted by Chris Moneymaker and Darvin Moon is coming up soon. In other news, British Colombia launched North America's first government-run online casino last week, and things didn't go as planned. We've got all that and more in tonight's Nightly Turbo.
In Case You Missed It
Just before the start of the 2010 World Series of Poker, the PokerNews Team made some predictions about a few WSOP rookies. Did we know what we were talking about? Our Rookie Roundup recap has the answer.
The 2010 WSOP is has closed up shop at the Rio Convention Center until November. As the World Series Turns is bringing you the final stories that came out of the Rio this summer.
MoneyMaker/Moon at Foxwoods
The Foxwoods Mega Stack Challenge XVII is set to get under way August 17 and run through August 23. Over the course of the seven-day poker series, three tournaments will be played with $500,000 in guaranteed prize money. You can test your skills against Chris Moneymaker and Darvin Moon, as well as Foxwoods' poker spokesperson, Bernard Lee, who will all be on hand and playing in the tournaments.
A two-day $340 buy-in no-limit hold'em event is scheduled for August 17 with a $125,000 guaranteed prize pool. On August 19, there will be a $560 buy-in two-day event that will also feature a guaranteed prize pool of $125,000. The $1,650 buy-in three-day Main Event kicks off on August 21 with a $250,000 guarantee.
You can find out more about the Foxwoods Mega Stack Challenge XVII on Foxwoods' website.
Not What They Expected
Last week, British Columbia launched the first government-run online casino in North America. "If we're going to do this as a government then we have a higher responsibility than private operators elsewhere to ensure we are protecting people," said Shane Simpson, a lawmaker with the opposition New Democratic Party.
Six hours after the site, PlayNow.com, was launched it was shut down. The Vancouver Sun is now reporting that the site was shut down because of a data crossover. A data crossover occurs when one player is accidentally switched into another player's account while they are playing online, The crossover causes a security breach and allows the crossover player to access the other player's sensitive information, as well as gamble with the other person's money. This data crossover happened to 134 players that day.
The site is still not online but could return later this week.
There's more on the story at VancouverSun.com.
Everest on the Field
The Everest Poker logo will be emblazoned on the away soccer football jerseys of the French team Olympique Lyonnais for the 2010-2011 season for all of its Ligue 1 games.
In accordance with the deal, Betclic, an online casino company that Mangas Gaming bought, will be featured on the team's home jerseys for the domestic games, but a sponsorship for the Champions League has not been established.
"Everest Poker is a community which brings together all kinds of players, from amateurs to pros. By becoming a sponsor of Olympique Lyonnais, we want to associate the sport values of the poker community with those of Lyon's football team: playing the game responsibly and respecting their partners. Pushed by our commitment to strengthen our link with players and to gain ground in our growing market, we are confident this partnership will be a true success thanks to the joy offered by our partners' performance," Sandrine Mangia-Park, Director of Everest Poker France said.
Read more here.
Full Tilt Poker Million
For those of you across the pond, the Full Tilt Poker Million IX is coming to a TV screen near you next week. The first three eight-handed heats begin Monday, and the winners of each of these heats will all meet again in December for the live final on Sky Sports. The runners-up from the heats will all meet in October for a second chance, beginning October 12.
"The change in format for this year's FullTiltPoker.com Million IX is great news for poker," Matchroom Sport managing director Eddie Hearn said. "You only have to read the forums and the poker media to understand what the viewers want to see and that is the World's best players battling it out in a format that promotes skill and allows them to showcase every facet of their talent. The line up is will be the event's strongest yet and this news helps secure Poker Million as one of the World's leading poker tournaments."
Among those scheduled to appear are PokerNews' Tony G, Howard Lederer, Patrik Antonius, Annette Obrestad, and Neil Channing.
Uk.PokerNews.com has more.
Adding to the Team
If you're looking for a poker training site, look no further because PokerNews Strategy is here to help. You can learn how to play from some of the top live and online poker pros in the game today, including Tony G, Randy "nanonoko" Lew and Billy "durangodan35" Kopp.
For quite some time now, not much was known about URnotINdanger2, except that he was 19 years old and hailed from Maryland. The mystery was solved when PokerNews Strategy added another name to its roster of pros: Scott Palmer, a.k.a URnotINdanger2. Palmer started playing poker when he was 15 years old, and now, five years later, he's a staple in the nosebleed games on Full Tilt Poker. Earlier today he was 14-tabling $25/$50 and $50/$100 pot-limit Omaha.
Want to learn from Palmer and the rest of the PokerNews Strategy Team? Sign up for an account today.
Following us on Twitter is a really good idea. Another good idea? Facebook.