Jordan "Jymaster11" Young Discusses His Incredible Sunday Wins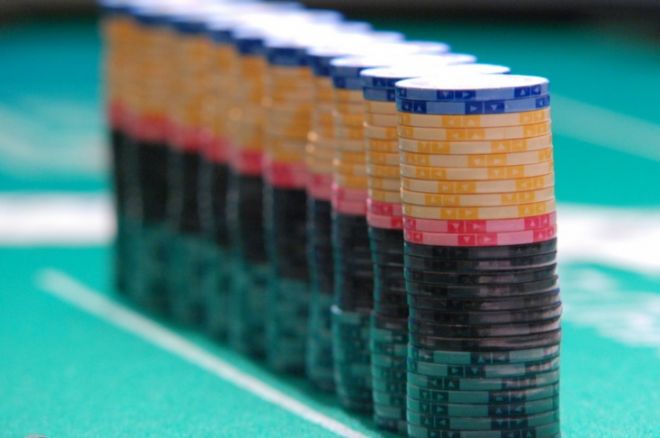 This past Sunday, Jordan "Jymaster11" Young completed one of the most amazing feats in all of poker. First, he won the Full Tilt Sunday Brawl for $104,951 before following up his win with a victory in the Full Tilt Sunday $750,000 Guarantee. The latter netted him $132,787.50 and earned him a whopping combined total of $237,738.50! In total, Young beat out 6,049 players to earn the titles. What's even more amazing is that earlier in the day, Young's status message on Facebook read, "Today is the day for my first 6 figure Sunday." Well, not only did he make good on that prediction, but he also one-upped himself by cashing in for six figures twice in the same day after never having cashed for six figures in the past.
PokerNews caught up with Young to see how he was feeling and discuss the two wins. Here's what he had to say, although he is still a bit in shock at the success.
How does it feel to complete one of the greatest accomplishments in online poker?
It has been about 12 hours since I won the $750k, and I don't know if it has really set in yet. I've been trying to final table both of these tournaments every Sunday for the past year and a half and I've never really come close, so to win both on the same day is just amazing. I'm just really in shock at the moment, but I'm starting to realize that I've done something that very few people will ever even have a chance to do again.
Could you give us some background information on yourself and how you got into poker?
I live in Muskegon, Michigan, and I'm 23 years old. I've been playing poker professionally for about two years now, but it hasn't all been smooth sailing from the get go. I dropped out of college three times — third times the charm [laughs] — and the third time I dropped out I wasn't even having a lot of success in poker, but I loved the game so much that I just had a lot of faith in myself.
Over the past year, I've put in more hours playing than anyone I know and that's the way to get better in my eyes; the more volume the better.
I got into poker the same way everyone else did that's my age, Chris Moneymaker [laughs]. My friends and I would play $5 tournaments in my basement in high school on the weekends and then when I went to college at Michigan State I would play in games around town. I started to play online poker in the fall of 2008, but I really didn't have much success for about six months to a year.
You're obviously a successful player. What would you attribute to your success and who have been some key people that have helped your game to progress and get to where it is today?
I would attribute my success to the fact that I just love to play poker so much and I really do just enjoy grinding day in and day out. I think the more volume you play the better you get. I really haven't used any training websites and I'm not a big poster in the forums. I just play a lot and get myself into situations that most people aren't in and I try to figure out different ways to get people to react how I want them too. I will say that there are two people that I want to definitely have put in this article. The first is Craig "Hu4Rollz" Bergeron and the second is Josh "onefingerortwo" Kay.
Quoting from your Facebook status message prior to the Sunday grind, you said, "Today is the day for my first 6 figure Sunday." We checked on your stats and it does look like you've been missing that six-figure score for your online resume. Was this just a shot in the dark or has something lately lead you to feel extra confident about this particular Sunday?
The prediction I made was really pretty crazy I guess. I mean I've never had a six-figure score before, but when I was getting ready to start the day I just had this weird feeling come over me. I felt that that today was the day I was going to do something amazing and it happened. For the past couple of months I've known that I was capable of winning a Sunday major for a six-figure score, so I don't feel like it was a total shot in the dark.
When did it cross your mind that you might be able to win the $750k after already having won the Brawl earlier in the day?
When I won the Brawl there were about 100 or so people left in the $750k, maybe a little more. I found myself starting to spew a little bit because I really didn't care what happened, I was just on top of the world at that point but then something hit me. I had a chance to do something that has never been done before so I really buckled down and started to concentrate. I would say that it really hit me when there were 29 people left though. I was all the way down to five big blinds after losing a 50-big-blind flip. Over the next orbit I picked up some hands and went from five big blinds to about thirty. I knew I was going to win when we got four handed and I picked up a huge chip lead, there was just no stopping me then.
Not only did you beat a field of 2,585 players in the Brawl and 3,466 players in the $750k, but you came out on top of some tough final tables. The Brawl final table included Jamie "pokerjamers" Armstrong and Craig "MrsESPN" Gray while the $750k had JC "PrtyPsux" Alvarado on it and Christian "da_professional" Iacobellis. Could you talk a little bit about these two final tables and which one was the harder one to conquer?
I would have to say without a doubt that the Brawl Final Table was much, much softer with the exception of Jamie, who was on my left for the final two tables. I haven't played much with Craig, but I know he's a good player. He was short for the entire final table so it was very nice to see him exit early. I had a huge chip lead in the Brawl, which also made my life a lot easier.
At the $750k final table, I came in seventh out of nine, so I really had my work cut out for me. I was lucky enough to pick up some hands at the beginning, and I won a flip to double up and avoid busting ninth. From there on out, I would have to say that Christian gave me the most trouble without a doubt. He's a really tough player that plays a pretty unconventional style. I've heard a lot of mixed things about his game and I just don't think he gets enough credit. The guy is a killer.
Was it just smooth sailing from the get go in both events or did you have to overcome some adversity and get lucky in some spots to stay alive?
In the Brawl, it definitely wasn't smooth sailing from the get go. At 80/160, I was down to 700 chips. For the next few hours, I grinded a 10-big-blind stack and was just trying to stay alive. I grinded a short stack most of the tournament all the way up until the 2,000/4,000 level and that's where I caught my rush. I won a couple of flips and then I started to take over the table. I could feel that with about 50 people left players were tightening up and that's where my style really pays off. I was opening a huge percentage of the pots and starting to really build a big stack. I went from 250k to 1.5 million in one level with three tables left and then it was pretty smooth.
When we were four handed, Jamie and I were about even in chips and then he lost a big hand to one of the other guys. He was the player I was most fearful of, so when I knocked him out I knew the tournament was mine for the taking.
In the $750k, I had a pretty good stack the entire tournament and was really just picking good spots to pick up the pots that nobody wanted. I was playing extremely LAG and I built a big stack, except for around the final table bubble, which is where I had to grind a 15-big-blind stack. At that final table, I won
versus
and then I won
versus Christian's
. Those flips were both for my tournament life. The key hand was three handed though. I had
versus Benjamin's
on a
board where I got three streets of value. At this point, I had so many chips and I knew that I was going to win unless I got extremely unlucky.
At the final table of the $750k, when you guys got down to five or six handed, one of the players asked if anyone would like to discuss a chop. You almost immediately declined. Would you have said the same thing had you not already won the Brawl earlier in the day? What was your thought process behind this?
With five or six people lef, I will almost never chop, so I don't think the Brawl had much to do with me instantly declining. I thought about looking at numbers when we got down to four handed and we were all about even in chips, but I realized I had an opportunity that no one had ever accomplished before so I wanted to go for the win. I honestly was thinking about how big of a deal it would be to win both so I had to go for it.
Will these two wins change the way you approach the grind that is online tournament poker or does it just make your hungry for more?
I don't think they these wins are really going to change a whole lot to the way I approach grinding. Like I said, I really just love playing poker and I feel like I have a lot more to accomplish. I want to take advantage of the opportunity I have right now and make enough money to set myself up for the rest of my life.
If this were your greatest poker accomplishment ever, would you be satisfied?
I think that winning both of these on the same day is an accomplishment in itself that not many people will have a chance to achieve so I would be satisfied with that part of it. If this is my biggest cash that I ever have then I won't be satisfied. I think I have a lot more to offer. I want to be successful in the live arena, as well, and I don't think a bracelet is a stretch.
Any plans to celebrate the two wins or are you going to be right back on the grind tomorrow?
My plans for the next two months are to get my sweatshop grind on [laughs]. I'm going to be playing almost every day during the FTOPS, UBOC and WCOOP to try and make another huge score. I love playing and the FTOPS and WCOOP are really fun to play. I think in between the two series I'm going to take a week off and go to Virginia Beach to visit my sister, but other than that I won't be doing any traveling until I go to PCA in January.
Congratulations to Jordan Young for accomplishing one of the greatest feats in online poker this week. His two wins just go to show that with enough hard work and effort put in, the results will come.
If you'd like to try and match Young's success at Full Tilt or even add the Sunday Mulligan into the mix for the trifecta, head over to Full Tilt and sign up for an account. We'll see you on the tables.