PokerStars.com EPT Tallinn Day 4: Can Mattern Do the Double?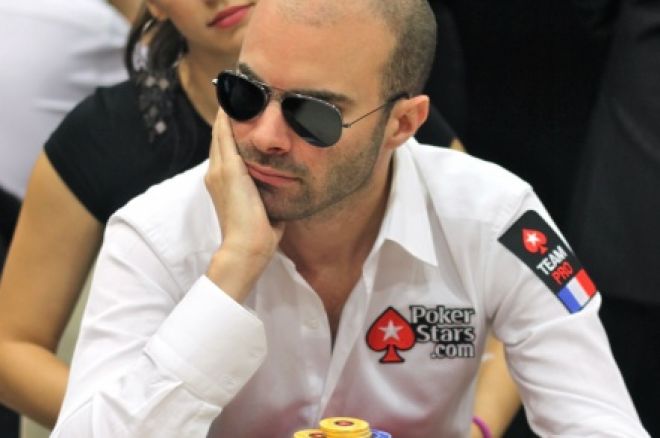 The penultimate day of PokerStars.com EPT Tallinn kicked off with 25 players remaining after many obstinate short stacks had refused to die the day before. Today was do or die time and the players would be whittled down to a final table of eight no matter how long it was going to take. After four and a bit levels, everything was set.
Former EPT Prague winner and Team Pokerstars Pro Arnaud Mattern will be going into the final table as the big chip leader with 3.72 million of the 12.6 million chips in play — over one million more than his nearest rival Kevin Stani. The big question though is whether or not Mattern can use this chip lead to allow him to create history and become the first ever player to win two EPTs, which truly would be an impressive achievement.
Day 1B chip leader Perica Bukara was the chip leader at the start of the day, as four tables were quickly reduced to three when Vitalijs Zavorotnis was knocked out in 25th place, ensuring everyone else a pay jump. Much focus was on Mattern as the only former EPT winner still in the field, but there was also a lot of interest in the former WSOP Main Event runner-up Ivan Demidov. Sadly for the Russian, though, he got into a huge raising war with a pair of fives against fellow Russian Konstantin Bilyauer's king-queen, which hit a lady on the turn.
Mattern meanwhile went on a bit of a tear, eliminating both Antti Kärkkäinen and Anatoli Jevtejev in quick succession to vault himself over the two million mark. The run was soon halted, though, when he then doubled up both Steven van Zadelhoff (A-Q vs A-A) and Johan Storakers (A-Q vs A-Q). The latter saw Storakers managing to turn a flush to double what was at that point a short stack.
Bukara, who had been one of the big stacks for almost the entire tournament was eliminated in 14th place when he made a big bluff with a gutshot straight draw but ran into Bilyauer's turned trip sevens, which held for a three-million-plus pot, allowing the Russian to leap into a huge chip lead.
By this point the two remaining tables were showing a massive skew in chips, as Bilyauer, Mattern, van Zadelhoff, Stani and Jonathan Weekes were all placed on one table. Each held a large stack while all the short stacks were on the other table. The biggest stack on this table of shorties as the final loomed was Mikko Jaatinen, and even he had a below average stack, which would give an insight into how top-heavy the chip leader's table was.
Our last Estonian player, Vallo Maidla, was eliminated in 10th place and when Mattern knocked out Weekes in 9th with A-Q against A-8 our final table was set as follows.
Seat 1: Konstantin Bilyauer – 2,498,000
Seat 2: Steven van Zadelhoff – 805,000
Seat 3: Kevin Stani – 2,586,000
Seat 4: Nicolo Calia – 637,000
Seat 5: Bassam Einajjar – 744,000
Seat 6: Dmitry Vitkind – 502,000
Seat 7: Arnaud Mattern – 3,720,000
Seat 8: Mikko Jaatinen - 1,166,000
Join us from 12pm (GMT+2) this Monday as the final table of EPT Tallinn kicks off. Can Arnaud Mattern become the first-ever double EPT champion or will someone else become the first winner of EPT Season 7? You'll have to tune in to PokerNews find out!
Don't forget to follow us on Twitter for all your up-to-the-minute poker news and tournament coverage.