The PokerNews Jet Set: Tallinn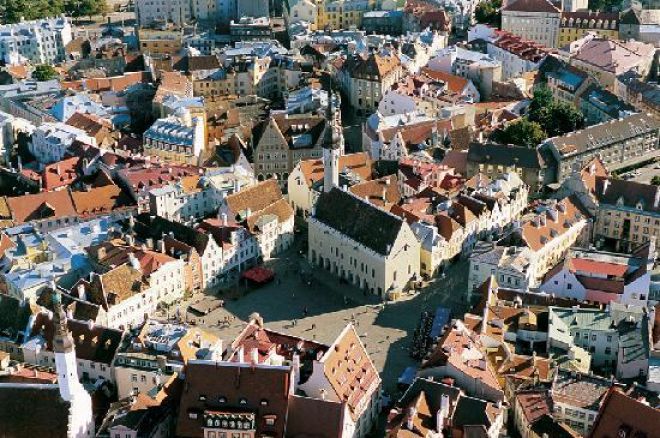 Estonia. For some, the name of this Baltic state conjures up images of steel-gray skies, freezing seas and Soviet-era architecture — not exactly a place you'd want to spend your summer vacation, right? Well, throw those notions out and think again. Estonia's capital city, Tallinn, is a beautiful balance between Old and New Europe. Although much of Tallinn's medieval architecture is still standing (and beautifully preserved), this bustling metropolis boasts more than 400,000 residents and is one of the most "wired" cities in Europe. You'll find more free Wi-Fi in Tallinn than any other city on the continent. What else would you expect from the birthplace of Skype?
After the 2009 success of the Baltic Poker Festival, PokerStars made Tallinn an official stop on season seven of the European Poker Tour. Next week, 600 players are expected to descend on the city to take their shot at an EPT title. A bit mystified about what awaits you in Estonia? Don't sweat it, we've got you covered.
Currency
Your Euros are no good while out and about in Tallinn, although they'll work just fine when it comes to buying in to the tournament. The local currency, the Kroon, has a current exchange rate of about 12 to $1 USD and 15.5 to €1. Most banks in the city open at 9 a.m. and have exchange counters inside that will give you a far better rate than you'll get at your hotel.
Getting there and around
If you're arriving by air, a taxi from Ulemiste Airport to the Old Town area will run you less than $10 — about 100 Kroon. Players from neighboring countries like Finland, Sweden, and Russia can hop a ferry to Tallinn. From Helsinki, the trip takes 90 minutes and from Stockholm, overnight ferries make the 16-hour journey tolerable.
Once you're in the city, the area around the tournament venue is easily walkable. For long journeys, grab a taxi but make sure it's an official one. Unofficial "gypsy" cabs that target tourists near the train station and harbor charge exorbitant prices. If you're the least bit wary, ask the concierge at your hotel to call a taxi for you. Two reputable taxi companies in Tallinn are Krooni and Tallink.
About the venue
EPT Tallinn will take place at the posh Swissotel, only a 15-minute walk from the historic Old Town area. Free Wi-Fi is available throughout the venue, which will no doubt delight online players. The hotel also has three restaurants, two bars, and a deli that offers take-away sandwiches and pastries.
The dress code for the tournament is "smart casual." Translation? Leave those baggy basketball shorts and torn jeans in your room.
The local cuisine
I don't know about you, but after a long day of poker, I'm in the mood for a cold pint and a juicy burger. You can find both at Drink Bar & Grill, a short walk from the Swissotel in Old Town. The atmosphere in this pub is upbeat, even a little raucous if a good football match is being shown on TV, and the fish and chips will make you feel like you're in Jolly Olde England. If you don't like garlic, well, skip this part but if you do, Balthasar may be your new temple. Located in the center of Old Town, this restaurant is a living love letter to garlic, which is used to varying degrees in nearly every dish on the menu. For a more upscale experience, head over to Restaurant O, which is constantly cited as one of Tallinn's top dining establishments. Featuring modern Estonian cuisine, the atmosphere is lush and romantic, but the prices quite reasonable for fine dining. Entrees range from €18 to €29 and a seven-course tasting menu runs €63.
Can't-miss sightseeing
Don't leave without spending an afternoon exploring Old Town on foot. Check out the incredible medieval architecture and hike to the top of Toompea Hill for some amazing views of the city and the Baltic Sea. If you need of a bit of retail therapy, Viru, the city's primary shopping street, is lined with plenty of trendy boutiques. End your day in Old Town's central square, Raekoja Plats, and grab a drink at an outdoor café. If the weather is cooperating, check out one of Tallinn's beaches. Pirita Beach, the most popular and tourist-frequented stretch of sand, was used as a yachting venue at the 1980 Olympic games.
Are you ready to take your game on the road? EPT and LAPT satellites are running right now on PokerStars.