The Nightly Turbo: World Poker Tour Announces New Stop, Cada's Reality and More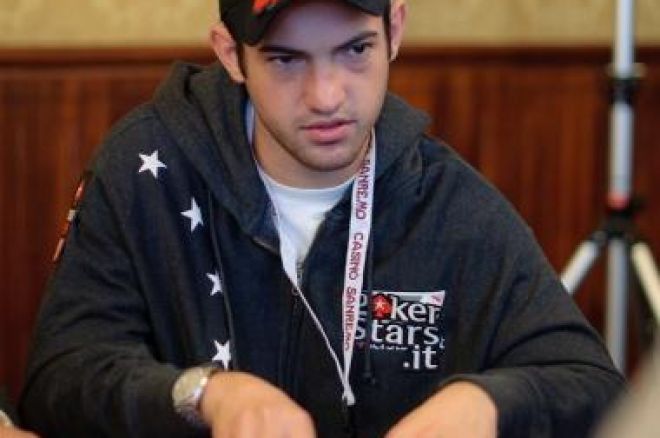 The World Poker Tour is expanding its reach into France, the New Zealand Poker Championship has a repeat offender, and Joe Cada is the next reality TV star - or is he? Find out in tonight's Nightly Turbo.
The PokerStars European Poker Tour San Remo made its way to the money on Day 3. Find out who is leading the field into Day 4 here.
Another weekend in the books; another batch of Sunday tournaments gone, as well. There were plenty of six-figure payouts yesterday and the Sunday Briefing has the results.
Day 1 of the World Poker Tour $25,000 World Championship saw 161 entrants take the felt. A past winner is close to the top of the leaderboard. Who is it? Find out in our WPT recap.
Were you too deep in a tournament last night to check out the latest episode of High Stakes Poker? Good thing we watched it for you and brought you this recap.
Eriksen Goes Back-to-Back
Soren Eriksen may have been having dejá vu over the weekend at the New Zealand Poker Championships at Christchurch Casino. He took down the $2,500 NZ buy-in tournament for the second time in as many years. After three days of play, nine players of the 72 were left at the final table. Eriksen was aggressive early on and carried a two-to-one chip lead going into heads-up play. He ended up walking away with $60,000 NZ and the repeat title.
New Zealand Poker Championship Results
1. Soren Eriksen - $60,000 NZ
2. Cole Swannack - $ 33,000 NZ
3. Michael Spilkin - $ 24,000 NZ
4. Richard Lancaster - $ 18,000 NZ
5. James Honeybone - $ 13,000 NZ
6. Joseph Allis - $ 10,000 NZ
7. Andrew Middleditch - $ 8,500 NZ
8. Alfred Saliba - $ 7,500 NZ
9. Mike Kim - $ 6,000 NZ
PokerNetwork was there for it all.
Baekke-to-Baekke?
Gloria Balding caught up with Allan Baekke at the PokerStars European Poker Tour San Remo. She talked to the EPT Snowfest winner about his day and how much respect he gets at the table.
Be sure to follow us on Twitter for up-to-the-minute news and become a fan on Facebook.
You Had a Bad Day
Betfair Poker pro Peter Jepsen is venting his frustrations of his last year in his blog. Apparently the pro has had a number of things working against him in 2009, causing him to go - in his own words - busto. He says he didn't cash in a single tournament in 2009, got swine flu, broke his foot, had to pay way too much money to the Danish tax authorities, and developed a chronic inflammation in all his fingers. Depressing.
The last line of the blog gives us a sliver of hope, however. "I know where I'm going, because you can't keep a good man down.... but it sure as hell feels like someone is trying their best."
Read the entire blog here.
We've Got Your Way In
PokerNews and 888 Poker want to get you to Las Vegas this year for the World Series of Poker Main Event. If you sign up for an 888 Poker account or have previously signed up for one, you're eligible for four freerolls throughout May, the last one being a one for a $16,000 WSOP package. This all assumes you've earned the required points, of course.
May 20: $1,000 freeroll - must have earned 20 points
May 21: $3,000 freeroll - must have earned 50 points
May 22: $5,000 freeroll - must have earned 80 points
May 23: $16,000 WSOP Package ($15k Main Event package + $1k cash added) freeroll - must have earned 200 points
Not only that, but 888 is giving you 8 ways to win one of 88 packages to the WSOP, as well. There are 41 Main Event packages up for grabs and 47 packages available for Event #54.
Find out more here.
Team PokerStars Pro Canada
PokerStars has announced the newest additions to the Team PokerStars Pro Canada Team. Joining Daniel Negreanu and Darus Suharto, newcomers Greg DeBora, Patrick Pezzin, Marcello Del Grosso, and Anh Van Nguyen will now be repping the Canadian flag on a patch on their shoulders. Congratulations to the new pros!
Want to take on one of the newest members of Team PokerStars Pro Canada? Sign up for a PokerStars account today.
New World Poker Tour Stop
The World Poker Tour is expanding its reach across the globe with its newest stop scheduled for the 2010–2011 docket in France. The WPT Amneville series will run from October 30 through November 6, with the €3,500 Main Event beginning on November 2.
"The Casino d'Amneville is located at the perfect crossroad for European players, with close proximity to Luxembourg, Germany, Belgium and the Netherlands. We are delighted to welcome the World Poker Tour to Amneville for this unique French tournament," said Christophe Schanne, general manager of the Casino of Amneville.
A variety of qualifiers for WPT Amneville will be running at Aviation Club de France and The Grand Casino Basel in Switzerland. Super-satellites will be running at the Casino D'Amneville as well from October 29 through November 1.
Check out WorldPokerTour.com for more.
6th Street
Joe Cada chronicled his life from the time he made the 2009 World Series of Poker Main Event Final Table until just after he won it in November. A preview of it was uploaded to YouTube and before we knew it, the TwoPlusTwo community grabbed hold. As always, it's about 50/50 in the thread on "fail" or "cool" status.
Quite possibly regretting his decision, Cada has pulled the plug on his role in the series. He posted his thoughts on the preview in the thread and had this to say, "Don't really know what to think of it because some of the scenes are pretty embarrassing that I wish didn't make the trailer..." Rumblings from our Live Reporting staff in San Remo say that he's no longer doing the show.
That's obviously not the entire post, but we like to keep things short here, so you're going to have to check out the thread on TwoPlusTwo for more.