High Stakes Poker Season 6, Episode 10: The Godfather Goes Old-school and the Mouth Gets Run Over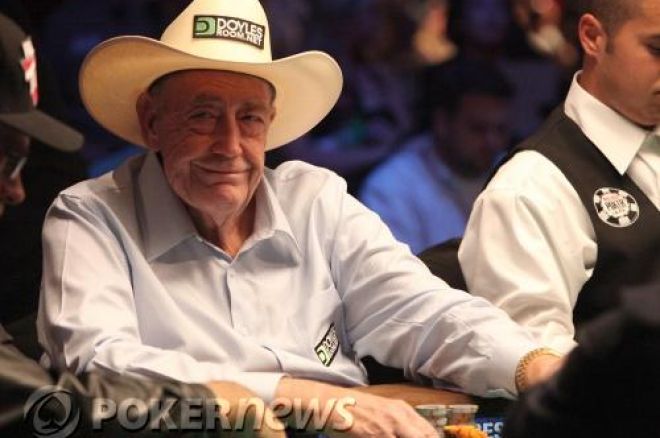 The latest episode of High Stakes Poker is unusually rich in oddball plays from the game's biggest names. Doyle Brunson open-shoved 190 big blinds in a triple straddled pot - and got called! Mike Matusow knitted a whole wardrobe of sweaters, and Phil Ivey left without saying goodbye. Phil Galfond took his place and got the action pumping the moment his money touched the felt.
Cast: Tom "durrrr" Dwan, Daniel Negreanu, Doyle Brunson, Mike Matusow, Eli Elezra, Bertrand "ElkY" Grospellier, and David Benyamine, with a few glimpses of Phil Ivey and a brief appearance by Phil "OMGClayAiken" Galfond
Denial on the river (not just a river in Egypt): In the first interesting hand of the night, Elezra limped with
, Brunson raised to $4,300 with
, and Benyamine called with
. Grospellier came along from the small blind with
, and Ivey called from the big blind with
. Elezra folded, and four players saw the
flop. Grospellier bet out $11,000 with his gutshot, and only Benyamine made the call. Both of them checked the
on the turn, sending them to the perfect river card - the
. Grospellier checked his full house, and Benyamine took the bait, betting $16,000. Grospellier then whipped out the check-raise, making it $56,000 to see a showdown. Not wanting to believe that his flush was beaten, Benyamine paid off Grospellier's runner-runner boat. Gabe Kaplan described the hand as "the first major misstep David Benyamine has made on High Stakes Poker."
Matusow's Little Adventure: The past two episodes have featured an extremely nitty Mike Matusow. While the rest of the table is busy complaining about his super-tight play, they're all quite happy to take advantage of it. In one hand, Brunson raised to $4,000 with
, Matusow called with
, as did Benyamine with
. The flop came
, and Matusow bet out $6,000. Benyamine flat called, and Brunson folded. Matusow clearly didn't like the
on the turn, and when he checked, Benyamine bet $15,000. That was all it took to earn a fold from Matusow.
Kaplan read of the night: Gabe Kaplan says some odd things, but sometimes he's spot on. For example: "I just get the feeling Mike Matusow is self-occupied and doesn't notice what else is going on in the world."
Surprise shove of the season: The triple straddle was on, meaning it went from Negreanu's standard $1,600 straddle to Elezra's $3,200 restraddle to Dwan's $6,400 re-restraddle by the time it got to Brunson, who actually looked at his cards and found
. He thought about his options and somehow settled on the classic open-shove for $152,600. The rest of the table stared at him in disbelief, not quite sure they had understood. But "all in" was exactly what he meant. Brunson's 25x raise didn't look like such a great idea, however, when table-tightwad Matusow woke up with
and moved all-in for slightly more. After all of the straddlers insta-mucked, Brunson and Matusow decided to run it twice.
Hearing that one of the aces was dead, Brunson said, "Guess I'm in the market for hearts." And hearts are exactly what he got, taking down the first half of the pot with a runner-runner flush on a
board. A rather uncharitable Brunson acted like he'd just been bad-beaten because he'd agreed to run it twice. The second board ran out
, so despite hitting the two case aces, Brunson had to share half the pot with Matusow's kings full. That means the veteran is still down and needs to make a comeback in order not to break his streak of 16 winning television appearances in a row.
OMG Aggression: Phil Ivey disappeared without any fanfare and was replaced by a different Phil, Phil "OMGClayAiken" Galfond. After a lackluster first appearance on the show, Galfond wanted to make a statement out of the gate this year. In the first pot he plays, Elezra had already straddled to $1,600 when Matusow raised to $3,200 with
and Grospellier called with
. Galfond three-bet to $11,200 with
. Elezra joined the party with
, and Matusow mucked while Grospellier called. The flop came
, giving Elezra top two and Galfond a flush draw. Galfond bet out $22,000, and Elezra raised to $72,000. After some discussion of stack sizes, Galfond made the call. The turn was the unhelpful
, and Galfond had no choice but to check-fold to Elezra's shove while the rest of the table focused on berating Matusow for folding
.
Bottom line: This entertaining episode is full of "unusual" plays. Brunson's open-shove is sure to generate discussion for seasons to come, and Matusow may need to reexamine his game if he's only willing to put money in the pot with kings. Ivey's strange evaporation was a tad off-putting. We know the rules don't apply to him, but it'd be nice if he pretended to care about something once in a while, at least in front of the cameras. And it only took Galfond about two minutes to put his foot on the gas pedal and drive the action, so we can't wait to see what's in store for the rest of the season.
Don't miss the action next week, when we're promised fireworks between Galfond, Elezra, and Benyamine and Brunson continues his quest to turn a profit. High Stakes Poker airs at 8:00 pm EST on GSN.
Follow us on Twitter for up-to-the-minute news.