PokerStars.net LAPT Florianopolis Day 2: Blondeau in Control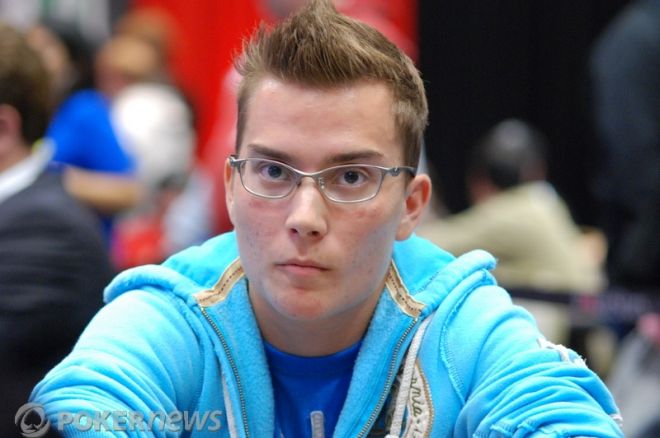 The sun finally decided to appear in Florianopolis, Brazil and pushed away the clouds and buckets of rain on Friday for the second day of play in the PokerStars.net Latin American Poker Tour Florianopolis Main Event!
Austrian Matthias Habernig led the 183 players returning for day two as play was expected to at least reach the magic number of forty-eight; the minimum place to receive a guaranteed $4,619 payday. For most however, the number on everyone's mind would be the $247,441 first prize, along with the coveted LAPT trophy and title of Champion.
With the filmed feature table being used for the first time in the tournament, and Angel Guillen appropriately located under the stream of bright angelic lights, it would be Brandon Demes, Dan Frank and Ross Bybee all becoming casualties prior to the first break. Habernig continued holding onto the title of chip leader, while one of the last remaining females — Alessandra Correa Dos Santos -– had made her way up the leaderboard courtesy of winning an early race holding
against an opponent's
.
Sitting second on the leaderboard didn't halter Kwang Ho Han in battling with Habernig once they found themselves sitting across from each other as Ademir Strechar quietly crept his way up into the lead. A short-stack Veronica Dabul committed the remainder of her chips in a three-bet pot, but unfortunately found her
dominated by an opponent's
as she hit the rail before Guillermo Montero soared over the 200,000-chip mark when he rivered a flush against an opponent's top two-pair.
Vamô Filho became the catchphrase of the afternoon, which translated across the poker tables as meaning "lets go baby!" From scoring goals to stacking chips; Paulo Rink slowly made his voice known, well his poker voice anyway, as he too made his way up the leaderboard along with Marco Caicedo Jaramillo, Andre Luiz Scaff and Pedro Velasco Adnet.
Moved from the bight lights of the feature table, Guillen would wish he remained under the watchful eye of the many cameras as he was the next star to fall. Guillen moved all in from the button holding
and was called by Homero Ribeiro from the big blind with
. The final board of
would see Guillen take the lead, before sinking back to earth on the river. Habernig regained the chip lead while soaring over the 300,000-chip mark, but it would be Scaff who would reach the pinnacle first after his aggressive approach saw him accumulate chip after chip on his table.
Following a well-deserved dinner break, one table featured just one player as he spent a joyful few hands picking up some blinds and antes without a fuss. A few more eliminations flew by to put us on the bubble of forty-nine players, as Wallacy Marcal was surrounded by cameras from the get-go. Sitting with just over two big blinds when play went hand-for-hand, Marcal hesitantly folded hand after hand before committed less than a big blind with
. Fortunately for Marcal, he managed to find more than a double against Han's
, before again sliding down to just over a big blind and committing once again. This time however he would find action from two players, and when his
was best on a
board, he soared to an amount that would keep him safe until Alexandre Fracari and his
were out-flopped by Francisco Azocar's
to see him become the LAPT Florianopolis bubble boy!
With an hour of hand-for-hand play now over, eliminations fell fast and heavy as twelve players registered a small payday of $4,619, while Canadian Rudy Blondeau soared up the leaderboard through firstly a double at the hands of Strechar and then the elimination of Vilson Polmann, to see him capture the chip lead to reach the high point of 655,000.
Although relinquishing some of those chips during the last hour, Blondeau still managed to bag the most chips with an amassed 536,500-chip stack. Snapping at his heels however is Andre De Oliveira Sa (511,000) before there is some daylight between Miguel Fernando Velasco Hoyos (392,500) and Dayan Vardanega (380,000). Team PokerStars Online member Jorge Arias (113,000) is still in contention while two females remain in Dos Santos (193,000) and Cristiane Dias (102,000) as the top ten round out as follows.
Day 2 Chip Leaders
Rudy Blondeau (Canada) – 536,500
Andre De Oliveira Sa (Brazil) – 511,000
Miguel Fernando Velasco Hoyos (Colombia) – 392,500
Dayan Vardanega (Brazil) – 380,000
Sander Aalders (Netherlands) – 348,000
David Bortnik (Argentina) – 302,500
Guilherme Marques Garcia (Brazil) – 301,500
Matthias Habernig (Austria) – 298,000
Mario Donoso (Venezuela) – 261,000
Andre Luiz Scaff (Brazil) – 240,000
Play resumes at 12:00 pm local time in Brazil on Saturday for Day 3, with the PokerNews live reporting team on hand to provide all the live updates from the floor as we play down from the last thirty-six to the final eight of the PokerStars.net LAPT Florianopolis Main Event!
Follow us on Twitter for up-to-the-minute news, and also become our fan on Facebook.