The Nightly Turbo: Zynga Poker Goes International, the Latest from The G on Phil Hellmuth, and More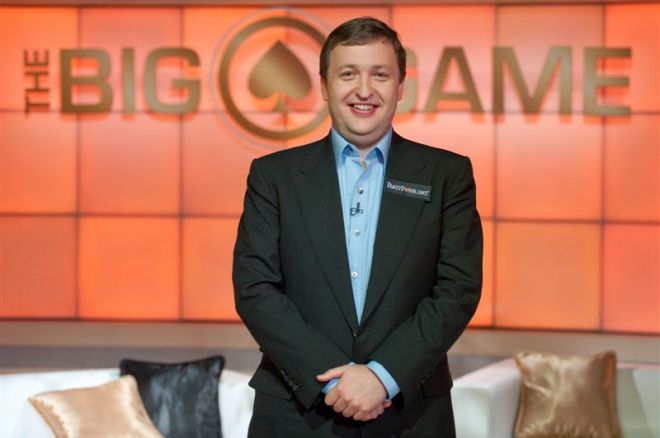 We all made it. It's finally Friday and we're going to get right down to it today so you can get your news and get your weekend activities started. What do we have for you today? Well, a staple on the Facebook app page is going international, Tony G is back at it again, blogging about Phil Hellmuth, and we (well, ChazDazzle on TwoPlusTwo) may have found Viktor Blom's hairstylist. Enjoy, and have a good weekend!
In Case You Missed It
The World Poker Tour's latest stop on the schedule is The Bicycle Casino for the Legends of Poker. The event started today but there are two Day 1s if you're not in Los Angeles yet.
The $25,000 High Roller event at the Full Tilt Poker Merit Cyprus Classic found its final nine players yesterday. Who made it and who's leading the way? You'll have to check out the recap for that information.
What's it like in a week in the life of Gloria Balding? Go GloBal with her and find out.
Thinking about playing fantasy football this year? There isn't much time left to find a league and draft your team. If you're new to the concept, the Pigskin Diaries has all the tips you'll need.
Shocking we know, but there is other gaming news out there besides poker. This week, Inside Gaming is bringing you news on Las Vegas casinos and their ownerships woes.
The UB Online Poker Championship 5 is off and running. Last night, Event #3 surpassed its guarantees in both the UBOC and its lower buy-in counterpart, the Mini-UBOC. In case you were out on the town and missed it, we've recapped the events and brought you the results.
Nǐ Hǎo
Zynga has taken Facebook poker by storm. More than 28 million users play monthly on Facebook. The social gaming company is going international now with the launch of Zynga Texas Poker, which will be available in Mandarin for players in Hong Kong and Taiwan.
Some of the features are the same as the English version such as the lobby, joining tables, and the leaderboard. But a few things are not, such as the number of chips players start with, 8,888 because the number eight is lucky in Chinese. Also, players will be able to compete for prizes, as well as a local shootout tournament with a prize pool of 880,000 Taiwanese dollars.
VentureBeat.com has more on Zynga's expansion.
Tony G: Surgeon?
Last week, PokerNews head honcho Tony G was in Las Vegas filming the PokerStars.net Big Game. In his latest blog on PartyPoker, he discusses his time on the set, Phil Hellmuth, and Las Vegas casino mogul Steve Wynn's dog.
Of his table mates, he said this, "I dispatched every super pro ruthlessly – first I removed their soul, followed by their hearts and then their spinal columns! Finally, of course, I took their money!" This leads us to believe he may have been a surgeon in another life.
He made Hellmuth wave the white flag and tells us we might hear something come out of the Poker Brat's mouth we never expected. "You will hear him say that he was unable to compete and that he was not on my level. He said he will never play poker with me again and that he will look for a rider when entering a show that I am not to be involved! These words came out of the Poker Brat's mouth," he wrote.
The Wynn is The G's favorite place to stay while he's in Vegas, and on this trip, his villa was right next to Steve Wynn's. He was naturally curious, tried to sneak a peek, and was confronted by Wynn's German Shepherd. They say curiosity killed the cat, Tony, so be careful.
Want to read more about Tony's time on the Big Game set and what else he has to say about Hellmuth? Head on over to the PartyPoker Blog.
Say What?
Daniel Negreanu was recently interviewed by PokerPlayer about everything from his life to the World Series of Poker. Negreanu took a different approach during the 2010 WSOP than in years past. He says he worked out every day and didn't do any drinking. He discussed bracelet bets, saying, "It's good for poker and poker history that the best players are playing, because without these side bets Ivey wouldn't even play. But with the side bets he will, and he'll pass the all-time leader for bracelets at the WSOP – it's just a matter of time."
He also talked about the Ladies Event and said, "What irked me is men playing, using tampons as card protectors, and Shaun Deeb wearing a dress," he said. He also had some not-so-nice things to say about Annie Duke prompting her brother, Howard Lederer, to tweet this, "Hey Daniel, nice job representing poker and reinforcing that our attitude towards women is still Neanderthal."
Head on over to PokerPlayer.co.uk for the entire interview.
UKIPT Edinburgh
Day 1a of the PokerStars UK & Ireland Poker Tour Edinburgh saw 59 of the 168 players who took the felt bag and tag their chips for Day 2. But they would have a day off, so that the Day 1b players could put their skills to the test.
Players who took their seats on Day 1b include PokerStars Pros Jude Ainsworth, Victoria Coren, Julian Thew, and JP Kelly. Liv Boeree, PokerStars European Poker Tour presenter Michelle Orpe, and Jesse May also hit the tables for some poker action. The official count for Day 1b entrants was 233, bringing the total field size to 401 and creating a total prize pool of £200,500. The winner of UKIPT Edinburgh will take home £50,000 and a seat to EPT London.
The PokerStars Blog is bringing you all the updates from the Corn Exchange
You can qualify for the Dublin leg of the UKIPT right now at Pokerstars - don't forget you will be eligible for our $10,000 WCOOP Freeroll when you sign up via PokerNews.
The Short List
Before you get you multimedia fix and head off into your weekend, we have to tell you about two things.
Rumor has it that Victory Poker, which is currently on the Everleaf Network, will be moving to the Cake Poker Network. If the rumor turns out to be true, Victory Poker would be joining Cake Poker, DoylesRoom, Only Poker, and Unabomber Poker among other sites on the Cake Network.

First, Viktor Blom's twin/hairstylist has been found. Thanks to TwoPlusTwo member ChazDazzle. Ryan Leslie, who is currently a cast member on MTV's Real World New Orleans, has the same messy side swoop Blom sports, is a hairstylist, and a striking resemblance to the poker phenom.

Don't believe us? Check out the TwoPlusTwo thread.

Are you a bit of a tilt monkey when you're playing poker? Well, you could always grab the Tilt Timer App on iTunes. If you go on tilt, you set the timer for how long you want to be on tilt, and when it goes off, you should be focused. Mind you we said "should be."

Get your Tilt Timer at the App Store.
A Little Too Sun
Gloria Balding caught up with 2010 World Series of Poker November Niner John Racener at the Full Tilt Poker Merit Cyprus Classic. Racener isn't taking a break from poker before November and updates Gloria on his poker schedule, how his table is in the Merit Cyprus Classic Main Event, and more.
Your Facebook page can use another friend, so add us, and follow us on Twitter for up-to-the-minute news.