Inside Gaming: Harrah's Testing Public Waters, M for Sale, and Peebles Making Purchases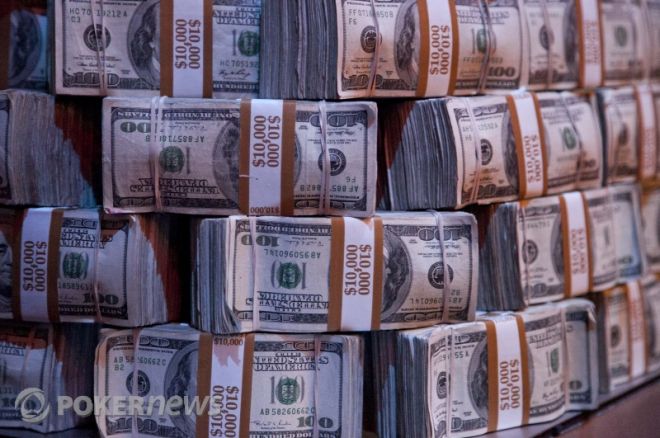 Property ownership is always in flux in the gaming industry, but in the last two weeks, Casino management of Las Vegas casinos seems to be in constant flux. Station Casinos has been in the middle of a hostile bidding war for months, Boyd Gaming is trying to pick up what it can, and Pinnacle Gaming wants in on the action. This week, Inside Gaming is focusing on a few big deals. Harrah's has been private for less than three years and is already talking about trading some shares on the market again. The M Resort and Casino may be forced to sell after only a year and a half in operation. And a new player in the gambling game has some big ideas for its small purchases near the Las Vegas Convention Center.
Harrah's Going Public Again, Sort Of
The 10 percent stake in Harrah's Entertainment Inc., recently purchased by a New York-based hedge fund may soon be traded publicly. Harrah's filed papers with the federal Securities and Exchange Commission in mid-August saying that billionaire John Paulson intends to sell his newly acquired investment on the open market. Paulson bought 9.9 percent of the company in June in exchange for $710 million in debt. Harrah's disclosed in the same August filing that the company has a total of $19.3 billion in long-term debt.
Harrah's has not yet taken steps to list the stock and isn't required to do so on Paulson's behalf. The filing stated that Harrah's will try to list the shares but cannot guarantee any interest in them. Because Apollo Global Managment LLC and TPG Capital LP continue to own a combined 89.3 percent stake in Harrah's, it qualifies as a "controlled company" and will not be subject to some of the regulations usually applied to publicly-traded companies. For example, Harrah's will not need to have independent directors on its managing board. Apollo and TPG took Harrah's private in January 2008 and acquired an additional 5.7 percent equity interest as part of the deal with Paulson in June.
Although Paulson has already gone public with plans for his 9.9 percent share in Harrah's, his deal to purchase the piece of the company hasn't actually been finalized. He is still waiting for approval from Nevada and New Jersey gaming regulators. Both states require anyone who owns at least a five percent stake in a gambling company to apply for a license. Harrah's said it expects final approval before the end of the year.
The Las Vegas Sun does its best to break down the complicated deal.
M Resort Already in Need of Rescue
The upscale M Resort opened a few miles away from the Las Vegas Strip only 17 months ago, but it's already $700 million in debt and looking for a way out. What will happen to the casino is up in the air because Lloyds Banking Group, which controls the casino's debt, put its stake in the company up for sale in a private auction last month.
On Lloyd's behalf, Blackstone Group has been soliciting bids for ownership of the M property, which includes 390 hotel rooms, a sizable casino floor, restaurants designed to appeal to foodies, a spa, and 93 acres of land on the southern end of Las Vegas Boulevard. Prior to the resort's opening, the land it was built on was valued at $300 million.
About a dozen parties have expressed interest in the property, though it's unclear how many have entered bids. M Resort CEO Anthony Marnell III has remained mum on the subject. There are rumors that Marnell and his family are among the parties considering placing offers. Marnell's father, Tony Marnell Jr., built the Rio and operated it until selling to Harrah's Entertainment in 1999.
MGM Resorts International also invested $160 million in the construction of the M. The company wrote down its investment a year ago, shortly after the M opened.
Learn more about the companies rumored to be bidding on the M here.
Peebles Announces Planned $2 Billion LV Complex
Miami-based Peebles Corp. purchased a majority stake in a the small Mardi Gras Hotel & Casino just off the Las Vegas strip. The building itself isn't even a blip on the gaming industry's radar screen, but Peebles plans to make a big impact with the 20 acres of land that come with it. The property lines up with 13 acres Peebles previously acquired. CEO R. Donahue Peebles has big ideas for his new property. Peebles announced plans for a $2 billion project he's named the Las Palmas Resort & Casino to be build on the land, which is near the Las Vegas Convention Center on Paradise Road. The concept includes a convention center resort and casino with two hotels to be operated by an independent hotelier.
Peebles doesn't have a timetable for construction yet. "We have an extremely positive outlook on this market and are confident in the long-term future of Las Vegas," Peebles said. "During such a ripe time for commercial investing, we are pleased to have identified such a unique opportunity with a solid revenue stream as well as strong future development potential."
Peebles Corp. bought a majority interest in the Mardi Gras property from the Jaramillo Family, which opened the hotel in the 1970s and has operated it since. The family will continue to manage the day-to-day operations of both the hotel and the casino.
Read what Peebles had to say for yourself.
Follow us on Twitter for up-to-the-minute news.