The Nightly Turbo: MasterCard Blocks Poker, Cake Poker Ships It the Wrong Way, and More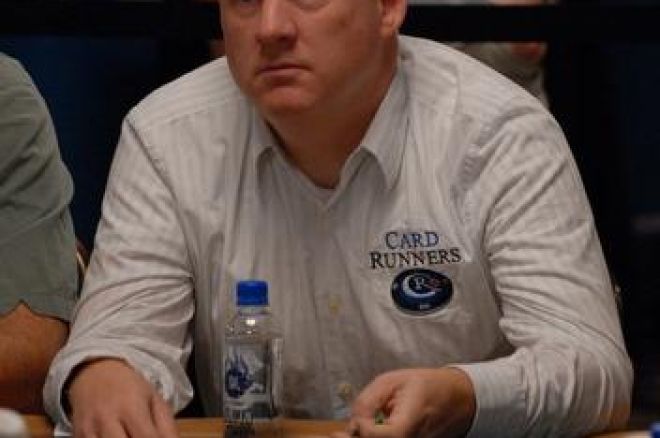 In tonight's Nightly Turbo, we'll tell you which credit card company is making it a little bit harder on you to deposit money in your favorite online poker site, the story on Cake Poker awarding a losing player the pot, and more.
Is your bankroll a little on the short side? Not to worry. We have the perfect way to boost it. Check out Bankroll Builders for Low-Limit Turbo SNGs.
Just 27 players went into Day 4 at the Borgata Winter Open. Find out who started today as the chipleader in out recap.
Bluff Magazine's Power 20 list is out. We have the complete list for you and where PokerNews' own Tony G sits on it, here.
Getting Your Money Safely Online... Priceless
Busto and looking to redeposit? Well, if you're living in the U.S. and using a MasterCard, it might be more difficult than you think.
MasterCard has figured out the method of uncoding gambling transactions and put a stop to customers depositing money online. MasterCard is no longer an option for a number of online gambling sites. This is the second time MasterCard has figured out the uncoding process. The first time, it took online gaming sites only two months to pull the wool back over the credit card giant's eyes.
Read more at CompatiblePoker.com.
The Wrong Piece of Cake
Recently, a player on Cake Poker was awarded a pot he didn't win. The player posted the hand on TwoPlusTwo, which was followed promptly by a post from Cake Poker Cardroom Manager Lee Jones stating that they were going to look into the problem.
Jones went on to make another post a few hours later saying that the Cake servers would be paused for about 30 minutes while they initiated changes that would enable them to watch out for a similar occurrence.
Today, Jones made an extensive post in the thread giving everyone an update as to why it happened and what to do if you think it has happened to you. It's a long post, check it out for yourself.
We'll give you a hint though, it's on page 13 of the thread.
Party in LA
It's the last weekend to qualify for the LA Poker Classic Main Event on PartyPoker. Qualifiers start as low as $3 and there are also daily freerolls and subqualifiers running until Sunday Feb 7.
The last main qualifier will take place this Sunday. It has a $700+$50 buy-in, and one $14,000 package will be awarded for every 20 players. The package includes a $10,000 buy-in, seven-night accommodation, and $2,500 in spending money. If you do qualify through PartyPoker and go on to win the Main Event, you'll get an extra $500,000 from Party and everyone else that qualified for the event will split another $500,000.
"We have smashed the guarantee every single week that we have run the qualifiers and are expecting a great final weekend. The recent news that two PartyPoker.com online qualifiers finished first and second in the Aussie Millions got us thinking about the LAPC $1 million top up we have promised if an online qualifier takes down the main event! Are PartyPoker.com online qualifiers on that much of a roll? If so - it is going to be expensive," said a PartyPoker spokesperson.
What are you waiting for? PartyPoker is giving away money all over the place. Sign up today and get $50 free with no deposit.
Don't Blame Canada
Loto-Quebec, the provincial gambling monopoly, has recently received approval from the Canadian government to get into the online gaming business.
Together with BC and Atlantic Lottery Corporations, Loto-Quebec will set up a site this fall to step into the unregulated internet gambling market.
"Our citizens are not protected and the money goes to illegal channels," said Finance minister Raymond Bachand.
More than $600 million is brought in across Canada from online gambling. Residents of Quebec have access to over 2,000 unregulated sites. Loto-Quebec have security measures in place for problem gamblers including age verification, a self-exclusion option, and deposit limits.
"Online gambling sites obviously do not offer an assistance program for vulnerable players. (This) leaves the state to pick up the costs of problem online gambling without reaping any benefits," said Loto-Quebec president Alain Cousineau.
CTV.ca has more.
The Envelope Please
It's awards season, and while the poker industry may not have the gowns, the tux's and the red carpets, it doesn't mean we're complete barbarians.
Bluff Magazine's Reader's Choice Awards results are in and Wicked Chops Poker has been voted the top poker blog of 2009. Was it the "vote-for-us-or-we-stop-posting-pictures-of-hot-girls" threat that got them in the top spot? Probably not, but it couldn't have hurt either.
The Reader's Choice Awards weren't just about poker blogs. We have the rest of the winners below for you, but if you want the full list of nominees, you'll have to get the newest copy of Bluff on newsstands now.
And the winners are....
Favorite Poker Personality: Mike Sexton
Top TV Poker Show for 2009: High Stakes Poker
Favorite Poker Podcast: The Poker Beat on PokerRoad.com
Top Poker Blog for 2009: WickedChopsPoker.com
Favorite Poker Forum: TwoPlusTwo.com
Best Poker Twitterer: Doyle Brunson
Favorite Las Vegas Poker Room: The Bellagio
Favorite Poker Room Outside of Las Vegas: The Commerce
Favorite Online Poker Site: Full Tilt Poker
Favorite Online Poker Resource: CardRunners.com
Top Story of 2009: Phil Ivey Makes WSOP Main Event Final Table
Best Online Poker Player: Tom "durrrr" Dwan
Favorite Poker Villain: Phil Hellmuth
Favorite Player of 2009: Phil Ivey
Congratulations to everyone and true to their word WCP hasn't quit posting pictures of hot girls.
Be sure you're following us on Twitter. It's a pretty good idea. Oh, and since you're doing that, you should add us on Facebook too.